POSTPONED - Inaugural Mountain Studies Lecture Series
new date to come in fall 2020
Join us for a public lecture titled: "Reaching New Heights: Highlights from the Most Comprehensive Science Expedition to Mt. Everest in History"
Where: The Schaefer Center for the Performing Arts
When: TBD - postponed
What time:
Speakers:
Dr. Baker Perry; professor of Geography; Appalachian State University

Dr. Aurora Elmore; senior program manager for Life at the Extremes Initiative; National Geographic Society

Alex Tait; the geographer; National Geographic Society
Parking
Parking for events at the Schaefer Center is free after 5 p.m. in the following locations:
Raley Parking Lot (off of Rivers Street)
Rosen Concert Hall
Rivers Street Parking Deck
Rivers Street bike lanes
Kidd Brewer Stadium Lot (located behind the auditorium--turn on Stadium Drive to access this lot.)
Campus map: maps.appstate.edu
Details: This event is free, open to the public and no tickets are required.
Hosted by: The College of Arts and Sciences at Appalachian State University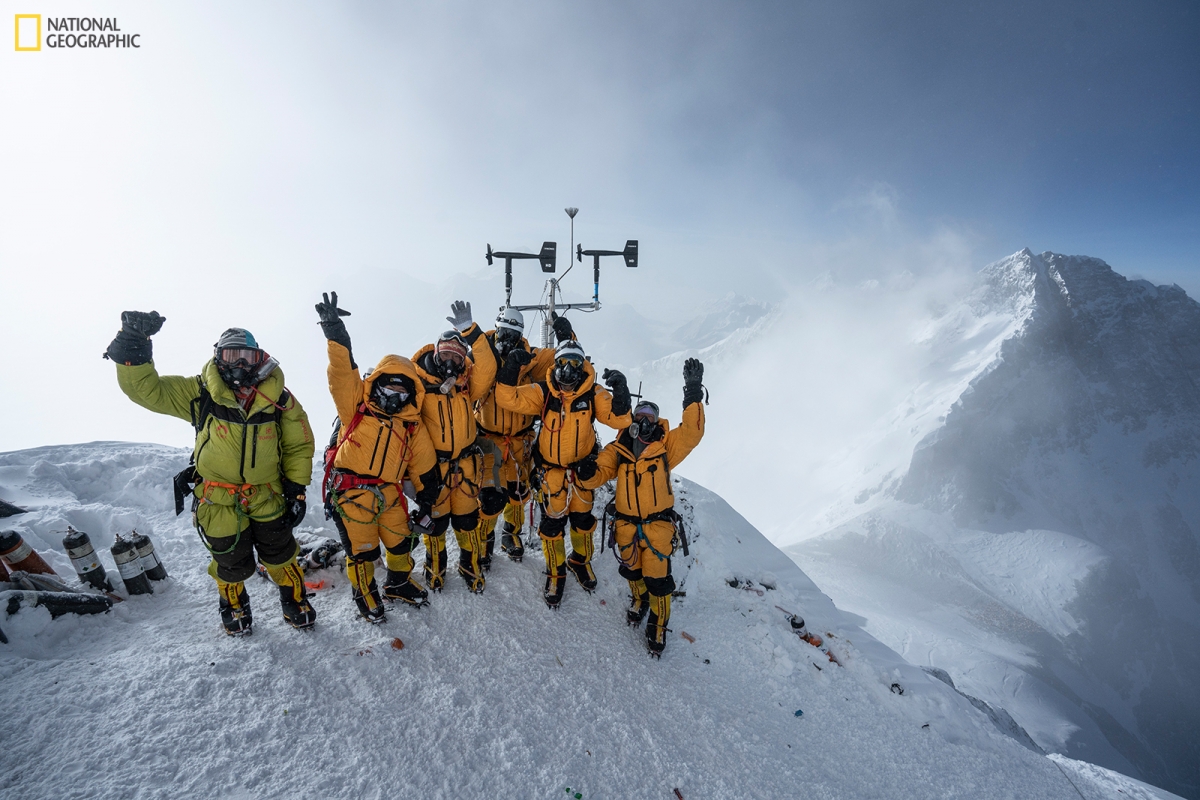 Image Caption: At 8,430 meters above sea level, the high-altitude expedition team celebrates after setting up the world's highest operating automated weather station during National Geographic and Rolex's 2019 Perpetual Planet Extreme Expedition to Mt. Everest. Learn more at www.natgeo.com/everest. Photo by Mark Fisher, National Geographic.




Dr. Baker Perry
Professor of Geography
Department of Geography and Planning
Appalachian State University
Perry is a professor in the Department of Geography and Planning at Appalachian State University in Boone, North Carolina. He holds a Ph.D. in Geography with a focus on climatology from the University of North Carolina and his research interests include alpine precipitation formation, snow and ice, and precipitation-glacier-climate interactions. Perry teaches courses on climate change, atmospheric circulation, snow and ice, mountain geography and tropical glacier-climate interactions. He has led or co-led 21 research expeditions in the tropical Andes and – along with local collaborators – has installed and maintained 11 meteorological stations above an elevation of 5,000 meters.

Dr. Aurora Elmore
Senior Program Manager for Life at the Extremes Initiative
National Geographic Society
Elmore is a climate change expert who oversees science, research and strategy for the National Geographic Society's Everest Expedition and its broader Life at the Extremes impact initiative. She received her bachelor's, master's and Ph.D. degrees in geology with a focus on oceanic chemistry and deep-sea circulation; she then worked as a researcher at several American and British universities before moving to National Geographic. Elmore has published numerous scientific research papers on the climate and marine chemistry of the North Atlantic, Southern Ocean, and Caribbean. Her expertise has been featured on the National Geographic Channel, and on National Geographic stages in Washington, D.C., and in London, England.

Alex Tait
The Geographer
National Geographic Society
Tait holds the position of The Geographer at the National Geographic Society where he leads geographic information system and locational data collection mapping initiatives and resources for National Geographic Labs. He provides cartography mapping and geography expertise for the Science and Exploration, Education and Explorers programs at the Society. Tait has extensive experience in mapping techniques integrating field survey, satellite imagery and other data sources for projects around the world. Prior to National Geographic, he worked for 25 years in private enterprise as lead cartographer and technical consultant on projects for government and private industry clients, including the U.S. National Park Service, U.S. Census Bureau, Defenders of Wildlife and many others. Tait has also worked as a cartographer at the Washington Post and a lecturer in geography at the University of Maryland. He holds a master's degree in geography from the University of Wisconsin.
The Expedition
National Geographic and Rolex's 2019 Perpetual Planet Extreme Expedition to Mt. Everest
As part of a robust effort to improve our understanding and resilience to the impacts of climate change on mountain systems, from April to June 2019, National Geographic and Tribhuvan University conducted the most comprehensive single scientific expedition to Mount Everest (known locally as Sagarmatha or Chomolungma) in history. The expedition, conducted in partnership with Rolex was the first of a series of Perpetual Planet Expeditions.
The Everest expedition team aims to better understand the effects of climate change on the glaciers of the Hindu Kush-Himalaya that provide critical water resources to 1 billion people downstream. This information, coupled with additional data sets on water supply and demand in the region, forms the basis of a new index to track the health of the Himalayan water system.
Learn more at:
https://today.appstate.edu/2019/06/14/expedition
https://today.appstate.edu/2020/01/27/baker-perry
Teacher Credits and Lesson Planning Opportunities
Creating this Series
This inaugural series in the College, the Mountain Studies Lecture Series, was born out of a previous event hosted by Appalachian Studies, also housed in the college. An International Mountain Studies Symposium was hosted at the university in 2019, that brought together international scholars specializing in mountain studies across the globe to engage with students, faculty and the community for a one day academic event. To learn more about this past event, visit: https://appstudies.appstate.edu/international-mountain-studies-symposium.