The Morgan Science Lecture Series
The Morgan Science Lecture Series is made possible by a gift from the G. William Morgan Family. The purpose of the Morgan Science Lecture Series is to stimulate scientific understanding and research among the sciences by bringing innovative and prominent researchers to Appalachian State University's campus. This year the event is hosted by the A.R. Smith Department of Chemistry and Fermentation Sciences. To read more about this years speaker, visit cas.appstate.edu/news.
2018 Speaker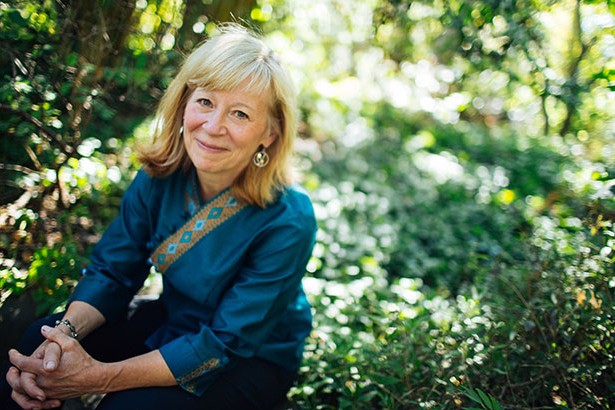 "Empowering Global Scientific Engagement"
Geraldine Richmond
Presidential Chair in Science and Professor of Chemistry at University of Oregon
Date: Tuesday, Sept. 25, 2018
Time: 6 - 7:30 p.m.
Location: Parkway Ballroom, Plemmons Student Union
"Empowering Global Scientific Engagement"
In rural Laos, more than 50% of newborns will be stunted by age two due to chronic malnourishment and drinkable water. Worldwide, 161 million children under the age of five—many of them in Africa and Asia—suffered irreversible stunting as of 2016. Food security is only one of the many complex and interconnected challenges embedded in ensuring a sustainable world in the face of climate change and a population soon to reach 9 billion.
All such challenges demand a major shift in how we seek innovative ways to co-exist with ever-expanding needs for energy, food, water and a healthy environment. Solutions demand innovative international research collaborations and policies that include talents and perspectives from both the developed and developing world. This presentation will share the many stories and insights gained from Richmond's collaborative efforts with several thousand scientists and engineers in many developing countries around the globe.
Technical Talk
Richmond will also deliver a technical talk entitled "Mulling over Emulsions: Molecular bonding and adsorption at oil-water interfaces" on Tuesday, Sept. 25 at 2 p.m. in Garwood Hall, Room 112. The objective of this talk is to heighten the awareness and importance of doing research that is inspired or spurred by environmental problems.
Since the Romans first spread oil on water to calm the raging seas, curiosity has persisted about the unique nature of the interface between water and a hydrophobic liquid including how soaps, surfactants and dispersants adsorb at this unique fluid junction. Today, with growing concerns about the environmental consequences of oil spills on oceans and rivers there is an urgency to this curiosity in developing remediation methods that do not make the disaster worse. This presentation will focus on my most recent efforts in understanding the molecular properties of the oil-water interface and the unique love-hate environment it provides for adsorption of soaps, polymers and macromolecules at both planar and nanoemulsion oil/water interfaces.
About the Speaker
Richmond received her undergraduate degree in chemistry from Kansas State University and her Ph.D. in physical chemistry from the University of California, Berkeley. Her educational efforts have focussed largely on introductory chemistry and science literacy courses as well as being the director of several University of Oregon undergraduate research programs.
Her research examines the chemistry and physics that occurs at complex surfaces that have relevance to important problems in energy production, environmental remediation and atmospheric chemistry. Using a combination of laser-based methods and theoretical simulations her most recent efforts have focused on understanding environmentally important processes at water surfaces. Over 200 publications have resulted from the studies conducted in her laboratory with undergraduate, graduate students and postdoctoral associates.
To learn more about Richmond, visit: http://richmondscience.uoregon.edu.
Learn More about the Morgan Lecture Series