SOAR: STEM Bridge Program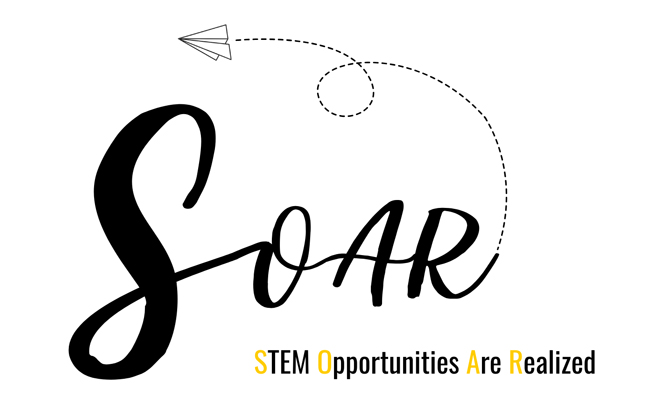 Welcome to SOAR
Making the transition from high school to college can be challenging, even for the most intelligent student. SOAR provides support for this transition. Funded by the College of Arts & Sciences, the SOAR program aims to give every student an equal opportunity for success in STEM.
SOAR was developed because recent educational research has shown that to be successful in a STEM (Science, Technology, Engineering and Mathematics) discipline, students must have strong preparation. As educators, we have observed that many high school graduates are not prepared in Mathematics (pre-calculus or calculus) and chemistry (general or introductory chemistry) courses that they are required to take during their first year in college. We want to offer those students the opportunity to jump-start their success by strengthening their math and chemistry skills during the summer before their first semester at Appalachian.
SOAR faculty mentors value diversity, self-discipline and strong work ethic. These faculty want to build supportive relationships with students to enable their future success.
Preliminary data suggests that students who participated in the SOAR program are more likely to experience continued sucess in a STEM major.

Who is a good fit for SOAR?
The SOAR program aims to assist students who would benefit from extra support in math and chemistry as they transition into the rigor of college studies. Students who have an SAT-Math score less than 550 and/or an ACT-Math score less than 22 may benefit from this program. We prioritize students from underrepresented groups and first generation students. SOAR also aims to support first year students with faculty mentors and a residential living community of peers with similar STEM interests.
Objectives
Strengthen student preparation in math and chemistry
Assign faculty and peer mentors in math and chemistry to each student during their first academic year
Provide information about STEM majors including curriculum, research and outreach opportunities
Move students into residence halls early
Acclimate the students to campus, Boone and the surrounding area
Build relationships with like-minded peers
SOAR will host receptions during Orientation, where you can meet the SOAR faculty mentors and learn more about the program. Exact dates and locations will be provided.
To Apply
To apply, check if you qualify for the program by visiting My Mountaineer Portal. Note: The 2022 application has closed.
For Questions
For questions, please email soar@appstate.edu or contact the Department of Chemistry and Fermentation Sciences' main office at (828) 262-3010.


We believe that all students deserve a fair chance at success in STEM. SOAR faculty are here to provide support and mentoring, whenever you need it. We hope to see you SOAR at Appalachian!