Each year, Appalachian State University's College of Arts and Sciences recognizes several members of the faculty and staff for outstanding service, teaching or scholarly work.
College of Arts and Sciences Outstanding Alumni Award
Carlton Paylor
Paylor was a student-athlete at App State, and graduated with a B.S. in Criminal Justice and a minor in Sociology in 1996. He has led a distinguished career that has focused on helping people in emotional and economic distress in his home community of Person County. Read more about Paylor at CAS News.
Richard N. Henson Outstanding Advisor Award
Jenny Morris - Department of History
"Since beginning her work with the History Department in 2018 as an Academic Content Consultant, she has earned the respect of her academic colleagues, as well as the love and affection of her student advisees for the professionalism, care, and attention she gives to each one of our History Education majors."
Outstanding Staff Award
Dr. Jenna Valley - Department of Biology
"During the unprecedented times we find ourselves in, one of our staff members has gone above and beyond to assure the safety and well-being of our faculty and students in returning to campus for research, teaching and service.
Not only is this person deserving of the award based upon the excellent performance in their day-to-day work, such as bringing efficiency to everything they do to assist faculty, staff and students and implementing creative ideas to problem-solving, but they also worked tirelessly to ready buildings to be as safe and uncontaminated as possible."
Jimmy Smith Outstanding Service Award
Dr. Micheal Behrent - Department of History
"Dr. Behrent's service as a courageous and effective faculty advocate has also been abundantly clear through his ongoing work as Chair of Appalachian's Faculty Senate. Despite exceedingly trying campus and system challenges, Dr. Behrent works tirelessly and in coalition with student groups and the Council of Chairs to champion shared governance and transparency on our campus."
William C. Strickland Outstanding Junior Faculty Award
Dr. Kara Dempsey - Department of Geography and Planning
"She has a knack for translating headline stories and current international and national themes into accessible lectures that meet Appalachian students at varying levels of experience and exposure to geography."
Donald W. Sink Family Outstanding Scholar Award
Dr. Suzanna Bräuer - Department of Biology
"In her time at Appalachian Dr. Bräuer has published 28 peer-reviewed and invited journal articles and book chapters. Dr. Bräuer has also received *two* Fulbright awards as well as grants from organizations ranging from the Cave Conservancy Foundation to the NSF. She further has a long history of incorporating students, indeed an impressive number of students, at all levels, into impactful research projects. But perhaps most notable was the interdisciplinary nature of her research: from microbial ecology, to mineralogy, to aqueous geochemistry."
Non-Tenure Track Teaching Excellence Award
Katie Adams - Department of English
"The Committee members were very impressed by Katie's attention to Universal Design and her commitments to inclusive accessibility, sensory-friendliness, and an emotionally safe learning environment which are clearly stated in her course syllabus. This is truly strong evidence of her commitment to student success and her ability to motivate and inspire students to succeed in her courses."
Excellence in Engagement Award
Dr. John Paul "J.P." Jameson - Dr. Wiley F. Smith Department of Psychology
"For many years, he has worked with Alleghany County Schools to operate a counseling center that provides mental health services to students in the district at no cost to families. He has provided counseling himself and consults with school employees and AppState graduate students trainees providing services. The hours and the commute are long, but this counseling center serves 50-75 adolescents each year in a rural area with scarce mental health resources.
His scholarship reflects this passion, and the ultimate aim of his work is to understand suicide risk factors among adolescents, and determine whether community-based interventions can help prevent suicide."
CAS Inclusion Award
Department of Physics and Astronomy

This inaugural award recognizes a department who has undertaken a long list of initiatives, with notable achievements, including:
a 70% hire rate of underrepresented faculty and staff in recent years
requiring department student teaching assistants to have bias and Title IX training
creation of a student inclusive excellence chair advisory board, that became so active that they are now a campus-wide student club, the Student Inclusive Excellence in STEM club
the creation of a department-based food pantry
received a $300,000 grant from the PhysTEC consortium to increase the number of physics secondary education majors that we graduate.
and received a $1M NSF: ADVANCE grant from NSF for increasing retention and support for women in STEM at Appalachian to create a plan to recruit and retain more women in STEM and to create an office for work-life integration at Appalachian.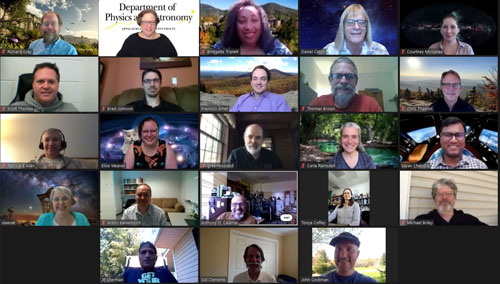 Academy of Outstanding Teachers Award
Dr. Başak Çandar - Department of English
Dr. Gabriele M. Casale - Department of Geological and Environmental Sciences
Dr. Sandra G. Gagnon - Department of Psychology
Dr. Cindy Norris - Department of Computer Science
In 1988, The College of Arts and Sciences (CAS) instituted the Academy of Outstanding Teachers and the Outstanding Teacher of the Year Award to recognize excellence in teaching. There's a high bar in the process of selection into the Academy, and inductees are selected from nominations received over the past 5 years.
Outstanding Teacher of the Year Award
Dr. Cindy Norris - Department of Computer Science
Through her work over the past 28 years, Dr. Cindy Norris has demonstrated her exceptional commitment to student learning both inside the classroom and beyond. While some students worried about taking her courses, her ability to break down complex concepts, turned courses some students said they initially "dreaded," into favorites, and they came to appreciate the challenge. Indeed, many students said they learned more in her classes than in any other class over the course of their undergraduate education. Part of this is because Norris went above and beyond answering student questions.
Norris also makes sure her colleagues benefit from her commitment to student learning, by generously developing and sharing detailed course materials. With an eye on new developments in the discipline, she develops new courses in response to changing demands in the field so that students always have access to cutting edge knowledge. She has also taken the lead on assessment and makes sure the department makes necessary changes as a result. In addition to her work in the classroom and her commitment to curriculum, she is also an amazing mentor.
Norris has served on numerous undergraduate and honors theses committees, mentors a research cluster, serves as a faculty mentor to Women in Computer Science, and took a group of women students to the world's largest conference for women in computing.
To view past recipients and to learn more about each award, visit https://cas.appstate.edu/faculty-staff/awards.
---------------------------------
For a full list of this year's nominees – scroll below or watch this short video with slides from our virtual event recognizing all nominees and winners.
-------------------------------
RICHARD N. HENSON OUTSTANDING ADVISOR AWARD
Jon Carter (ANT)
Diane Mines (ANT)
Timothy Smith (ANT)
Maryam Ahmed (BIO)
Matt Estep (BIO)
Mary Kinkel (BIO)
Annkatrin Rose (BIO)
Lynn Siefferman (BIO)
John Walker (BIO)
Carla Penders (CASSH)
Jennifer Cecile (CFS)
Brooke Christina (CFS)
Libby Puckett (CFS)
Nicholas Shaw (CFS)
Robert Swarthout (CFS)
James Fenwick (CS)
Patricia Johann (CS)
Raghuveer Mohan (CS)
Mohammad Mohebbi (CS)
Cindy Norris (CS)
Germán Campos-Muñoz (ENG)
Carl Eby (ENG)
Craig Fischer (ENG)
Donna Lillian (ENG)
Mark Vogel (ENG)
William Anderson (GES)
Sarah K. Carmichael (GES)
Ellen Cowan (GES)
Cole Edwards (GES)
Andrew Heckert (GES)
Cynthia Liutkus-Pierce (GES)
Richard Crepeau (GHY)
Kara Dempsey (GHY)
Elizabeth Shay (GHY)
Johnathan Sugg (GHY)
Jeff Holcomb (GJS)
Cathy Marcum (GJS)
Matthew Robinson (GJS)
Judge Wansker (GJS)
Kathryn Webb-Farley (GJS)
Jonathan Billheimer (HIS)
Amy Hudnall (HIS)
Jenny Morris (HIS)
Sushmita Chatterjee (IDS)
Jeanne Dubino (IDS)
Jim Fogelquist (LLC)
Alexandra Hellenbrand (LLC)
Benjamin Souza (LLC)
Wendy Xie (LLC)
Michael Bosse (MAT)
Holly Hirst (MAT)
Vicky Klima (MAT)
Christopher Bartel (PR)
Rodney Duke (PR)
Brooke Hester (PA)
Courtney McGahee (PA)
Lisa Curtin (PSY)
Jacqueline Hersh (PSY)
Denise Martz (PSY)
Mark Zrull (PSY)
Amber Gregory (SOC)
Ellen Lamont (SOC)
Pavel Osinsky (SOC)
Amy Dellinger Page (SOC)
OUTSTANDING STAFF AWARD - Current Year Nominees

Lauren Andersen (GHY)
Ellen Burnette (CAS)
Jenna Valley (BIO)
Shelley Wainscott-Wallin (GHY)
JIMMY SMITH OUTSTANDING SERVICE AWARD

Michael Behrent (HIS)
Jennifer Burris (PHY)
Sandie Gravett (PR)
WILLIAM C. STRICKLAND OUTSTANDING JUNIOR FACULTY AWARD

Jon Carter (ANT)
Kara Dempsey (GHY)
Raghuveer Mohan (CS)
Quinn Morris (MAT)
David Russell (SOC)
Kyle Stevens (ENG)
DONALD W. SINK FAMILYOUTSTANDING SCHOLAR AWARD

Suzanna Bräuer (BIO)
Larry Kimball (ANT)
Witold Kosmala (MAT)
Baker Perry (GHY)
Dana Powell (ANT)
Bruce Stewart (HIS)
NON-TENURE TRACK TEACHING EXCELLENCE AWARD

Katie Adams (ENG)
Mark Freed (AS)
Amber Gregory (SOC)
Peaches Hash (ENG)
Andrew Jenkins (BIO)
Kelly Renwick (IDS)
Bridget Tuberty (CFS)
Joseph Weiss (PR)
EXCELLENCE IN ENGAGEMENT AWARD
Current Year Nominees:

Timothy Ludwig (PSY)
Kathryn Webb-Farley (GJS)
Winner:

John Paul "J.P." Jameson (PSY)
*New CAS INCLUSION AWARD

Carol Babyak (CFS)
Jennifer Burris (PA)
Nathan Mowa (BIO)
Department of Physics and Astronomy
ACADEMY OF OUTSTANDING TEACHERS and TEACHER OF THE YEAR AWARD
Current Year Nominees:
Başak Çandar (ENG)
Sushmita Chatterjee (IDS)
Kara Dempsey (GHY)
Rick Elmore (PR)
Allison Fredette (HIS)
Cameron Gokee (ANT)
Eric Karchmer (ANT)
Marc Kissel (ANT)
Raghuveer Mohan (CS)
*Cindy Norris (CS)
Dana Powell (ANT)
Elizabeth Shay (GHY)
Rwany Sibaja (HIS)
B.J. Yoblinski (CFS)
###
About the College of Arts and Sciences
The College of Arts and Sciences is home to 16 academic departments, one stand-alone academic program, two centers and one residential college. These units span the humanities and the social, mathematical and natural sciences. The College of Arts and Sciences aims to develop a distinctive identity built upon our university's strengths, traditions and unique location. The college's values lie not only in service to the university and local community, but through inspiring, training, educating and sustaining the development of its students as global citizens. There are approximately 6,100 student majors in the college. As the college is also largely responsible for implementing Appalachian's general education curriculum, it is heavily involved in the education of all students at the university, including those pursuing majors in other colleges. Learn more at https://cas.appstate.edu.
By Ellen Gwin Burnette
Oct. 26, 2020
BOONE, N.C.