Study Abroad/Study Away
Program Types:
There are many different types of programs to choose from, such as: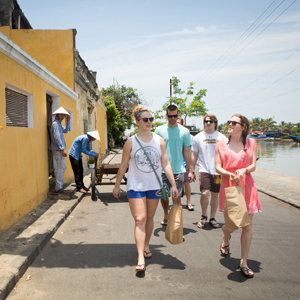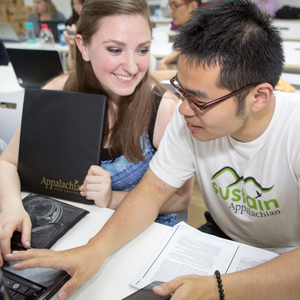 Appalachian State University's English Language Studies Institute provides exceptional academic English language preparation for study at Appalachian State University through the integration of intensive language courses, cultural engagement and experiential service.
Nationally Competitive Scholarships (NCS) awards are externally funded opportunities to pursue language study, Master's study, teaching, research and other creative endeavors.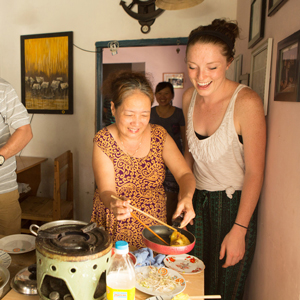 The College of Arts and Sciences Student and Faculty Excellence (SAFE) Fund provides resources that can be used to transform the undergraduate and graduate experience and support faculty teaching, research and engagement. Visit the SAFE Fund page to learn more about this award, how to apply and current recipients.
All currently enrolled Appalachian students (graduate and undergraduate) in good academic standing are eligible to apply for a travel grant of up to $300. The grant can be used to defray the cost of travel or to present results of their research/creative performance at a professional conference in their field.

CAS International Connections and Awards
38 scholarships were awarded to CAS students studying abroad from the Office of International Education (OIED) for a total of $29,147 in 2017-18.

15 international teaching scholars during 2018-19 in the college.

9 International undergraduate degree-seeking students in 2018-19 from: Japan, Saudi Arabia, Republic of Congo, Spain, Bermuda and China.

8 international graduate degree-seeking students in 2018-19 from: Nigeria, Kenya, South Korea, Japan, India, China, Peru and Germany.

7 Fulbright Awards in 2018-19 (There were 6 Fulbright Awards in 2017-18):
Dr. Alexandra Sterling-Hellenbrand (Languages, Literatures and Cultures) will be a Fulbright Visiting Professor of Cultural Studies at the University of Graz in Graz, Austria.
Mark Powell (English).
Dr. Richard Gray (Physics and Astronomy).
Dr. Christina Verano-Sornito (Anthropology) will travel to the Philippines to perform research at the University of the Philippines Visayas in the city of Miagao.
Megan Holt-Smith '15 '16 Spanish, M.A. in romance languages head to Germany to be an English Teaching Assistant (ETA).
Emma Labovitz '18, B.A. in political science and B.A. in global studies headed to the Netherlands on a Study/Research Award.
Caroline Webb '19, psychology, human services major headed to Timor-Leste to be an English Teaching Assistant (ETA).
5 students invited to participate in the Peace Corps in 2019
Talley Breedlove '17, B.A. in global studies
Montana Brown '17, B.S. in political science
Davis Clark, senior, environmental science
Itzel Cruz, senior, biology
Ramsey Wyles '17, B.A. in global studies
3 Benjamin A. Gilman International Scholarship award winners for summer 2019:
Chloe Dorin, a senior biology major traveling to Australia and New Zealand on a five-week faculty-led trip called Flora and Fauna of Australasia;
Ilya Wang, an Honors College student and senior global studies major minoring in food and nutrition and Chinese from Rockwell, will conduct a research internship in Madagascar. While there, she will assess maternal dietary habits and breastfeeding patterns.
Cody Benton '17, a Physics, Secondary Education major, went to Chile for a semester program in fall 2018 with a focus on Spanish Language study.
1 U.S. Department of State Critical Language Scholarship (CLS) winner
Caroline Sager '18, B.S. Political Science, International and Comparative Politics and B.A. Spanish travels to Baku, Azerbaijan to learn Turkish through intensive language study in an immersive environment. The eight-week program covers approximately one academic year of university-level Turkish and is enhanced through homestays and cultural excursions across Azerbaijan.
1 Boren Award Recipient
Hannah Godfrey, senior, Psychology major and minoring in statistics and military science will be going to Indonesia - First Malang, then Yogyakarta, to study Bahasa as part of the Boren Awards program.