The CAS Corps are chosen to serve as representatives to all constituents of the College of Arts and Sciences and to create, promote and execute opportunities for academic and professional growth. These students represent a variety of departments from across the College of Arts and Sciences and will represent the College at events through interaction among current students, future students, parents, donors and alumni. Each month of this year we will be introducing one of our eleven students representing the college in a question and answer format. This month, meet Alyssa and learn about her study abroad and research experiences. For more about the CAS Corps, visit: cas.appstate.edu/students/cas-corps.
Abie Nicole Bonevac
Major: Geography - Geographic Informations systems; and Community & Regional Planning

What clubs or organizations are you a member of:
Student Planners Association, Remote Sensing, Knitters and Crocheters, National Collegiate Honors Society and Sigma Alpha Lamba and Gamma Theta Epison
What sports or hobbies do you participate in:
Knitting, Cooking and DIY
What scholarships have you received from Appalachian or while studying at Appalachian:
Geography Scholarship for International Study (2016-2017), ASU Local Government Alumni Association Planning Scholarship
What locations have you completed an internship:
Town of Black Mountain and Boone
What locations have you completed a study abroad or study away:
Peru
In what locations or labs have you conducted research:
Appalachian Mountains, Western North Carolina
What research have you been most passionate about:
I am very passionate about my research in Appalachia. Working with local, regional and state policy makers, leaders and health professionals to learn more about how climate change is impacting their jobs is important to all members of the community.
What are you most excited about this semester:
I am most excited about this semester because I will be applying for grants to continue my research on people's travel behavior.
What do you feel has been valuable in your education at Appalachian versus another institution:
During my freshman and sophomore years at Appalachian State University, I had several personal and family emergencies that required me to be at the hospital during the semester. Instead of asking me to drop my courses or not working with me, so I would be forced to drop my classes, every person at Appalachian University worked with me to help me succeed. Professors were concerned for me instead of being focused on the course work I was missing. The doctors on campus worked with me to continue improving my health. Resident Assistant's, neighbors and so many more people I cannot name, stepped up to help me in my time of need. At any other university, I do not believe the professors would genuinely care and help me to succeed in becoming the student I am today.
What is your understanding of "sustainability" after being at Appalachian:
Sustainability means many different things, but here at Appalachian it is more of a way of life than just a term. Appalachian State University prides itself on reducing, reusing and recycling on campus to meet their goal of carbon neutrality. But it extends further than that, it also means giving back to the community in order to sustain or foster the community.
What is your understanding of "liberal arts" education and do you believe Appalachian has provided that:
My understanding of 'liberal arts' education is a diverse set of classes that allows the student to explore different areas of study that students otherwise would not have been exposed to. I believe Appalachian State has provided a very well-rounded education that allows the students to explore the different fields of study.
What is your dream job:
My dream job is to be a Planning Director for a small town.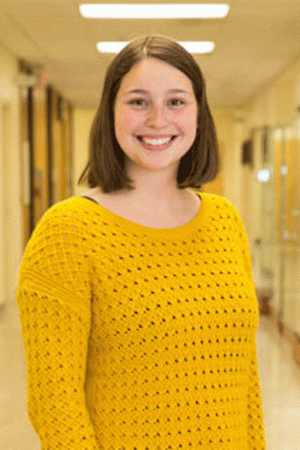 Tags: