The CAS Corps are chosen to serve as representatives to all constituents of the College of Arts and Sciences and to create, promote and execute opportunities for academic and professional growth. These students represent a variety of departments from across the College of Arts and Sciences and will represent the College at events through interaction among current students, future students, parents, donors and alumni. Each month of this year we will be introducing one of our eleven students representing the college in a question and answer format. This month, meet Alyssa and learn about her study abroad and research experiences. For more about the CAS Corps, visit: cas.appstate.edu/students/cas-corps.
Major: Chemistry- Certified Chemists
What scholarships have you received from Appalachian or while studying here:
Jonathan K. Perryman Endowed Memorial Scholarship for the Sciences and A.R. Smith Departmental Scholarship in Chemistry
In what locations have you completed a study abroad or study away:
Zheijang University, Hangzhou, China
In what locations or labs have you conducted research:
Dr. Michael Hambourger's Electrochemical Lab
What research have you been most passionate about:
I study the electrochemical properties of bipyridine-terminated PDMS crosslinked iron(II). This polymer is a recyclable alternative to traditional rubbers. Other properties of electroactive rubbers can extend from haptic technology and actuators to hydrogels.
What are you most excited about this semester:
I am looking forward to finish a paper that I am hoping to get published as first author.
What is one of your favorite memories at Appalachian thus far:
One of my favorite things is/was a bit nerdy but I met great friends. I love study groups before a test. When I took physical chemistry and organic there was sort of an unspoken agreement. Someone booked a room, someone brought coffee, and someone brought doughnuts, someone brought dry erase markers, and everyone just somehow found out and collected in the library. We would stay up late asking each other questions and going deeper into the material than what would be on the test. It was really a good time as strange as it may be.
What do you like most about Boone and the surrounding community:
Appalachian State University is in the beautiful high country which for any one who loves to hike its four years of endless activity. In my experience everyone is very open and you will meet people who unicycle, and people who walk their pet ferrets, or love to forage for food. They will welcome you into this eclectic community until you find an activities to take part in or start your own. I play on multiple soccer teams through, AppState and on community adult teams.
What do you feel has been valuable in your education at Appalachian versus another institution:
Appalachian State hires good people. With my experience in the Math, Physics, and Chemistry departments I have loved, not liked, loved my professors. This has been in courses outside the department as well too. Most of the professors love what they do and care genuinely about their students. Dr. Carol Babyak is a smart, inspiring woman is the embodiment of a what a professor should be. Appalachian State is the perfect size to have the opportunities and the personable relations of a small school. The perfect size that you can be part of the school and the community. Appalachian State helps you become who you want not who they want.
What is your understanding of "liberal arts" education and do you believe Appalachian has provided that:
I made the choice to come to a liberal arts college because I want to be well-rounded as a person. That is not to say that you can't be without the liberal art education. At App I get to take courses outside my major on things I am interested in. I am more than just a Chemistry major and I want my education to reflect that. For example, this semester I am taking a course on how language affects our thoughts, which will help me understand cultural customs.
What are you doing after graduation:
I am currently planning on spending 27 months in Namibia teaching Science to high school students as part of the Peace Corps .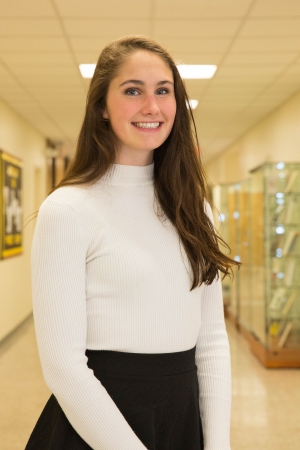 Tags: