The CAS Corps are chosen to serve as representatives to all constituents of the College of Arts and Sciences and to create, promote and execute opportunities for academic and professional growth. These students represent a variety of departments from across the College of Arts and Sciences and will represent the College at events through interaction among current students, future students, parents, donors and alumni. Each month of this year we will be introducing one of our eleven students representing the college in a question and answer format. This month, meet Anna and learn about her study abroad and research experiences. For more about the CAS Corps, visit: cas.appstate.edu/students/cas-corps.
Isabel Sullivan
Major: Biology - Ecology, Evolution and Environmental Biology
What clubs or organizations are you a member of?
National Society of Leadership and Success and the environmental science club
What scholarships have you received from Appalachian or while studying at Appalachian?
Biology Alumni and Faculty Emeriti Endowed Scholarship, Two Office of Student Research Grants, and received the Richard Henson Biology Endowed Field Trip Fund
What research have you been most passionate about?
Ecological research
What are you most excited about this semester?
Completing my in-lab genetics research
What do you feel has been valuable in your education at Appalachian versus another institution?
At App, I was able to do research as an undergraduate. This is not true of other universities. I will also be published from working on research projects which is rare for an undergraduate student
Tell us about a transformational experience you have had at Appalachian.
My involvement at App began with a volunteer opportunity at a research lab. This lab does research on bumble bees and it became one of the best opportunities I could have had as a biology major. I started out doing grunt work in the lab such as entering data into a computer or taking measurements of bees. Then, I gained more technical lab work experience and collaborated with other students in the lab which made me more involved with the scientific community on campus. This summer, my grunt work paid off as I was chosen to go to Colorado and conduct my own research. This is a rare opportunity as a second-year undergraduate and this experience greatly influenced me. Most undergraduate students are only able to work only in a lab or only in the field whereas I was able to do both. Additionally, I collaborated with scientists from around the United States as well as globally. Speaking with people from around the world helped me gain a broader perspective on how important collaboration and communication in general is in science. Along with collaborating with scientists from other places, I got to collaborate with my professors. These relationships have made me feel welcome in faculty circles to speak more freely and communicate my ideas. Having a platform to speak on has provided me with an open and responsive community of peers and faculty at Appalachian.
Tell us about one faculty member that has made an impact on your life and how.
Dr. Geib is currently my advisor and she has impacted me in many ways. Dr. Geib runs the lab that I currently work in at App where we look at the genetics of bumble bees. This past summer, she employed me as a research assistant out in Colorado to collect bumble bee data. I am now genetically analyzing this data in my honors thesis. Without Dr. Geib, I would not have the opportunity to do research as an undergraduate student nor would I have the guidance that she has given me. Dr. Geib has also always been willing to help me with personal issues when I needed her to.
Tell us about one other connection you have made while at Appalachian- a friendship, mento, colleague, a new found hobby or interest.
Working with a graduate student on research has been extremely rewarding. I currently work with Kaitlyn Whitley on genetic thesis' and we have become great friends. When I joined the lab, I didn't know anyone. This summer, Kaitlyn and I worked everyday to collect bumble bee samples and we became very close.
What are you doing after graduation?
After graduating, I plan on attending graduate school for ecology
What is your dream job?
Collecting data (observations, measurements, specimens) in the field and then using this data to determine ecosystem dynamics. If an ecosystem is at risk, I would like to create a plan to aid that ecosystem.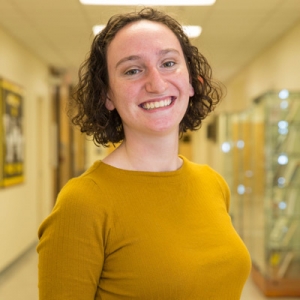 Tags: