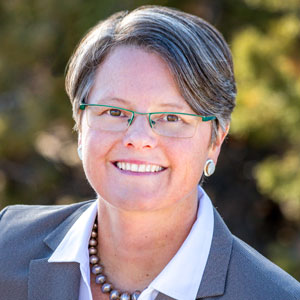 Breece Robertson '00
M.A., Geography and Planning
Job Title: VP and Director of Planning and GIS, as well as a TPL (Trust Public Land) fellow
Company: The Trust for Public Land
Years at the company: 18
Hometown: Hamlet, N.C.
Why did you choose to attend Appalachian?
I completed my undergraduate degree in exercise physiology at Lenoir Rhyne. Shortly after, I drove out west and fell in love with the landscape. I worked in a physical therapy clinic and thought about medical school, but realized it was not my calling. One thing I learned was that I loved the outdoors – access to public lands for camping, hiking and recreation. I decided I wanted to do something to protect that access for all. I found the geography and planning department at Appalachian and felt a connection with the curriculum.
How did your time at Appalachian and your degree prepare you for your career?
The M.A. program exposed me to different concepts from an array of subjects ranging from feminist to regional geography. The way the classes were structured felt like I was collaborating with my peers, as well as working with the professors. Those are the things that prepared me most for moving into the professional world today. Cultivating team culture within the workplace is important to me and I got my first exposure to that at Appalachian.
What do you remember most about your time at Appalachian?
We were all really close in my class year. It was like being part of a family. We would get together regularly to go on hikes, have cookouts and make music. The comradery and friendship that I created during those times really stands out.
Tell me about a favorite class and/or professor.
I can't pick just one.
Mike Mayfield was an excellent teacher and administrator. I took his physical geography class and I learned so much about how our world operates from ocean currents to weather patterns.
Kathy Schroeder had a lot of experience in South America and I learned so much by her bringing her real-world experiences into the classroom.
Statistics, a dry subject which everyone tends to hate was taught by Rich Crepeau and he did a fantastic job. It was a subject that I thought I wouldn't do well in and I ended up excelling in that class.
I had great professors that took subjects like statistics and physical geography and turned them into something that was inspirational and exciting.
Tell me about what your career path from graduation to your current role?
My first job was in Boulder, Colorado teaching GIS to forest service and local government employees. I had not done an immense amount of GIS in my M.A. studies, although it is a portion of the program, so it was a bit daunting to take on the task of teaching it to others. Nothing like being thrown in the fire to really learn something well.
I spent that first-year teaching and really got a strong grasp of the technology. I enjoyed teaching, but I realized I wanted to do more. I wanted to lead and bring this technology into a mission driven organization. I learned about the Trust for Public Land, actually the first week on that job. I was teaching a group how to use the software for public planning.
A year later, I called the person I met from the group, said I was willing to move closer to their location and wanted to work for an organization like theirs. I shared my interest and I was hired on as a consultant. A few months later, they converted me to the first full-time GIS position for the Trust for Public Land and that was in 2001. I have been here for almost 18 years and now my position is endowed by the organization.
What are some of the biggest changes you have seen in your profession thus far?
The biggest changes I have seen are around conservation. Working to keep public lands public for all to use and enjoy is an ongoing challenge.
We are actually able to use data and maps now to help strategically show what should be protected and why. There is anecdotal information and people will have their ideas about public lands, but using GIS and data, we can actually prove that we should be protecting lands because they provide benefits to the public in the way of health and recreation, habitats for wildlife and they protect our drinking water.
The other piece of this conversation is technology. The whole field of technology and GIS within that field is changing every minute. Going from having to code something to create a map and to pushing a couple of buttons to create a map today.
What would you say is most important for a student undergraduate or masters level, if you were hiring anyone preparing for a career in your field (GIS)?
It is really important to hone in on your soft skills and your hard skills. I see a lot of resumes and I have done a lot of hiring over my career and I always find that new students lead with their hard skills – this is what I have studied, the classes I have taken, etc. All of that is really important, but they really more often than not leave out what I call soft skills. Do you have a collaborative nature? How do you communicate, both written and verbally? How well do you present in front of others? All of these skills are just as important.
Also, whatever field you want to go into, even with GIS, make sure you are leading with your passion for that field. A lot of students when I see their cover letters talk about those hard skills, but they don't talk about the organization, the mission or why they care. Everybody can come to the plate with the same set of hard skills, but it's really those soft skills that can set students apart.
I believe students have that advantage already because Appalachian is still providing a liberal arts education and that means students leave here with the tools to do more than just a skill.
What do you think is valuable today about a liberal arts education?
It is the diversity that a liberal arts education offers and the exposure to different concepts and classroom experiences that creates value. Collaboration happens with faculty and peers instead of just sitting in the chair and having information fed to you.
Who has been your biggest supporter and why or how?
My mom and dad. They supported me through my education and the choice to explore my own options. I realize I am fortunate in that way, not everybody, in fact most people do not have that experience.
Are there things you wish you would have done differently in your education or career path?
I took time off between my undergraduate and graduate degrees and that was helpful to understand what I really wanted to do. It wasn't until I had some real-world experience in the medical field that made me realize, it was not the path for me.
I wouldn't change that at all and in fact, I wish more students had that opportunity to have a break to make sure they are on the right path.
I do wish I had the opportunity to supplement my learning with more management and leadership skills or training. I have gotten support along the way, but it is hard once you are in the workplace unless you work for a company that offers that training. Knowing what I know now, that is the only thing I probably would have sought out more.
What was the best example of leadership you have encountered in your career and why?
A lot of times, people think about leadership at the top and I have seen that, but it can happen on all levels. We have a new CEO and she is always changing the way we see our role and its impact to communities across the country, with really big vision. Leadership that can really think outside of the box and think big is a great example of a leader at the top.
I have also seen leadership from my peers and from people that report directly to me. I appreciate that leadership can happen and people will step up in different ways, through different areas of the organization. I have had years of watching my colleagues lead in both bold ways and quiet ways.
For someone that really doesn't know what GIS is or what the function of the TPL is, what do you do in your role?
We are a national conservation organization with 30 offices around the country. I direct the planning and GIS for the entire U.S. We provide community driven conservation planning. With a 21-person team, we travel the country meeting with communities, local governments and partners to help develop conservation plans. Our group works with communities to strategically identify what needs to be protected.
The biggest change that GIS has brought to the organization is that it helps us be more proactive and strategic, whereas before we were more reactive. It has really helped how we function as an organization, how we invest our resources and our efficiency.
What are some of your tips for perseverance when the chips are stacked against you, especially fighting for the environment?
For me, it is always about the possibilities and not getting bogged down in the problems. Thinking outside of the box, being creative and innovative. I have heard several people say this and I think it is so true, "There is a yes in every no."
I think especially in hard times, when you are running against a brick wall, you just have to think of what is the alternative, what can I create because this isn't working.
When you think about Appalachian now, what makes you proud to be an alumna from this University?
I love the school spirit. I love the friendships I made. Every time I meet people that went to Appalachian they are doing great things out there, whether it is in my field or not, it's impressive.
###
About the Department of Geography and Planning
The Department of Geography and Planning promotes the understanding of the spatial dimensions of human behavior within the physical and cultural systems of the earth, and the role of planning in achieving improvement in those systems. The department offers degrees in geography and in community and regional planning. Learn more at https://geo.appstate.edu.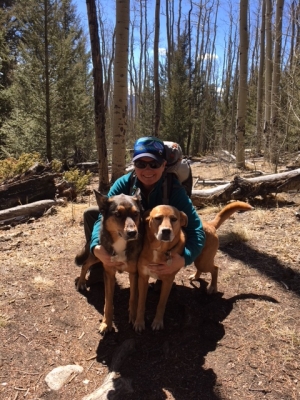 Tags: