BOONE, N.C. — The College of Arts and Sciences' Sustainability Liaison Carla Ramsdell, in collaboration with Appalachian State University's Office of Sustainability, invites students to apply for this semester's "Cooking with Purpose," a five-part cooking class focused on sustainable, low-cost, delicious meal preparations. This is a voluntary program that does not result in college course credit.
The goal of the series is to increase awareness about how to prepare healthy food using sustainable ingredients and techniques and to showcase ingredients that are readily available at the Office of Sustainability's Mountaineer Food Hub and Free Store. Established to address food insecurity and resource consumption at App State, the food hub provides staple foods, fresh produce, bread, breakfast items and personal care products to students, staff and faculty. It is located on the bottom floor of East Hall and is open Monday through Friday, 8 a.m. to 5 p.m.
"Cooking with Purpose" was established during the COVID-19 lockdown following the successful transition of a physics of cooking course to an online format. Ramsdell, the coordinator of the series, explained the motivation behind creating it: "The team was hopeful that this would not only introduce students to low-cost, sustainable meal preparations but also help to provide community with other students at a time this was particularly difficult to establish."
"Cooking with Purpose" will take place on five Wednesdays throughout the semester from 5:00 to 6:30 p.m. The series will kick off on Wednesday, February 15, 2023, with an in-person meet and greet. The next three cooking classes will meet virtually via Zoom and the final class will meet in person on Wednesday, May 3, 2023. The cohort will cook a variety of meals, including lentil tacos, a skillet pizza, a Tuscan tomato chickpea soup, a Persian-inspired meal and homemade hummus and Chai.
---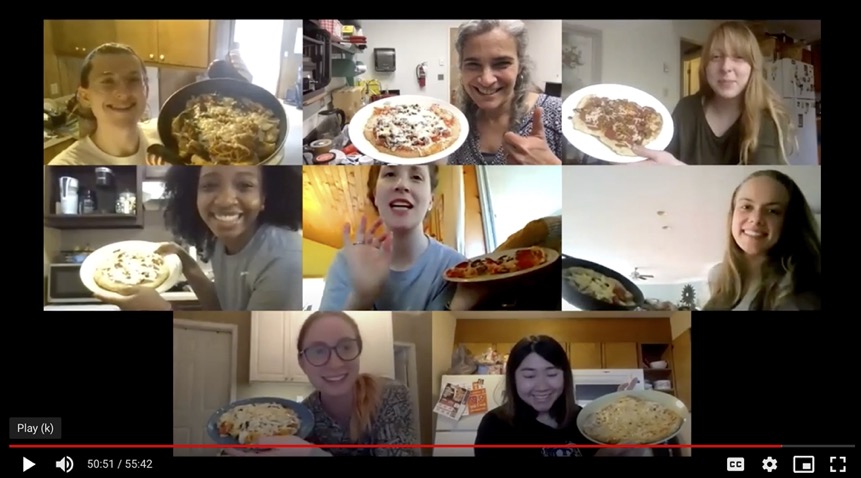 Office of Sustainability ambassadors proudly display their skillet pizzas on Zoom during the "Cooking with Purpose" pilot in 2021.
---
The class instructors include:
To attend the virtual classes, students will need access to reliable internet and technology. Additionally, cooking equipment, including a cooking pot with a lid, skillet with a lid, cutting board, utensils, bowl, rolling pin and measuring cups, is necessary to complete the course. A limited amount of equipment will be available to borrow on a first-come, first-served basis.
This semester's class does not provide the needed ingredients. However, the organizers will make an effort to have the needed ingredients available at the Mountaineer Food Hub.
To apply for "Cooking with Purpose," submit the application by Wednesday, February 8, 2023. A cohort of 20 students will be accepted and priority will be given to students who apply early. Questions about the series can be directed to Ramsdell (ramsdellcs@appstate.edu) or King (kinger2@appstate.edu).
###
About Sustainability at Appalachian
Appalachian State University's leadership in sustainability is known nationally. The university's holistic, three-branched approach considers sustainability economically, environmentally and equitably in relationship to the planet's co-inhabitants. The university is an active steward of the state's interconnected financial, cultural and natural resources and challenges students and others to think critically and creatively about sustainability and what it means from the smallest individual action to the most broad-based applications. The university offers both undergraduate and graduate academic degree programs that focus on sustainability. In addition, 100 percent of Appalachian's academic departments offer at least one sustainability course or course that includes sustainability, and all students graduate from programs that have adopted at least one sustainability learning outcome. Learn more at https://appstate.edu/sustainability.
About the Department of Physics and Astronomy
The Department of Physics and Astronomy's curriculum has an applied nature that includes a core of fundamental physics courses and laboratory experiences. The department prepares graduates for a variety of scientific, teaching or engineering professions, as well as future educational endeavors. Learn more at https://physics.appstate.edu.
About the Department of Mathematical Sciences
The Department of Mathematical Sciences offers undergraduate degrees in actuarial science and mathematics, with concentrations in business, computation, life sciences, physical sciences, secondary teaching and statistics, plus a general, self-designed concentration. The department also offers the Master of Arts in mathematics, with concentrations in college teaching and secondary teaching. Learn more at https://mathsci.appstate.edu.
Written by Lauren Andersen
February 1, 2023
BOONE, N.C.