Dr. Paul Mayewski, Director of the Climate Change Institute and Distinguished Professor at the University of Maine in Orono will give a lecture on Friday, February 23, in Room 293, Rankin Science West at 3:30 p.m. entitled: "Journey into Climate: Adventure, the Emergence of Climate Research and the Unmasking of Human Innocence." Mayewski's life research career has been dedicated to understanding why and how the climate is changing and to share with both scientists and non-scientists alike his adventures and guidance on how to adapt for a sustainable future.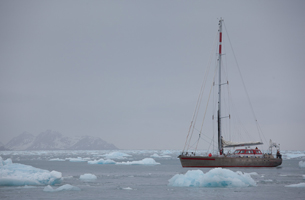 Mayewski has led more than 55 expeditions to some of the most remote polar and high altitude reaches of the planet over the last four decades. Accompanied by students and fellow scientists, their mission has been to research climate and environmental change through the study of ice cores to understand changes in atmospheric chemistry, produced naturally and by humans. He has visited Antarctica many times starting in the 1970's and his field site locations include the Arctic, the Andes, Greenland, the Himalayas, the Tibetan Plateau and the sub-Antarctic islands.
He has been published as an author on more than 450 scientific publications; and he has received numerous honors such as the Medal for Excellence in Antarctic Research, awarded by the Scientific Committee on Antarctic Research, and the Seligman Crystal of the International Glacial Society. Director and Producer James Cameron featured him in the 2014 Emmy award-winning series, "The Years of Living Dangerously," which covers crucial issues around catastrophic events and how they affect locations and lives. Mayewski has several hundred other media appearances including several on the CBS program 60 Minutes.
Current Research
Mayewski's recent research activities include: The International Trans Antarctic Scientific Expedition, a reconstruction of Antarctic climate and chemistry of the atmosphere over the last 200-1000 years; ice coring activities on Mt. Everest, Mt. Logan (Yukon Territory), Patagonia, Greenland, Europe, Central Asia and the sub-Antarctic islands. Calibration of ice core records using instrumental records of climate variables such as sea level pressure to investigate the past behavior of El Niño/Southern Oscillation (ENSO), the North Atlantic Oscillation, the Indian Monsoon and the Antarctic Oscillation.
The Study of Ice Cores
Cylinders of ice, drilled from the depths of the Earth's ice sheets or glaciers can reveal details about Earth's past climate through small air bubbles, dissolved chemistry and particulate chemistry.
"Ice cores provide one of the most important archives of past climates and therefore are essential for placing current conditions in a longer-term context and providing clues about how climate may change in the future," said Dr. Baker Perry, graduate program director and associate professor in the Department of Geography and Planning.
Mayewski organized the Greenland Ice Sheet Project 2 collaborating with 25 U.S. Institutions during a five-year project that involved recovering a 3,053-meter ice core from the center of Greenland, the deepest ice core recovered at the time, with results that altered the way we view natural climate variability today. In 1989 he also organized the 21 nation International Trans Antarctic Scientific Expedition which continues today.
Connection to Research with Appalachian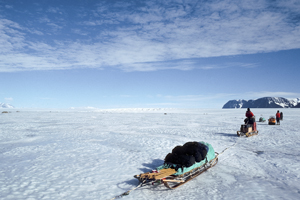 Through a National Science Foundation (NSF) grant, Mayewski and his team are currently collaborating with Appalachian's Department of Geography and Planning faculty members Dr. Baker Perry and Dr. Anton Seimon. Their three-year project is titled: "Ultra-High-Resolution Investigation of High Andean Snow and Ice Chemistry to improve Paleo Climatic Reconstruction and Enhance Climate Prediction," and combines transformative advances in ice core sampling technology, new knowledge on Andean storm event meteorology and moisture transport, cyberinfrastructure, as well as climate modeling and analysis. These advances are being applied to snowfall samples and ice cores that team members are obtaining during field work on high alpine glaciers in the Andes Mountains of Peru and Bolivia.
A team of students is working with Mayewski, Perry and Seimon including: graduate students Heather Guy, Joe Jonaitis and Tania Ita Vargas; and undergraduate student Alex O'Neil. Previously graduate student Jason Endries and undergraduate students Evan Montpellier and Eric Burton worked on the project as well, before graduating in May 2017. Courtney Cooper, a doctoral student at the University of Idaho and former Appalachian graduate student '14, also continues to work on the project. Tania Ita Vargas worked for the Peruvian National Weather Service for five years before enrolling at Appalachian this semester.
Appalachian faculty and students will travel to the Peruvian Andes in early March to collect samples from fresh snowfall, mountain summit snowpits and a network of citizen scientist precipitation observers conscripted to support the project. Mayewski will lead an expedition back to Peru in July 2018 to recover a new ice core and will be joined by Appalachian faculty, students and international colleagues from Brazil and Peru.
"We expect the project results to be of significance to a broad range of disciplines that together inform a worldwide understanding of forced climate change and the options for response. Resources generated by this project will be incorporated in the University of Maine's A2C2 (Adaptation to Abrupt Climate Change) program to foster a new cadre of PhDs with physical, chemical, biological and social understanding of climate change and the ability to translate climate change into tangible products such as environmental change policy at local to global scales and climate change planning," said Mayewski
This presentation is sponsored by the Department of Geography & Planning and the Department of Geological & Environmental Sciences, in the College of Arts and Sciences at Appalachian State University. The talk is free and open to the public.
###
About the Department of Geography and Planning
The Department of Geography and Planning promotes the understanding of the spatial dimensions of human behavior within the physical and cultural systems of the earth, and the role of planning in achieving improvement in those systems. The department offers degrees in geography and in community and regional planning. Learn more at www.geo.appstate.edu.
About the Department of Geological and Environmental Sciences
Located in Western North Carolina, Appalachian State University provides the perfect setting to study geological and environmental sciences. The Department of Geological and Environmental Sciences provides students with a solid foundation on which to prepare for graduate school or build successful careers as scientists, consultants and secondary education teachers. The department offers six degree options in geology and two degree options in environmental science. Learn more at www.earth.appstate.edu.
By Ellen Gwin Burnette
Feb. 12, 2018
BOONE, N.C.