BOONE, N.C. — The College of Arts and Sciences at Appalachian State University is accepting applications for the Student and Faculty Excellence (SAFE) Fund with a deadline of Monday, October 2, 2023, at 5:00 p.m.
Initially endowed by a generous gift from Hughlene Bostian Frank '68 and her husband William "Bill" Frank, the SAFE Fund provides resources that can be used to transform the undergraduate and graduate experience and support faculty teaching, research, and engagement. Typical past awards range from $100 up to $2,000.
These are university funds and all use of the money must comply with university spending guidelines and follow standard university policies and procedures. Please note that the funds are intended to be supplementary and it is expected that applicants pursue other sources of funding before applying.
Both faculty and students are encouraged to apply. For more information, visit cas.appstate.edu/students/student-and-faculty-excellence-safe-fund.
###
About the College of Arts and Sciences
The College of Arts and Sciences (CAS) at Appalachian State University is home to 17 academic departments, two centers and one residential college. These units span the humanities and the social, mathematical and natural sciences. CAS aims to develop a distinctive identity built upon our university's strengths, traditions and unique location. The college's values lie not only in service to the university and local community, but through inspiring, training, educating and sustaining the development of its students as global citizens. More than 6,400 student majors are enrolled in the college. As the college is also largely responsible for implementing App State's general education curriculum, it is heavily involved in the education of all students at the university, including those pursuing majors in other colleges. Learn more at https://cas.appstate.edu.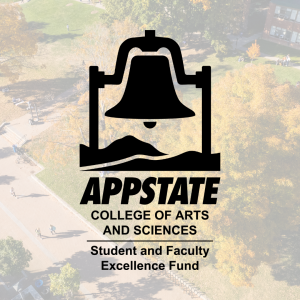 Tags: