Sanford Mall
Tuesday Oct. 3, 2017 at 4:30 p.m.
The AppalFRESH (Appalachian Food Research for Equity, Sustainability and Health) Collaborative is a new, but growing group of faculty, staff and graduate students at Appalachian State University with a common interest in research, education and engagement related to socially, economically and ecologically viable food systems. This collaborative group has decided to host a community meal with the help of many student groups across campus to gather people around a common, 100-yard continuous table to have a discussions about the importance of a sustainable food system. This includes a food system that is responsible to our environment, healthy and available to everyone. Food has the ability to unite people and sitting around a table together with the Appalachian family and the wider Boone community is a great opportunity for story-telling and discussions that help shift the momentum of our community toward local, equitable food solutions.
This event is free and anyone is welcome to attend. Your "ticket" is your own plate, utensil and filled water bottle to help make this a near-zero waste event! To learn more, visit: https://rieee.appstate.edu/CommunityFEaST.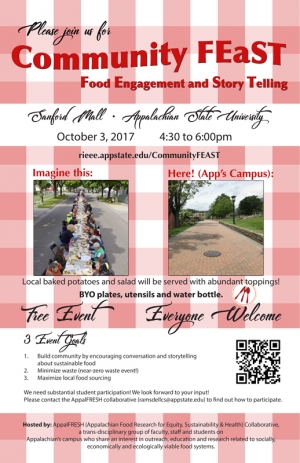 Tags: