The College of Arts and Sciences (CAS) Corps are chosen to serve as representatives to all constituents of CAS and to create, promote and execute opportunities for academic and professional growth. These students represent a variety of departments from across CAS and will represent the College at events through interaction among current students, future students, parents, donors and alumni.
Over the next few weeks, we will be introducing the students representing the College in the 2022-23 academic year through a question and answer format. For more about the CAS Corps, visit: cas.appstate.edu/students/cas-corps.
---
Rachel Harris
Year: Junior
Major: Environmental Science - Earth Systems Science
Hometown: Raleigh, N.C.
Which clubs or organizations are you a member of?
Geological and Environmental Science (GES) Club
GES Outreach Club
What scholarship(s) have you received from Appalachian or while studying at Appalachian?
Appalachian Excellence Scholarship
GES Undergraduate Research Assistantship
What research or coursework have you been most passionate about?
I work on a research project that looks at the saturation patterns and hydrology on zero and first order streams in the North slope of Alaska. Through this I have been able to participate in field work in the artic circle along the north of the Brooks range in Alaska. I have started my own independent research project along with this work, focusing on the degradation of continuous permafrost and talik formation along these features. My primary course work is based in Environmental science with a concentration in Earth systems. I am particularly passionate about groundwater and hydrogeology, particularly in terms of monitoring and working to study aquifers conditions. I have been very lucky to have the opportunity to work on this passion in a environment such as Alaska to study its unique hydrology through saturation patterns in the artic.
Which location(s) do you hope to visit for an internship, a study abroad trip, a research experience, or just for fun?
I have had the opportunity to go many places through my research be it at my research site in the northern slope of Alaska or to travel for professional conventions across the U.S! But I hope to be able to visit and experience the beautiful landscapes of Western U.S national parks through a faculty run trip, and a country I would love to visit for fun would be South America, I would especially love to see the Galapagos Islands.
Where is your favorite place on campus and why?
My favorite place on campus has to be Rankin and its undergraduate research lab. It a place many GES majors go to hang out and do homework so it always feels like a collaborative study room and we have a rock garden right outside for when the weather is good!
What is one of your favorite memories at Appalachian thus far?
I have many wonderful experiences at App but I have to say my favorite by far was during my first winter where I was able to go sledding with my friends and at the time no one had a sled or it was to late to purchase one so we improvised one and ended up using lids from buckets, cardboard boxes or we even took the wheels off a skate board to sled on and it was just great fun for the whole week with the snow on campus.
What do you like about Boone and the surrounding community?
I like the sense of community that Boone has, its a small community that has a large college population come in to it but everyone still participates and shows up to support the community for the time they are there.
What are your hobbies?
I am very big on travel. When I'm home, I'm big on getting outside and hiking and camping, but I also enjoy watching movies and crocheting.
What is your favorite book, podcast, artist, and/or television show?
I have to say my favorite genres focus on adventure and realistic fiction. From this, my favorite book has to be the "Martian" by Andy Weir, and some TV shows I'm partial to are NCIS, Bones,and Lost in Space.
Tell us about one faculty or staff member that has made an impact on your life and how.
I have had many great mentors while at App. The most impactful have to be Marta Toran and Dr. Sarah Evans. Marta helped me become more involved in my department and have wonderful outreach experiences. While Dr. Evans is my mentor for my individual research project which and whose guidance I could not have done it without.
What do you feel has been valuable in your education at Appalachian versus another institution?
I have felt very supported in my undergraduate career at App State. I have had many wonderful opportunities for thinking about career advancement and life goals. I have been exposed to many different paths for my future that I don't believe I would have experienced anywhere else.
What do you hope to do after graduation?
I hope to go on to graduate school after my undergrad to study groundwater and hydrogeology more in-depth. But I also plan to take the ASBOG exam which is the first step to becoming a licensed geologist.
###
About the Department of Geological and Environmental Sciences
Located in Western North Carolina, Appalachian State University provides the perfect setting to study geological and environmental sciences. The Department of Geological and Environmental Sciences provides students with a solid foundation on which to prepare for graduate school or build successful careers as scientists, consultants and secondary education teachers. The department offers six degree options in geology and two degree options in environmental science. Learn more at https://earth.appstate.edu.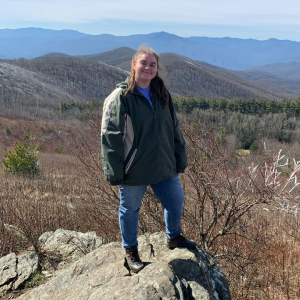 Tags: