The CAS Corps are chosen to serve as representatives to all constituents of the College of Arts and Sciences and to create, promote and execute opportunities for academic and professional growth. These students represent a variety of departments from across the College of Arts and Sciences and will represent the College at events through interaction among current students, future students, parents, donors and alumni. Each month of this year we will be introducing one of our eleven students representing the college in a question and answer format. This month, meet Jeff and learn about her his research experiences. For more about the CAS Corps, visit: cas.appstate.edu/students/cas-corps.
Jeff Miller
Major: Physics - Applied Physics
What clubs or organizations are you a member of?
PandA Club and Democracy Matters
What sports or hobbies do you participate in?
Hiking with my two dogs
What scholarships have you received from Appalachian or while studying at Appalachian?
OSR Grant, OSR Travel Grant, Student and Faculty Excellence (SAFE) Grant
In what locations or labs have you conducted research?
BiYOSeF: Biophysics and Optical Sciences Facility
Where do you hope to go for an internship, study abroad or research experience?
I hope I receive an N.C. Space Grant to continue my research here on campus with BiyOSeF
What research have you been most passionate about?
Currently, I am working on experimentally determining the temperature of an optically trapped gold nano-shell. This will allow optical trapping to be more accurate.
What are you most excited about this semester?
I am most excited to finish getting data for my research. Once completed, the research will be published.
What is one of your favorite memories at Appalachian thus far?
One of my favorite memories is going on an overnight trip to present my research at The State of North Carolina Undergraduate Research and Creativity Symposium (SNCURCS).
What do you like most about Boone and the surrounding community?
There is always something to do. In the summer there are endless trails to explore, and in the winter there are the ski slopes.
What do you feel has been valuable in your education at Appalachian versus another institution?
The faculty here are amazing. They care so much about you and help you in any way they can.
Tell us about one faculty member that has made an impact on your life and how.
Joining a research group, BiyOSeF, has changed the way I view science. Before joining the group I had an inaccurate view of how research was conducted. Now, I understand the research process more and have a greater respect for the scientists who do research and the process.
Tell us about one other connection you have made while at Appalachian- a friendship, mento, colleague, a new found hobby or interest.
I have become more aware of our political system and how "big money" influences who runs for office and the policies they advocate.
Tell us about one faculty member that has made an impact on your life and how.
Dr. Hester is my research mentor and advisor. She has guided me since January 2017. She has helped me understand how to do research and the necessary steps involved. I have become more professional through her advice. With her guidance, I have become not only a better scientist but a better person.
What is your understanding of "sustainability" after being at Appalachian?
I believe in the three R's, reduce reuse and recycle, in that order. The greatest way to become sustainable is to reduce our consumption. If the product is not purchased, there will be less resources used to create it. Next, we should reuse as much as possible. Finally, after both of those shall we recycle.
What are you doing after graduation?
After I graduate, I plan on attending a graduate school to earn a PhD in Medical Physics.
What is your dream job?
My dream job is to research new medical imaging techniques.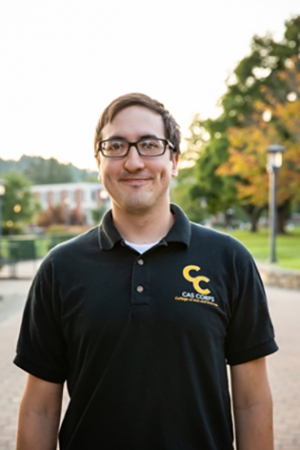 Tags: