The CAS Corps are chosen to serve as representatives to all constituents of the College of Arts and Sciences and to create, promote and execute opportunities for academic and professional growth. These students represent a variety of departments from across the College of Arts and Sciences and will represent the College at events through interaction among current students, future students, parents, donors and alumni. Each month of this year we will be introducing one of our eleven students representing the college in a question and answer format. This month, meet Shannon and learn about her study abroad and research experiences. For more about the CAS Corps, visit: cas.appstate.edu/students/cas-corps.
Shannon Furr
Major: History - Social Studies Education
What clubs or organizations are you a member of?
Appalachian Community of Education Scholars (ACES), Appalachian Educators
What scholarships have you received from Appalachian or while studying at Appalachian?
Marguerite Mims Clements Memorial Endowed Scholarship for Education, Appalachian Community of Education Scholars Enrichment Grant, State Employees' Credit Union Scholarship and the Don and Carol Pardue Scholarship
What locations have you completed an internship?
After-school tutor for students K-6th grade at Green Valley School
What locations have you completed a study abroad or study away?
I traveled to Spain, Germany and Italy part of the War in Europe faculty led program.
What research have you been most passionate about?
Completing a history honors thesis on the impact of the American legal system to the societal standing of women.
What are you most excited about this semester?
Continuing research on the history of women's struggle in American society, specifically with a class titled History of Women and Law.
What do you like most about Boone and the surrounding community?
The small-town atmosphere creates a welcoming and homey feeling for me. The amazing natural beauty of the Blue Ridge Parkway offers escape or even just a cozy coffee shop on King Street.
What do you feel has been valuable in your education at Appalachian versus another institution?
The professors and teachers are almost always available and really want you to succeed. They offer many different ways of support and I feel like they have shaped my learning to be very beneficial and constructive.
Tell us about a transformational experience you have had at Appalachian.
While I wasn't very shy before attending Appalachian, I was secure in my own bubble and was scared to venture out. Joining the RLC and professional development group of ACES required me to branch out and meet new people. Immediately after move-in, the new 40 members and I went on a two day retreat. Though I was terrified and overwhelmed, by the end I had 40 new friends and I knew I could meet new friends at every turn. That experience gave me the courage to branch out in the rest of my college endeavors and try new opportunities like studying abroad or talking to different people.
Tell us about one faculty member that has made an impact on your life and how.
I first had Dr. Allison Fredette for a general education World Civilization class my first semester of freshman year. I was on track for a Elementary Education degree at the time but I had always had an overwhelming interest in history. I often went to her office hours to discuss different topics and she finally asked if I was an history major and when I said no she gave me a puzzled look. Overall, her passion and vast knowledge of history that she brought to her class made me realize that I wanted to be a historian and professor one day. I have had the privilege of having her as a professor several times since freshman year and she has been the greatest role model as a historian, teacher, and women.
Tell us about one other connection you have made while at Appalachian- a friendship, mento, colleague, a new found hobby or interest.
While at Appalachian, I have made several friendships with other History Education majors that have had a positive impact on my academic and social life. One of those friendships started off with ACES when I met Katie Haynes, a fellow history ed major. Since freshman year, we have had countless experiences from exploring Boone together on hikes or shopping trips, studying in history classes together, or traveling together in Europe for a history study abroad trip. She has been a constant companion in my college career and journey.
What is your understanding of "sustainability" after being at Appalachian?
To me, being sustainable at Appalachian means not only being environmentally sustainable with our carbon footprint, but also sustaining important relationships and connections that offer essential connections. To be sustainable means to continue progressive conversations that can protect our earth and humanity.
What is your understanding of "liberal arts" education and do you believe Appalachian has provided that?
The liberal arts education isn't a political perspective of education, but rather an assurance that every student is exposed to important different perspectives and knowledge that shapes our society and world. One cannot better the world if they do not know the world around them and the liberal arts education provides a way for students like me to learn things that have been hidden or misunderstood.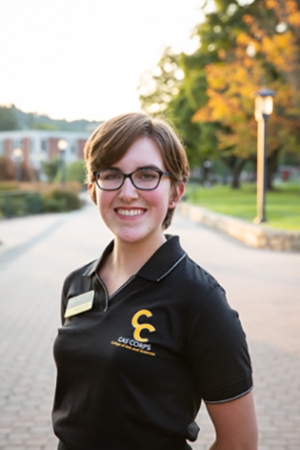 Tags: