The College of Arts and Sciences (CAS) Corps are chosen to serve as representatives to all constituents of CAS and to create, promote and execute opportunities for academic and professional growth. These students represent a variety of departments from across CAS and will represent the College at events through interaction among current students, future students, parents, donors and alumni.
Over the next few weeks, we will be introducing the students representing the College in the 2022-23 academic year through a question and answer format. For more about the CAS Corps, visit: cas.appstate.edu/students/cas-corps.
---
Meredith Sánchez-Sánchez
Year: Senior
Major: Global Studies
Hometown: Clayton, N.C.
Which clubs or organizations are you a member of?
Immigrant Mountaineer Movemen
Latin Hispanic Alliance
Queen in You
What scholarship(s) have you received from Appalachian or while studying at Appalachian?
A.G. Connie Glenn Scholarship
What research or coursework have you been most passionate about?
Last semester, I took a class on manifestos and had the opportunity to do research on the women in the Chicano movement. I then had to write my own manifesto based on theirs. I found the process from start to finish to be very interesting and stimulating.
Which location(s) do you hope to visit for an internship, a study abroad trip, a research experience, or just for fun?
I hope to visit Germany one day. I have a friend who lives there currently and I haven't been able to see them in over five years. I would also like the experience of going to a country where the culture is very different from mine.
Where is your favorite place on campus and why?
I usually spend my time in the Women's Center. There is always someone there just chatting about something. It is a very calm and safe space.
What is one of your favorite memories at Appalachian thus far?
I recently was able to go to the Tai Verdes concert that Apps put on at Legends. It was a very fun experience.
What do you like about Boone and the surrounding community?
I like the small town, friendly vibes. I like that there are a lot of local restaurants that you can't find anywhere else and that there are so many free outdoor activities that everyone can participate in.
What are your hobbies?
I like reading, practicing guitar, hiking, jigsaw puzzles and sudoku.
What is your favorite book, podcast, artist, and/or television show?
Favorite Podcast: "Invisibilia" by NPR
Tell us about one faculty or staff member that has made an impact on your life and how.
During my sophomore year, it was the middle of the pandemic and I was doing online classes at home. I was about halfway through the semester and feeling incredibly burnout out and unmotivated to keep going. At the time, Dr. Kara Dempsey noticed that my grade between two exams had dropped by like 15 or 20 points. She reached out to me and basically offered to give me support in any way that I needed. Her reaching out made me feel more connected to school and made me feel like what I was doing mattered. It helped give me the push I needed to make it through the rest of the semester.
What do you feel has been valuable in your education at Appalachian versus another institution?
Being at Appalachian has shown me the importance of finding and building one's community.
What do you hope to do after graduation?
I hope to go into the workforce. Ideally, I will be able to work with a program that is geared towards the Latine community. After a few years, I hope to attend graduate school.
###
About the Department of Interdisciplinary Studies
The Department of Interdisciplinary Studies offers graduate and undergraduate degrees in four program areas: Appalachian studies; gender, women's and sexuality studies; global studies; and interdisciplinary studies. The department is also home to Watauga Residential College, an interdisciplinary, alternative general education program. The department promotes creative and imaginative engagement through a cross-disciplinary investigation of complex systems and problems. Learn more at https://interdisciplinary.appstate.edu.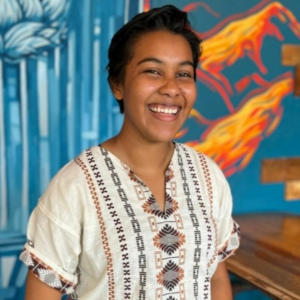 Tags: