The College of Arts and Sciences (CAS) Corps are chosen to serve as representatives to all constituents of CAS and to create, promote and execute opportunities for academic and professional growth. These students represent a variety of departments from across CAS and will represent the College at events through interaction among current students, future students, parents, donors and alumni.
Over the next few weeks, we will be introducing the students representing the College in the 2022-23 academic year through a question and answer format. For more about the CAS Corps, visit: cas.appstate.edu/students/cas-corps.
---
Ella Adams
Year: Junior
Major: Anthropology
Which clubs or organizations are you a member of?
The Appalachian
Lambda Alpha Honors Society
What scholarship(s) have you received from Appalachian or while studying at Appalachian?
Appalachian Excellence Scholarship
Club Leadership Scholarship
Dr. Loucks Memorial Scholarship in Anthropology
Dr. Loucks Memorial Scholarship in Anthropology - Summer Stipend
What research or coursework have you been most passionate about?
I am very passionate about my ongoing research regarding cultural identity and social dynamics in American South. My other research interests include Appalachian studies, Indigenous studies and environmental anthropology. Some of my favorite coursework at App State has been about cultural anthropology, wildlife conservation and global tourism.
Which location(s) do you hope to visit for an internship, a study abroad trip, a research experience, or just for fun?
This spring (2023), I will be spending a semester in Costa Rica studying environmental anthropology, ecology, conservation and ecotourism. Within the upcoming year, I plan to apply for a Fulbright to conduct field research regarding environmental and cultural anthropology in Kenya and Tanzania. Finally, I hope to one day go backpacking in Southeast Asia.
Where is your favorite place on campus and why?
The Appalachian's newsroom is my favorite place on campus. Staff members at The Appalachian have an amazing sense of community and drive to serve App State and the surrounding community. The newsroom is always a safe, welcoming space.
What is one of your favorite memories at Appalachian thus far?
One of my favorite memories is exploring campus with my friends after a big snow storm. None of us had sleds so we used our laundry baskets and slid down whatever hill we could find. Snow days at App are the best!
What do you like about Boone and the surrounding community?
I love how accessible outdoor activities are in Boone. So many great hiking trails are within a few minutes drive and the Blue Ridge Parkway is right down the road. Not to mention the rock climbing, snowboarding, rafting and caving!
What are your hobbies?
I like to write music and play guitar, learn languages, play trivia, read, listen to music and explore the outdoors.
What is your favorite book, podcast, artist, and/or television show?
Tell us about one faculty or staff member that has made an impact on your life and how.
Dr. Timothy Smith has made a very significant impact on my academic career and my future career as an anthropologist. He has encouraged me to pursue scholarships and undergraduate research opportunities, given me lots of helpful career advice, and been a constant advocate for myself and many other students.
What do you feel has been valuable in your education at Appalachian versus another institution?
App State has an amazing faculty and staff that genuinely cares about students. The supportive community fosters a close-knit campus environment. App State has one of the best undergraduate anthropology departments in North Carolina. Anthropology instructors care about their student's success and offer a variety of opportunities to grow both at App State and after graduation.
What do you hope to do after graduation?
I hope to join the Peace Corps after graduation. Following my service, I plan to apply to graduate programs in anthropology.
###
About the Department of Anthropology
The Department of Anthropology offers a comparative and holistic approach to the study of the human experience. The anthropological perspective provides a broad understanding of the origins as well as the meaning of physical and cultural diversity in the world — past, present and future. Learn more at https://anthro.appstate.edu.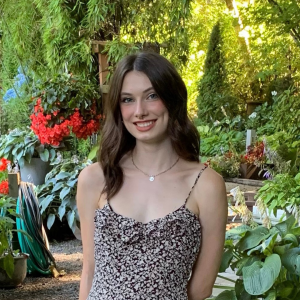 Tags: