The College of Arts and Sciences (CAS) Corps are chosen to serve as representatives to all constituents of CAS and to create, promote and execute opportunities for academic and professional growth. These students represent a variety of departments from across CAS and will represent the College at events through interaction among current students, future students, parents, donors and alumni.
Over the next few weeks, we will be introducing the students representing the College in the 2022-23 academic year through a question and answer format. For more about the CAS Corps, visit: cas.appstate.edu/students/cas-corps.
---
Aydan Gibbs
Year: Junior
Major: Applied Physics
Hometown: Cary, N.C.
Which clubs or organizations are you a member of?
Physics and Astronomy Club
Society of Physics Students
American Physical Society
What research or coursework have you been most passionate about?
I am very passionate about my optical research that I conduct in the Department of Physics and Astronomy.
Which location(s) do you hope to visit for an internship, a study abroad trip, a research experience, or just for fun?
I hope to visit either Mongolia or Italy in the near future just for fun!
Where is your favorite place on campus and why?
The Lindsey room in Garwood Hall is my favorite spot on campus. It has a coffee maker, microwaves, and a fridge, and it is set up for students to have a common area to do school work and relax.
What is one of your favorite memories at Appalachian thus far?
My favorite memories all include hiking, especially hiking Grandfather Mountain.
What do you like about Boone and the surrounding community?
I like the geography of the area. I really enjoy hiking so it is the perfect place for me.
What are your hobbies?
I like to hike, bike, workout, snowboard, rock-climb, swim, raft and do yoga.
What is your favorite book, podcast, artist, and/or television show?
Favorite Book: "Geometry for Ocelots" by Exurb1a
Favorite Artist: Rainbow Kitten Surprise
Favorite TV Show: Bob's Burgers
Tell us about one faculty or staff member that has made an impact on your life and how.
Dr. Scott Thomas and Dr. Tonya Coffey made a huge impact on me by writing my letter of recommendation to get me into an REU (research experience for undergraduates). Because of them, I spent my summer in Florida using an x-ray diffractometer to conduct research.
What do you feel has been valuable in your education at Appalachian versus another institution?
I feel that the surrounding area has been most valuable to my education here at Appalachian State. I have been able to spend so much time doing the things I love outside of the classroom and it makes being a student here much less stressful.
What do you hope to do after graduation?
I hope to go into industry. I'm still unsure as to the specifics of exactly where and what I would like to be doing, but more than likely I will end up as an Automation Engineer.
###
About the Department of Physics and Astronomy
The Department of Physics and Astronomy's curriculum has an applied nature that includes a core of fundamental physics courses and laboratory experiences. The department prepares graduates for a variety of scientific, teaching or engineering professions, as well as future educational endeavors. Learn more at https://physics.appstate.edu.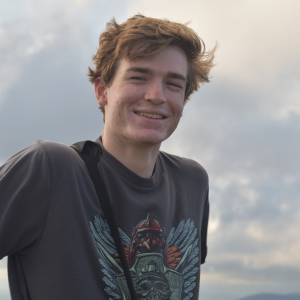 Tags: