The College of Arts and Sciences (CAS) Corps are chosen to serve as representatives to all constituents of CAS and to create, promote and execute opportunities for academic and professional growth. These students represent a variety of departments from across CAS and will represent the College at events through interaction among current students, future students, parents, donors and alumni.
Over the next few weeks, we will be introducing the students representing the College in the 2022-23 academic year through a question and answer format. For more about the CAS Corps, visit: cas.appstate.edu/students/cas-corps.
---
Annie Sylvester
Year: Junior
Major: Physics - Secondary Education
Hometown: New Bern, N.C.
Which clubs or organizations are you a member of?
S-STEM Program
What scholarship(s) have you received from Appalachian or while studying at Appalachian?
Academic Excellence Scholarship
College Opportunity Grant
SAFE Grant
What research or coursework have you been most passionate about?
I have found my work in STEM, and more specifically physics, education research to be most rewarding. The combination of two of my greatest interests (science and education) makes the work seem like it's own reward.
Which location(s) do you hope to visit for an internship, a study abroad trip, a research experience, or just for fun?
I have been obsessed with the study abroad to Iceland through the Department of Geological and Environmental Sciences for some time now! I'm currently exploring a new interest in geophysics and the fascinating cross section where physics is applied to earth and environmental sciences.
Where is your favorite place on campus and why?
Durham Park has always been my haven on campus. It was my escape from the dorms freshman year. Now, as a junior, it is a place where I will walk my dogs in the evenings and I am reminded of how beautiful App's campus is.
What is one of your favorite memories at Appalachian thus far?
Hands down my favorite memory at Appalachian was rushing the field after beating Troy when ESPN College Game Day came to Boone. I have always loved attending sporting events at App and the atmosphere of game day!
What do you like about Boone and the surrounding community?
Boone has always felt like a perfect fit for the college experience I wanted. At Appalachian you get the intimate, small town atmosphere and beautiful campus without sacrificing any of the "bigger" college experience. While it never feels overwhelming or busy, there is never a shortage of things to do in Boone.
What are your hobbies?
When I'm not studying I like to take my dogs on adventures and hikes around Boone. On the weekends I enjoy catching live music performances from all types of local artists.
What is your favorite book, podcast, artist, and/or television show?
My favorite book would have to be "Into the Wild" by Jon Krakauer. My most listened to podcast is probably "The Joe Rogan Experience" and my current show to binge watch is Criminal Minds.
Tell us about one faculty or staff member that has made an impact on your life and how.
Dr. Jennifer McGee has been a role model and important figure for me in my college career. I have had the pleasure of working with her as an Undergraduate Research Assistant this semester. She has supported my interest in STEM education research and encourages me to continue on the path I am currently pursuing.
What do you feel has been valuable in your education at Appalachian versus another institution?
I am grateful for the opportunities I have had at Appalachian that I do not think would have been possible elsewhere. Because of the faculty to student ratio, I have done research all three years of my undergraduate degree. I am also confident that the advising I have received from the incredible faculty at Appalachian is preparing me to achieve my future professional goals.
What do you hope to do after graduation?
After graduation, I plan to be a high school physics teacher while pursuing a graduate or doctoral degree in STEM Education Research or an interdisciplinary physics field.
###
About the Department of Physics and Astronomy
The Department of Physics and Astronomy's curriculum has an applied nature that includes a core of fundamental physics courses and laboratory experiences. The department prepares graduates for a variety of scientific, teaching or engineering professions, as well as future educational endeavors. Learn more at https://physics.appstate.edu.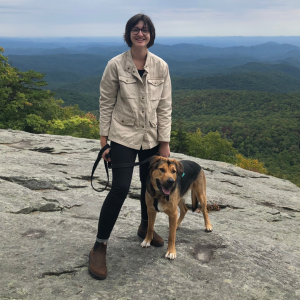 Tags: