The College of Arts and Sciences (CAS) Corps are chosen to serve as representatives to all constituents of CAS and to create, promote and execute opportunities for academic and professional growth. These students represent a variety of departments from across CAS and will represent the College at events through interaction among current students, future students, parents, donors and alumni.
Over the next few weeks, we will be introducing the students representing the College in the 2022-23 academic year through a question and answer format. For more about the CAS Corps, visit: cas.appstate.edu/students/cas-corps.
---
Anna Orgnon
Year: Junior
Major: Psychology - Social Science
Hometown: Winston-Salem, N.C.
Which clubs or organizations are you a member of?
Psychology Club
What research or coursework have you been most passionate about?
Over the summer, I went to Hawaii and was a counselor for a Christian camp. This helped me to connect with God and help children in low income families deal with constant stressors.
Which location(s) do you hope to visit for an internship, a study abroad trip, a research experience, or just for fun?
I am planning to go to Costa Rica this semester.
Where is your favorite place on campus and why?
My favorite place is the Solarium in the Plemmons Student Union because its a peaceful place to study and relax.
What is one of your favorite memories at Appalachian thus far?
My favorite memory at Appalachian was seeing all the students post COVID-19 walking around on campus.
What do you like about Boone and the surrounding community?
I love the fall in Boone and how the community has that small town feel.
What are your hobbies?
I enjoy working out, playing the ukulele and spending time with my friends.
What is your favorite book, podcast, artist, and/or television show?
Favorite Artist: Georges Seurat
Tell us about one faculty or staff member that has made an impact on your life and how.
Lynn Mosteller has been a great impact in my life by helping me in the Peer Advising for Psychology majors and also helping me to get my job in Hawaii by writing me a reference letter.
What do you feel has been valuable in your education at Appalachian versus another institution?
I believe there is an amazing faculty that will help you to succeed and Appalachian State has offered me many opportunities to engage my major in real world applications.
What do you hope to do after graduation?
I hope to go to graduate school and get my Ph.D.
###
About the Dr. Wiley F. Smith Department of Psychology
Appalachian's Dr. Wiley F. Smith Department of Psychology serves more than 1,000 undergraduate majors seeking the Bachelor of Arts or Bachelor of Science degree in psychology, as well as 80 graduate students in three master's programs (experimental psychology, school psychology, and industrial-organizational psychology and human resource management) and the clinical psychology (Psy.D.) doctoral program. Learn more at https://psych.appstate.edu.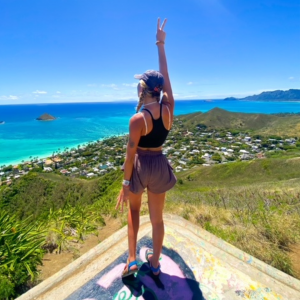 Tags: