The College of Arts and Sciences (CAS) Corps are chosen to serve as representatives to all constituents of CAS and to create, promote and execute opportunities for academic and professional growth. These students represent a variety of departments from across CAS and will represent the College at events through interaction among current students, future students, parents, donors and alumni.
Over the next few weeks, we will be introducing the students representing the College in the 2022-23 academic year through a question and answer format. For more about the CAS Corps, visit: cas.appstate.edu/students/cas-corps.
---
Anna Lee
Year: Senior
Major: Biological Anthropology
Hometown: West End, N.C.
Which clubs or organizations are you a member of?
CITP Youth
UMC Food Pantry
Upward Bound
What scholarship(s) have you received from Appalachian or while studying at Appalachian?
Women In STEM - McCaskill Scholarship
What research or coursework have you been most passionate about?
Human Osteology
Which location(s) do you hope to visit for an internship, a study abroad trip, a research experience, or just for fun?
Indonesia and Peru
Where is your favorite place on campus and why?
The Anthropology Department or the 4th Floor of Broyhill
What is one of your favorite memories at Appalachian thus far?
One time after class, I was able to go on a walk with one of my mentoring professors. They took the time to talk to me about masters school, and encouraged me to follow my passions further than my undergrad. Fortunately, this gave me the confidence I needed to push through my imposter syndrome and plan ahead for further education. My professors are so incredible - any memory with any of them is always precious to me because of how much they care.
What do you like about Boone and the surrounding community?
I love how Boone and Appalachian feel like one place. Usually, a college town will feel separate from the University. In this case, when I feel home on campus, this feeling extends out across the whole area. Also, King Street!
What are your hobbies?
Playing classical piano, oil painting, hiking, taking care of plants and cooking.
What is your favorite book, podcast, artist, and/or television show?
I love "Jane Eyre" by Charlotte Brontë! I really enjoy 70s Rock and Motown music, and cartoon shows that I can watch with friends.
Tell us about one faculty or staff member that has made an impact on your life and how.
Dr. Susan Lappan - She is one of the most incredible and motivated women I have ever met. As someone who is interested in multidisciplinary work - and travel - Dr. Lappan motivates me every day to follow every single passion I have. Additionally, having such a strong person as a mentor has helped me feel structure when I've needed direction during college.
What do you feel has been valuable in your education at Appalachian versus another institution?
I feel that Appalachian has such a unique and incredible community. People do not choose this school by chance. I really believe that the faculty and student body here is like no other,- they are friendly, supportive, excited and open minded. We have such a beautiful campus - but with people like this, the community is invaluable.
What do you hope to do after graduation?
I hope to go directly to graduate school! And then on to my doctorate. But, I will be happy with whatever opportunity presents itself.
Is there anything else you would like to add?
I am so happy that I attended Appalachian. I genuinely think that this school is responsible for me finding out what kind of adult I want to be. I will always love this place!
###
About the Department of Anthropology
The Department of Anthropology offers a comparative and holistic approach to the study of the human experience. The anthropological perspective provides a broad understanding of the origins as well as the meaning of physical and cultural diversity in the world — past, present and future. Learn more at https://anthro.appstate.edu.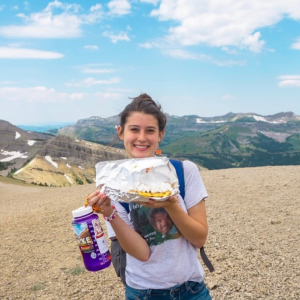 Tags: