The College of Arts and Sciences (CAS) Corps are chosen to serve as representatives to all constituents of CAS and to create, promote and execute opportunities for academic and professional growth. These students represent a variety of departments from across CAS and will represent the College at events through interaction among current students, future students, parents, donors and alumni.
---
Over the next few weeks, we will be introducing the students representing the College in the 2022-23 academic year through a question and answer format. For more about the CAS Corps, visit: cas.appstate.edu/students/cas-corps.
Amy Zal
Year: Sophomore
Major: Computer Science
Hometown: Schenectady, N.Y.
Which clubs or organizations are you a member of?
ECRS/S-STEM Scholars
What scholarship(s) have you received from Appalachian or while studying at Appalachian?
ECRS Scholarship
What research or coursework have you been most passionate about?
I really like my data structures course. It's really interesting to hear about all the ways you can use structures to make your code more efficient and nicer. I also have been enjoying my research that I've been doing for my ECRS scholarship. I have been working with three other students. We have been learning to program a raspberry pi and a spider robot. We are still in the beginning stages, but it is interesting to learn about.
Which location(s) do you hope to visit for an internship, a study abroad trip, a research experience, or just for fun?
I don't know honestly. I like just experiencing new things and places, but I have no places in mind at the moment.
Where is your favorite place on campus and why?
I really like the student areas like the library or the student union. I really like the energy in those buildings. Plus, they are always close to my classes so I can go anytime. I really like being able to get a smoothie or chai latte and getting focused on work.
What is one of your favorite memories at Appalachian thus far?
My friends and I used to have "our spot" last year on campus where we would set up hammocks and chill for hours a day. Then we would go on late night cookout and parkway runs. Really nice time.
What do you like about Boone and the surrounding community?
I like how much of a college town it is. Half the population is college students, and the surrounding people are very used to dealing with college students. I feel like that makes me feel very safe. My sister, who also went here, always tells this story about how she didn't know how to send a package, so she had to go to the Boone post office and the workers there helped her every step of the way. I feel like that represents the energy most people have in Boone. Everyone is very nice and helpful. Plus, the campus is very beautiful. Especially in the fall.
What are your hobbies?
I like to bullet journal. I'm also a pretty big fan of K-pop. Honestly, I'm pretty into "boring" things: watching tv, listening to music, doodling, etc. I'm also into photography and jewelry making. Although I'm not that good at it.
What is your favorite book, podcast, artist, and/or television show?
Artists: Seventeen, Niki, Conan Gray, etc.
Tell us about one faculty or staff member that has made an impact on your life and how.
Dr. T., the chair for the computer science department, has had a big impact on my time at App. He is very welcoming and wants to bring out the best in students. I have a bit of anxiety doing new things which prevented me from being engaged in my high school activities. However, he will suggest clubs and things I should be involved in and it makes me feel more confident in trying new things. Overall, really nice man.
What do you feel has been valuable in your education at Appalachian versus another institution?
I feel like I have more opportunities to be in leadership positions, since the computer science department is smaller than schools like NC State. I also like how class sizes are smaller because I understand better that way. I get to connect with my professors more that way.
What do you hope to do after graduation?
I'm not exactly sure yet, that's why I'm planning on exploring both data science and software engineering. However, I think at the moment I am leaning towards software engineering.
###
About the Department of Computer Science
Appalachian's Department of Computer Science provides a rigorous, high-quality education that prepares students for the computing industry or graduate education. It offers a Bachelor of Science degree in computer science, which is accredited by the Computing Accreditation Commission of ABET, and a Master of Science degree in computer science. Learn more at https://compsci.appstate.edu.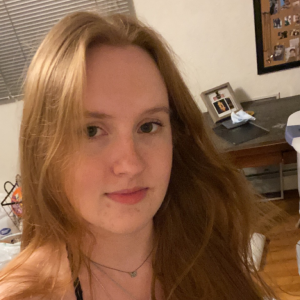 Tags: