The College of Arts and Sciences (CAS) Corps are chosen to serve as representatives to all constituents of CAS and to create, promote and execute opportunities for academic and professional growth. These students represent a variety of departments from across CAS and will represent the College at events through interaction among current students, future students, parents, donors and alumni.
Throughout the year, we will be introducing new students representing the College in the 2023-24 academic year through a question and answer format. For more about the CAS Corps, visit: cas.appstate.edu/students/cas-corps.
---
Adam Lucas
Year: Senior
Major: Environmental Science (Earth Systems)
Hometown: Belmont, N.C.
Which clubs or organizations are you a member of?
Answersphere

Geology & Environmental Sciences (GES) Club

GES Outreach

GES Peer Mentor
What scholarship(s) have you received from Appalachian or while studying at Appalachian?
Appalachian Excellence Scholarship
What research or coursework have you been most passionate about?
"I am most passionate about my research on glaciers. I study the processes that affect glaciers that melt into lakes. I also love having fieldwork in my classes, the Appalachian Mountains are a great place to explore."
Which location(s) do you hope to visit for an internship, a study abroad trip, a research experience, or just for fun?
"I hope to one day be able to do research in Antarctica."
Where is your favorite place on campus and why?
"My favorite place on campus is Crossroads, the coffee shop on campus. I enjoy going there to pick up coffee and study between classes."
What is one of your favorite memories at Appalachian thus far?
"My favorite memory at Appalachian is of the first time I hiked the Profile trail to Calloway Peak on Grandfather Mountain."
What do you like about Boone and the surrounding community?
"I like how Boone always has new people to meet yet is small enough that it is easy to run into old friends."
What are your hobbies?
"I like to read, hike, and play the guitar."
What is your favorite book, podcast, artist, and/or television show?
My favorite book is 'A Sand County Almanac' by Aldo Leopold.
Tell us about one faculty or staff member that has made an impact on your life and how.
"Marta Toran, a professor in the GES department, has made a big impact on my life. In her introduction to environmental science class, she taught us about some of the different careers and opportunities in the geosciences, which helped me to realize that I want to have a career in this field."
What do you feel has been valuable in your education at Appalachian versus another institution?
"There are many opportunities here that have been very valuable to my education. I have been able to do fieldwork in the Appalachian Mountains, and I have been able to take advantage of all the opportunities and events in the GES department, including guest speakers, research opportunities, outreach events, and an amazing community."
What do you hope to do after graduation?
"I plan on going to graduate school to get my masters studying glaciers."
###
About the Department of Geological and Environmental Sciences
Located in Western North Carolina, Appalachian State University provides the perfect setting to study geological and environmental sciences. The Department of Geological and Environmental Sciences provides students with a solid foundation on which to prepare for graduate school or build successful careers as scientists, consultants and secondary education teachers. The department offers six degree options in geology and two degree options in environmental science. Learn more at https://earth.appstate.edu.
Compiled by Lauren Andersen
November 10, 2023
BOONE, N.C.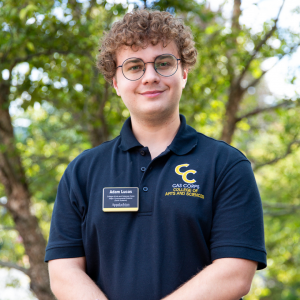 Tags: