Appalachian Hosts Annual STEAM Expo, Part of the North Carolina Science Festival
For the seventh time, Appalachian State University will host the annual STEAM Expo in conjunction with the North Carolina Science Festival. On Tuesday, April 24, 2018 over 26 schools with students from grades 6 through 12 will be attending this free event. Currently there are over 2,500 students registered to attend.
The North Carolina Science Festival is an annual statewide celebration of STEM that occurs every April across North Carolina. During the month long festival, hundreds of event hosts from across the state celebrate STEM (Science, Technology, Engineering and Math) through a showcase of events that share just how fun and exciting these fields can be.
This expo is the largest one day educational outreach event held at Appalachian. The Expo emphasizes hands-on, multidisciplinary learning with researchers in the field. The main Expo floor is an open house with roughly 30 hands-on booths representing many departments in the College of Arts and Sciences such as astronomy, biology, chemistry, computer science, geological and environmental sciences, mathematics, physics, psychology and areas of health sciences to excite and engage students.
This year's special events will include four physics demo shows, three talks presented by computer science, and six hands-on science events featuring a weather balloon launch, a mobile planetarium, merging science and dance, and using a telescope. Exclusive tours are hosted by experts of Appalachian's teaching and research facilities to students. Normally the Dewell Microscopy Facility is available only to Appalachian personnel, but this year two groups of students will tour these facilities.
This year opportunities throughout the campus will include solar gazing with telescopes at the Rankin Observatory, laser demonstrations and mazes, and fun with physics that includes an introduction to concepts of Newton's law and liquid nitrogen demonstrations to name a few.
The co-coordinators of the expo at Appalachian are Tracey Tardiff and Dr. Tonya Coffey. Coffey is a full professor of Physics and Astronomy at Appalachian. For several years, she has engaged in nanoscience outreach using a portable scanning electron microscope in a project entitled "A Mobile Nanoscience Classroom for Western N.C." funded by the N.C. Space Grant. Tardiff is the Pre-Enrollment Programs Coordinator for College Access Partnerships, which supports area students, teachers and school districts in promoting access to higher education. She is responsible for expanding the event year after year.
STEAM stands for Science, Technology, Engineering, Art and Mathematics. For several years STEM has been incorporating the arts into the event. This year, an exhibit exploring the connection between microscopy and art will be available. Coffey, from Physics and Astronomy and Josh White, Associate Professor of Photography from the Department of Art will showcase the beauty in the microscopic world found by regional scientists. Also featured will be "Archie," the aetosaur replica of the dinosaur first identified by Dr. Andy Heckert in Geological and Environmental Sciences, and brought to life again by a team from the Department of Art headed by Travis Donovan and including Lauren Waterworth from the Department of Geological and Environmental Sciences.
The North Carolina Science Festival highlights the educational, cultural and financial impact of science in our state. Through hands-on activities, science talks, lab tours, nature experiences, exhibits and performances, the Festival engages a wide range of public audiences while inspiring future generations. The festival is an initiative of Morehead Planetarium and Science Center. The North Carolina Science Festival's presenting sponsor is the Biogen Foundation.
Appalachian has active STEM outreach programs including math tournaments, Lego robotics and Sumobot competitions, math and science summer camps, chemistry and physics demonstration shows, astronomy open houses at Appalachian's Dark Sky Observatory and Rankin Astronomical Observatory, as well as providing workshops for K-12 educators throughout the year.
For more information about the Festival and its locations, please visit http://www.ncsciencefestival.org. For more about STEM outreach at Appalachian, visit https://stem.appstate.edu and http://www.appstate.edu/research. To learn more about future events, visit the College of Arts and Sciences, https://cas.appstate.edu.
###
About STEM/STEAM at Appalachian
Appalachian State University engages with educational and community partners in STEM education in a variety of ways. From on-campus locations like the McKinney Geology Teaching Museum or the Dark Sky Observatory, there are many opportunities to engage with science. For K-12 classrooms or community partners, there are a variety of ways to connect with faculty members for presentations, activities, or collaborations in your location. We also offer research experiences and collaborations with a variety of partners. To learn more visit, https://stem.appstate.edu.
About the College of Arts and Sciences
The College of Arts and Sciences is home to 16 academic departments, two stand-alone academic programs, two centers and one residential college. These units span the humanities and the social, mathematical and natural sciences. The College of Arts and Sciences aims to develop a distinctive identity built upon our university's strengths, traditions and unique location. Our values lie not only in service to the university and local community, but through inspiring, training, educating and sustaining the development of our students as global citizens. There are approximately 5,850 student majors in the college. As the college is also largely responsible for implementing Appalachian's general education curriculum, it is heavily involved in the education of all students at the university, including those pursuing majors in other colleges. Learn more at http://cas.appstate.edu.
About Appalachian State University
Appalachian State University, in North Carolina's Blue Ridge Mountains, prepares students to lead purposeful lives as global citizens who understand and engage their responsibilities in creating a sustainable future for all. The transformational Appalachian experience promotes a spirit of inclusion that brings people together in inspiring ways to acquire and create knowledge, to grow holistically, to act with passion and determination, and embrace diversity and difference. As one of 17 campuses in the University of North Carolina system, Appalachian enrolls about 18,000 students, has a low student-to-faculty ratio and offers more than 150 undergraduate and graduate majors.
By Ellen Gwin Burnette
April 16, 2018
BOONE, N.C.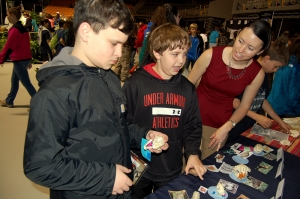 Tags: