BOONE, N.C. — Appalachian State University's Watauga Residential College (WRC) is celebrating its 50th anniversary this year. On April 14 and 15, WRC alumni returned to their former stomping grounds to reminisce and catch up with old friends, share stories about their time at Watauga and celebrate the memories they have made. The event included live music, student presentations and panels featuring alumni and former faculty and directors.
"This celebration is an opportunity to bring alumni and current students together in honor of traditions, past and present, in the Watauga program." - Dr. Laura Ammon, associate professor in the Department of Philosophy and Religion and director of WRC
WRC was founded in 1972 as Watauga College, an interdisciplinary program that fulfilled the majority of general education requirements through discussion-based classes that integrated concepts from art, music, history, religion and science. The program was originally located in Watauga Hall, the first ever co-ed housing situation at App State. In 1974, it was relocated to East Residence Hall, where it remained until 2003, when the Living Learning Center was completed.
WRC's location isn't the only change that the program has undergone since its inception. While WRC was conceived as a one-year program for first-year students, it was expanded to a two-year program in 1974 following requests from students who enjoyed the experience.
In the mid-1980s, WRC was moved from its home in General College to the Department of Interdisciplinary Studies. Then, in 1999, WRC was moved to University College.
Today, WRC is housed in the App State College of Arts and Sciences. Building a spirit of community and friendship among the students, faculty and staff is just as important today as it was when the program first started. Over five decades later, curious students are still taking part in an undergraduate adventure that fosters intellectual and personal development through experiential, inquiry-based learning.
Watauga students enjoy perks like small seminar-sized classes, priority registration and early move-in. They continue to live, eat and study in the Living Learning Center, a one-of-a-kind hillside residence hall lovingly referred to as "Hogwarts" by many. In addition, Wataugans participate in the Land Beyond Experience, a day of service which aims to strengthen the community.
---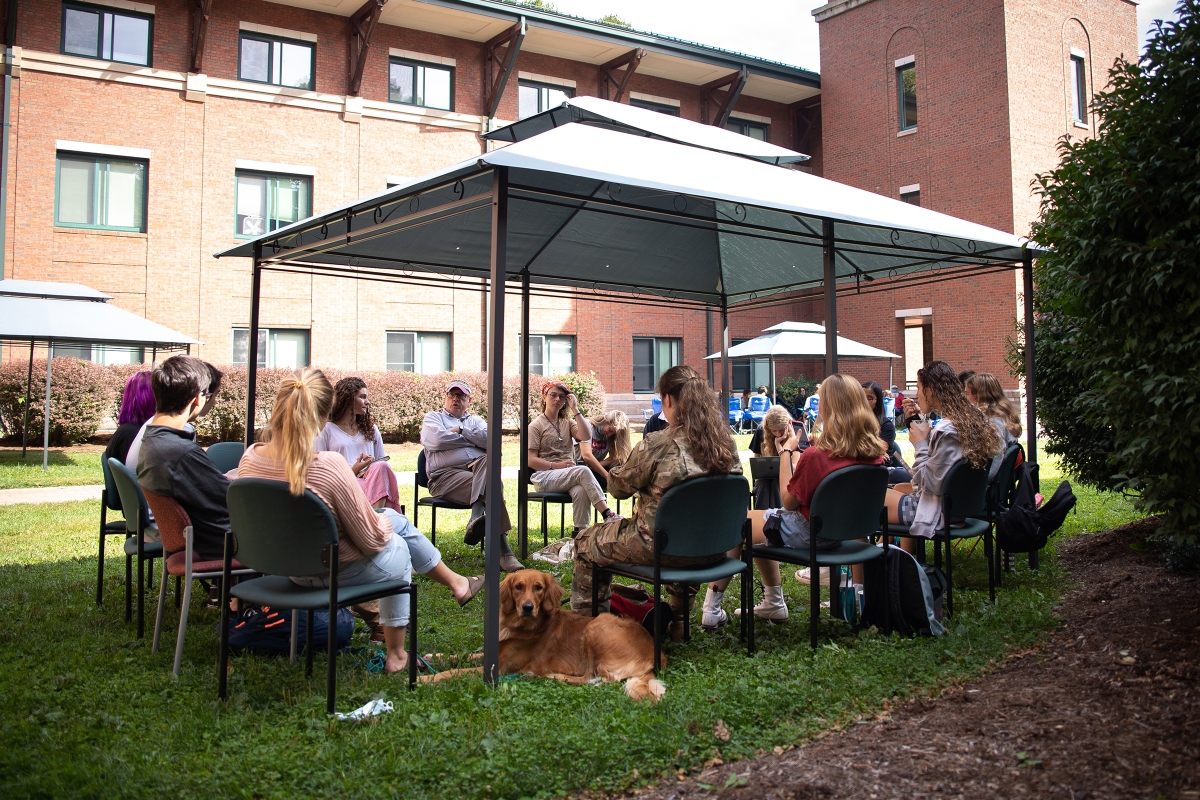 Dr. Clark Maddux, professor in the Department of Interdisciplinary Studies and former director of the Watauga Residential College, leads a seminar in the Living Learning Center's courtyard.
---
Zosephine Huffines, an alumna of WRC, rejoined WRC as a graduate assistant in 2021. In this role, Huffines plans and executes events, interacts with students and their families, supports academic programs and oversees administrative tasks.
About her assistantship, Huffines explained, "As a proud alumna of WRC, I welcomed the chance to remain involved with the program because of its exceptional faculty and students who are engaged, thoughtful and creative. It is an outstanding undergraduate program that sets Appalachian State University apart, nestled atop the hills of West Campus, surrounded by a nature preserve and courtyard that often doubles as a classroom."
Huffines, who will graduate with her Master of Arts degree in Higher Education in May, explained that she will miss the sense of community and connection that comes with working closely to students in a residential setting. "My time at Watauga Residential College was unparalleled in preparing me for life. The invaluable memories, challenges and lessons that I gained during my stay have left an indelible mark on me, for which I will remain eternally grateful," she said.
Alumni are invited to share their memories from their time in WRC by sending their stories, photos and videos to Huffines at huffineszj@appstate.edu or by calling (828) 262-7579.
###
About the Watauga Residential College at Appalachian
The Watauga Residential College is a specialized academic program where classes are discussion-based seminars that allow students to pursue topics of interest to them within the context of the class. This program provides an unusual opportunity for students to become engaged in learning at a deep level through class discussions and research projects. Watauga classes are interdisciplinary and this approach to learning requires students to integrate knowledge from a variety of disciplines to gain a complete perspective on a topic. Learn more at https://watauga.appstate.edu.
About the Department of Interdisciplinary Studies
The Department of Interdisciplinary Studies offers graduate and undergraduate degrees in four program areas: Appalachian studies; gender, women's and sexuality studies; global studies; and interdisciplinary studies. The department is also home to Watauga Residential College, an interdisciplinary, alternative general education program. The department promotes creative and imaginative engagement through a cross-disciplinary investigation of complex systems and problems. Learn more at https://interdisciplinary.appstate.edu.
By Lauren Andersen
April 3, 2023
BOONE, N.C.