Rick Carpenter '11, '15
From Spartanburg, S.C.
THEN
As an Appalachian State University student, Carpenter found solace in classes taught by Dr. Richard Crepeau, Geography and Planning, who he feels better prepared him for his professional field. Dr. Crepeau additionally served as a mentor of Carpenters, as well as Dr. Saskia van de Gevel, Geography and Planning.
Carpenter is most thankful for the ability to continue rock climbing while still finishing his degree. Because of this, he has no regrets about his college experience. As for incoming or current students, Carpenter advises that they invest in learning new fields.
"The ability to offer expert advice on a wide range of topics led to multiple job opportunities," said Carpenter of his experiences at Appalachian.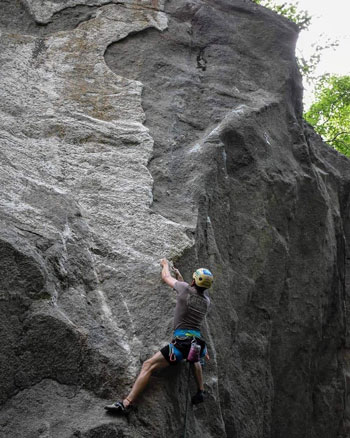 A picture of Carpenter rock climbing during his time at Appalachian. Photo submitted
NOW
After graduating, Carpenter started as a Conservation Biologist with a non-profit providing consulting services to local governments. Afterwards, he moved on to an Associate Planner position, then promoted to development review coordinator and now a Senior Planner (Planner IV), for Spartanburg County.
His work focuses on long range planning projects related to the Spartanburg Area Transportation Study, and oversight of zoning and development services. A primary skill that Carpenter looks for in a new employee is adaptability.
Carpenter's experiences at Appalachian Exposure to the benefits of a multidisciplinary background as it relates to urban/regional planning.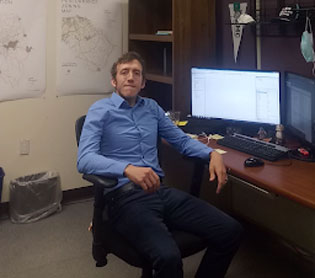 A current photo of Rick Carpenter. Photo submitted
###
About the Department of Geography and Planning
The Department of Geography and Planning promotes the understanding of the spatial dimensions of human behavior within the physical and cultural systems of the earth, and the role of planning in achieving improvement in those systems. The department offers degrees in geography and in community and regional planning. Learn more at https://geo.appstate.edu/.
Compiled and written by Barclay Ann Blankenship and Ellen Gwin Burnette
August 3, 2020
BOONE, N.C.