Jordan Venditelli is putting theory into practice.
Junior philosophy major and religion minor, Jordan Venditelli, from Raleigh, N.C. has been the president of the philosophy club for the last three years, presented her work at two conferences as a sophomore, and plans to present at two more conferences this year.
Although Venditelli began her career at Appalachian as an education major, she quickly became interested in the field of philosophy after taking her first philosophy class freshman year with Dr. Rick Elmore.
"Dr. Rick Elmore has really helped me navigate the field of philosophy. Being a woman in the field is not always easy because it's very male dominated. Although he can't speak to that experience he's always provided resources. He has urged me to go to conferences, apply to journals, and he has been willing to read over every single draft I've sent him and it's paid off," said Venditelli.
Elmore encouraged Venditelli to join the philosophy club and to continue making connections in the department and field. "By the end of freshman year I was a philosophy minor and education major, I was club president - at this point I thought well I may as well call it," she recalls. Three years later Venditelli remains fully immersed in her work in the philosophy department.
As the philosophy club president, Venditelli is working to organize the second annual philosophy club conference. This year the club has paired with Furman University and will be hosting students on campus for a full day conference. "We don't just sit there and talk about whether or not things really exist it's actually applying these things."
"As Philosophy Club president, Jordan has helped to create a diverse, inclusive, philosophically sophisticated and socially conscious space of intellectual development and exploration, a space that in many ways reflects her own character and values," said Dr. Rick Elmore, Assistant Professor of Philosophy.
Besides her work with the philosophy club, Venditelli has taken advantage of professional development in her field by attending conferences since she was a sophomore. Last year, Venditelli presented her work at two conferences and plans to continue this trend as a junior. She will be taking her paper "Marx, Lennon, and Intersectional Feminism: the Potential for a material Revolution led by an Intersectional Feminist Vanguard" to the Southeastern Women's Studies Association Conference this coming March.
After graduation, Venditelli hopes to continue her education by pursuing a PhD in Philosophy and potentially teaching one day.
###
About the Department of Philosophy and Religion
The Department of Philosophy and Religion invites students to explore the world, examine beliefs, understand a diversity of worldviews, and challenge the ideas and values that instruct our lives. The department offers a Bachelor of Arts in philosophy and a Bachelor of Arts in religious studies, as well as a minor in both of these areas. Learn more at https://philrel.appstate.edu.
By Johnna Reisner
March 13, 2018
BOONE, N.C.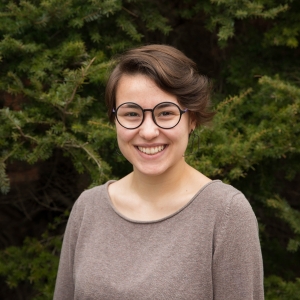 Tags: