Staci Hunter, a graduating senior with a major in criminal justice and two minors in psychology and Spanish from Wendell, North Carolina, was awarded a State Employees' Credit Union (SECU) Public Fellows Internship Scholarship for the 2017-18 year. She has earned twelve hours of course credit while interning at the Wilkes County Sheriff's office this semester.
Hunter was able to see and do many things on her internship from witnessing arrests, civilians interacting with officers, interviews and the inventory of evidence. A Sheriff's office is charged with an array of responsibilities and she was able to participate in many.
"Staci had the opportunity to rotate among offices and units to see the wide variety of responsibilities of a Sheriff's Office. Not only did this experience help Staci academically and professionally, it will help her future employer and the community she serves by creating a more knowledgeable professional," said Dr. Jeff Holcomb, Professor of Criminal Justice, Department of Government and Justice Studies.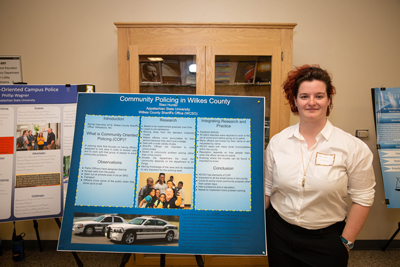 The SECU Public Service Fellows program is for undergraduate residents of North Carolina studying full time at schools in the UNC system. The program aims to help build capacity in rural communities and to generate interest in job opportunities that are closer to home for many students.
"This experience is something that I will carry with me for the rest of my life as I go into my career field. I was given a chance to learn more about my future profession and the insights that I was given are priceless. None of this would have been possible without the SECU fellowship because they allowed for me to put my all into this experience. And as they say, you get out what you put in," stated Hunter.
If you are a Government and Justice Studies major and wanting to learn more about a SECU supported internship, visit: https://gjs.appstate.edu/students/internships/secu-fellowship.
###
About the SECU Foundation
A not-for-profit financial cooperative owned by its members, State Employees Credit Union (SECU) has been providing employees of the State of North Carolina and their families with consumer financial services for almost 78 years. The SECU Foundation, a 501c (3) charitable organization funded solely by the contributions of SECU members, promotes local community development in North Carolina primarily through high impact projects in the areas of housing, education, healthcare and human services.
About the Department of Government and Justice Studies
Appalachian State University's Department of Government and Justice Studies offers undergraduate programs in political science and criminal justice, and graduate programs in political science and public administration. Housed in the College of Arts and Sciences, the department has over 600 undergraduate majors and more than 70 graduate students. Learn more at https://gjs.appstate.edu.
By Ellen Gwin Burnette
May 10, 2018
Boone, N.C.