Appalachian State University's Department of Sociology oversees two programs this time of year that benefits populations in need in the surrounding counties of the High Country. The department spearheads Project Star, which aids disadvantaged senior citizens, and the Latinx Christmas Charity initiative that provides holiday gifts for Hispanic immigrant children and families.
"Boone is my home, and this community was there for my family when we couldn't eat or didn't have a place to sleep. I owe this community my gratitude and service because, without them, I wouldn't be where I am today. Giving back also makes me smile a little more even when times are tough," said Dr. Cameron Lippard, chairperson and professor, Department of Sociology.
Project Star
Project Star is a program that aids disadvantaged senior citizens in Ashe County. The program has been sponsored by Appalachian Senior Programs for the past 19 years and the goal is to provide basic necessities for seniors around the holiday season.
Names of seniors in need are provided by local agencies, and the program assigns a number to each individual to ensure anonymity. Star ornaments are then created featuring a list of items that are requested by each senior. The items vary but typically include warm blankets, socks, coats, toiletries and food.
Last year, Project Star delivered gifts to 225 senior citizens and $6,600 was given to pay for electric bills for 29 senior citizens. Several local businesses also contributed to the program. Blue Ridge Energy employees donated 100 food boxes, Skyline Telephone employees purchased gifts for 25 individuals and Farm Bureau made a $2,000 donation to help with fuel/electric expenses.
Appalachian Senior Programs is led by Dr. Amy Dellinger Page, professor, Department of Sociology, and is a volunteer-based organization that is primarily funded by AmeriCorps Seniors. Besides Project Star, Appalachian Senior Programs offers support through their Foster Grandparent program managed by Tammy Taylor, which allows seniors to provide support services to youths who have particular emotional, social or educational needs, and the Senior Companion program, directed by Debbie Wellborn, which helps low-income senior citizens age 55 and older help their peer senior citizens remain independent.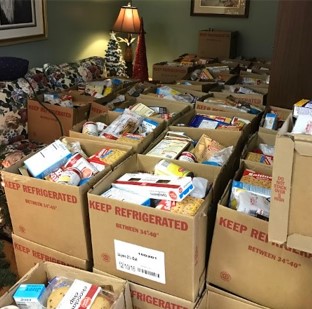 Boxes packed with goods to share with seniors for the Project Start program. Photo submitted by Amy Dellinger Page.



Latinx Christmas Charity

Dr. Cameron Lippard, chairperson and professor, Department of Sociology, created the Latinx Christmas charity initiative in 2009 to provide holiday gifts to Hispanic immigrant children and families.
"Anti-immigrant views pushed many local High Country charities to create restrictions that required that any person or child receiving gifts would need a valid state driver's license. Unfortunately, many undocumented immigrant families in the area could not participate due to this restriction," said Lippard.
He has partnered with local churches, nonprofits and social service organizations to provide gifts and necessities for over 328 Hispanic immigrants across Watauga, Avery and Ashe counties during the previous Holiday seasons. This year, Lippard has teamed up with Watauga County Schools to raise $1,500 to provide gifts to 15 Hispanic children living in Watauga County.
How to get involved

This year, trees featuring ornaments for Project Star seniors are located at the Food Lion and Ingles grocery locations in Ashe county as of November 1. Over 225 star ornaments are spread between the locations featuring lists of requested items.
Participating community members choose a star and donate the requested items to the Appalachian Senior Programs office to have them distributed before the holidays. These gifts are often the only gift many of these seniors may receive for the holidays. Monetary donations are also accepted and put toward fuel or electric bills for the senior citizens.
Volunteer requests have already been filled for this year's Latinx Christmas Charity drive, those who are interested in supporting next year's drive can contact Lippard, to find out more about how to get involved.
"Appalachian faculty, staff and students have always shown up and volunteered to make this charity a success.Over the years, student groups have led the effort and so have faculty members in finding volunteers, arranging pick-up and drop-offs of gifts, as well as providing extra items to help families through the winters. All this requires is some holiday cheer, an open heart and a little money to make some folks' holiday season a little brighter each year," said Lippard.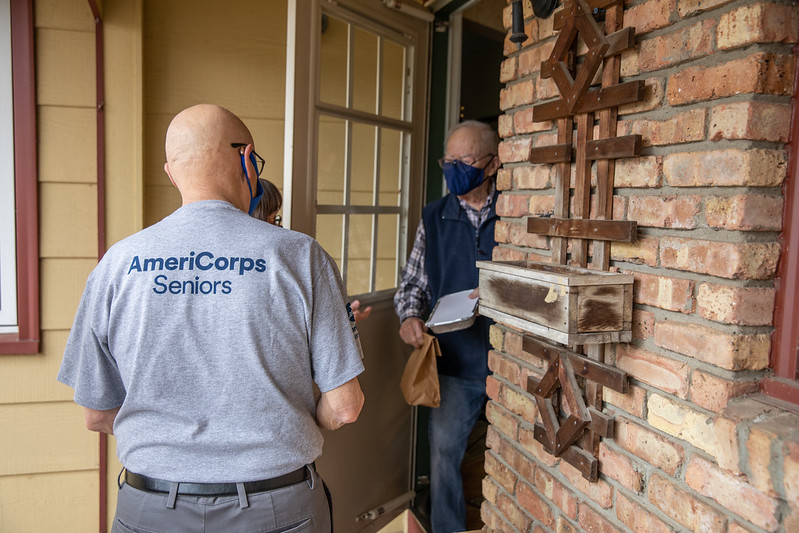 Community members deliver groceries to an elderly neighbor. Image of AmeriCorps members & AmeriCorps senior volunteers. Photos by Americorps.

###
About AmeriCorps Seniors – Appalachian Senior Programs
Appalachian Senior Programs houses the Senior Companion Program and the Foster Grandparent Program, each funded by the AmeriCorps Seniors federal grant program. These programs ensure that vulnerable groups of people, whether the elderly or young children are not left alone to face personal challenges. The program consists of volunteers, 55 years and older, that have enough life experience to recognize the importance of giving to those in need. Young children and elderly individuals with no control over their circumstances can gain support through these valuable programs. Learn more at https://seniorprograms.appstate.edu.
About the Department of Sociology
The Department of Sociology offers a Bachelor of Arts and seven Bachelor of Science concentrations (applied research methods; criminology; families and intimate relationships; health and aging; power and social change; social inequalities; and individually designed, which requires departmental approval). The department also offers minors in sociology and health and aging, plus two online graduate certificates: aging, health and society, and sociology. Learn more at https://soc.appstate.edu.
Compiled and Written by James Johnston and Ellen Gwin Burnette
December 2, 2021
Boone, N.C.