Each month of the academic year, the Appalachian State University College of Arts and Sciences (CAS) randomly selects one staff member to be featured in a staff spotlight on our website and social media accounts and to receive a small gift in recognition of their service to the College.
---
Ryan Kennedy '22
Administrative Support Associate
Department of Psychology
Following his graduation from the Appalachian State University Department of Psychology in May 2022, Ryan Kennedy (He/They) joined the department as the Administrative Support Associate.
In his role, Kennedy is responsible for a wide variety of tasks, including processing all graduate assistant contracts and special course forms, assisting new students when they join the department, managing advising assignments, helping faculty, ordering textbooks, and tackling other duties around the department, administrative or otherwise, as needed.
When asked about his favorite part of his job, Kennedy—who is currently pursuing a master's degree in student affairs administration at App State—shared that he loves "working directly with and getting to know our students, whether they be undergraduates, graduates, doctoral, or alumni."
As an alumnus, Kennedy is able to share what he's learned about the university with current and prospective students. "Every year, I make sure to be a part of the University's Open Houses, and the Fall Open House is on October 7th. I am very excited to meet and speak with prospective students interested in Psychology!" said Kennedy.
In his free time, Kennedy enjoys hiking, playing video games, and watching television with his partner; spending time with friends; and reading books on his back porch.
###
About the Dr. Wiley F. Smith Department of Psychology
Appalachian State University's Dr. Wiley F. Smith Department of Psychology serves more than 1,400 undergraduate majors seeking the Bachelor of Arts or Bachelor of Science degree in psychology, as well as 90 graduate students across four graduate programs: experimental psychology (MA), industrial-organizational psychology and human resource management (MA), school psychology (MA/SSP) and clinical psychology (PsyD). Learn more at https://psych.appstate.edu.
About the College of Arts and Sciences
The College of Arts and Sciences (CAS) at Appalachian State University is home to 17 academic departments, two centers and one residential college. These units span the humanities and the social, mathematical and natural sciences. CAS aims to develop a distinctive identity built upon our university's strengths, traditions and unique location. The college's values lie not only in service to the university and local community, but through inspiring, training, educating and sustaining the development of its students as global citizens. More than 6,400 student majors are enrolled in the college. As the college is also largely responsible for implementing App State's general education curriculum, it is heavily involved in the education of all students at the university, including those pursuing majors in other colleges. Learn more at https://cas.appstate.edu.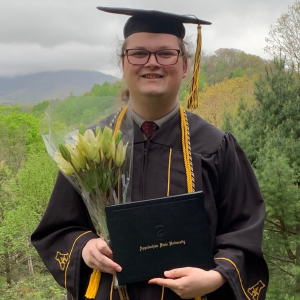 Tags: