Each year, AmeriCorps Seniors engages more than 200,000 older adults in volunteer service programs enriching the lives of volunteers and benefiting their communities. At Appalachian State University, Dr. Amy Dellinger Page, a sociology professor and executive director of two programs, Foster Grandparents and Senior Companions, oversees the federal and local grants that fund these programs for the surrounding community. The federal funding comes from the Corporation for National and Community Service (CNCS) with additional funding from numerous local organizations to support senior citizens of the High Country in volunteer efforts to meet the needs of their neighbors.
For decades, volunteers age 55 and older have been serving their communities through AmeriCorps Seniors programs, led by AmeriCorps, the federal agency for service, volunteering and civic engagement by "helping others and meeting critical needs in the community." The Senior Companion Program and the Foster Grandparent Program are separate grants, but both are housed under the Appalachian Senior Programs umbrella. Through this ongoing effort, area senior citizens assist some of the region's youngest and oldest residents in five counties: Alleghany, Ashe, Avery, Watauga and Wilkes.
In 2004, Dr. W. Edward Folts, emeritus professor in the Department of Sociology, began managing the grants until his retirement in June 2020.
"I really began to witness the impact of the grant programs when I served as department chair. I've always been deeply committed to applied sociology; working to bridge the gap between academia and our community agencies. Ed appreciated this commitment, and we served as co-executive directors of the grant programs the year prior to his retirement. It's exciting to continue the work of these important programs, and to help meet the needs of our wider community," stated Page.
The Senior Companion Program
The Senior Companion program champions making independence a reality by creating possibilities and solutions to improve the quality of life for adults with physical, emotional or mental health limitations, most of whom are elderly.
"The leadership at Appalachian Senior Companion Program has been tremendous. It has allowed us to cultivate gifts we have not foreseen in ourselves," said Russell Howell, age 74 and a volunteer for over six years.
The Senior Companion volunteer network has more than 15,000 people nationwide that dedicate their time and companionship to enable other adults to remain in their own homes longer, prevent feelings of loneliness and isolation while improving self-esteem and give time off to family members that are caregivers. To date, 247 volunteers have served as Senior Companions in the High Country, two of which are currently serving over 20 years of service with the program. Approximately 1,094 senior citizens have received support from the program for a total of $3,856,661 provided by CNCS since 2003 when Folts took over managing the program at Appalachian. Additional local match funding support has come from local county administrations, High Country United Way N.C., Wilkes United Way, Community Foundation, Boone Service League, Deep Gap Ruritan and American Emergency Vehicles.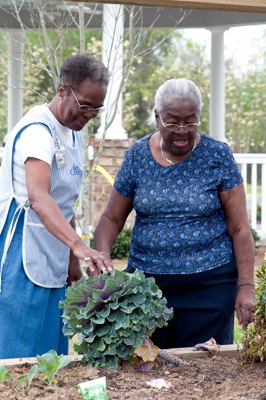 The Senior Companion Program champions making independence a reality by creating possibilities and solutions to improve the quality of life for adults with physical, emotional or mental health limitations, most of whom are elderly. Photo by Americorps Seniors.
Elreatha Moxley, age 71, has been a volunteer working with the program for over six years and shared that she "enjoys being around people, watching their expression when I make them happy by just doing the simplest things. This program helps me to have extra money for food and bills. The training has helped me with my health and in the movement of my own body, which I'm sure helps guarantee my independence. I hope my health will allow me to continue for years."
COVID-19 has of course added challenges with providing face-to-face services, as well as challenges for the seniors served with either a lack of electronic devices and/or internet access to provide virtual support.

"Not being able to do presentations, training, fundraising or recruitment due to COVID-19 has really impacted our program this year. Volunteers are calling clients and keeping in contact to ensure their needs are being met, and we plan to resume running errands for them as soon as it is safe to do so," said Debbie Wellborn, senior companion director.
"I seriously don't think I would make it without this program. It helps me financially, mentally and physically," said Robert Martin, age 74 and an eight-year volunteer.
The Foster Grandparent Program
A Foster Grandparent helps children in their community develop academic and life skills that are crucial to their development and future successes whether it is helping children learn how to read, preparing younger students for school readiness, tackling tough subjects or providing guidance in making life decisions.
"I think the Foster Grandparent Program is one of the most rewarding jobs you could ever do. I've had other jobs but the feeling of self-worth and to know you're doing something rewarding – there's no better feeling in the world. I look at it as 'It's not a job; It's an adventure.' The kids need us and we need the kids," said Kay Lomax, a 10-year volunteer from Wilkes County.
This program has had 305 senior volunteers since Folts took over the program in 2004 that have helped 8,386 community children with a total of $6,513,010 in grant funding provided by CNCS with local support from county administrations, N.C. Community Foundations, High Country United Way, Wilkes United Way, Boone Service League, Ashe County Lions Club and American Emergency Vehicles.
"One success story doesn't even begin to explain the monumental impact Foster Grandparent volunteer Wendy Barber has on my classroom. I could provide more stories than you care to read about, but one of my favorites is about a young man in our classroom whom I will call Bob. Bob was kind but very low academically, shy and lacked the self-confidence he needed to advocate for himself. Bob was a student who was often overlooked because he was so soft-spoken and was lacking in social and communication interaction. Ms. Barber's one-on-one work with Bob may help him score higher on end of grade tests (as he made drastic improvements) but what is that in comparison to how Bob may land his first job when he grows up because Ms. Barber took the time to teach him how to interact with others. Ms. Barber is changing lives!" said Zana Whittington, a teacher at North Wilkesboro Elementary.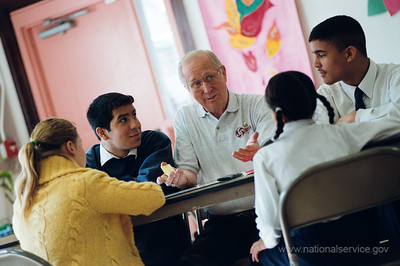 Foster Grandparent Program volunteer interacting with students. Photo by Americorps Seniors.
COVID-19 has taken its toll on the program this year as well. Volunteers cannot serve currently in person, which has added challenges with familiarity, access and supply of technology to seniors. Even with some schools operating on a hybrid schedule, they are limiting volunteers in the buildings due to health concerns, which causes a lack of access to the students in need. All of these challenges have caused difficulties in recruiting volunteers as well.
"Our work has been greatly impacted by the pandemic, as all of our volunteers, and some of our clients, are in a high-risk population. Despite difficulties, our volunteers are eager to carry on! So, we've adapted work where we can," said Page.
"Foster Grandparents are being trained to use Chromebooks so they can meet virtually with students, and volunteers are helping support teachers and their virtual classrooms. Senior Companions are calling their clients at least once a week to check on them. We're also working on recruitment efforts, especially in Avery and Watauga counties, where we have the fewest number of volunteers. We are trying to remain positive and be innovative while being diligent about keeping our volunteers and those we serve safe," according to Page.
Juanita Johnson has been a Foster Grandparent volunteer since November 2009 with children who have literacy needs at Ronda Clingman Elementary School and has contributed over 5,600 hours of service to her community. Sharon Speaks, fourth-grade teacher at Clingman Elementary School in Ronda, shared that "our school and students are benefited by Ms. Johnson's hard work each and every day. We are thankful for the extra support that is so beneficial to our students' learning."
###
About AmeriCorps Seniors – Appalachian Senior Programs
Appalachian Senior Programs houses the Senior Companion Program and the Foster Grandparent Program, each funded by the AmeriCorps Seniors federal grant program. These programs ensure that vulnerable groups of people, whether the elderly or young children, are not left alone to face personal challenges. The program consists of volunteers, 55 years and older, that have enough life experience to recognize the importance of giving to those in need. Young children and elderly individuals with no control over their circumstances can gain support through these valuable programs. Learn more at https://seniorprograms.appstate.edu.
About the Department of Sociology
The Department of Sociology offers a Bachelor of Arts and six Bachelor of Science concentrations (applied research methods; criminology; deviance and law; families and intimate relationships; health and aging; social inequalities; and individually designed, which requires departmental approval). The department also offers minors in sociology and health and aging, plus two online graduate certificates in aging, health, and society and sociology. Learn more at https://soc.appstate.edu.
By Ellen Gwin Burnette
April 16, 2021
BOONE, N.C.