English Language Arts and Social Studies teacher, Adrienne Stumb '02, worked closely with Dr. Elizabeth Frye, Department of Reading Education and Special Education and Dr. Craig Fischer, Department of English, to curate a comic-con style event at Bethel Elementary school. Stumb and Frye worked together on a Reich College of Education Public School Partnership mini-grant titled "The Impact of an Interdisciplinary Unit of Instruction on Seventh-Grade Students' Poetic Compositions and Multimedia Projects"
In general, I cannot speak highly enough of the support I have been offered as an educator from several Appalachian departments. It makes me proud to be an alumna of such a giving institution.
The outreach project crossed multiple colleges and departments to support student learning in the Boone community. Frye notes that "since we established the initial contact and relationship with Adrienne, Craig and I worked with our respective Department Chairs/Deans to acquire the funding of various aspects of the Bethel Comic-Con and Larson's visit to Appalachian."
Stumb's comic-con event at Bethel included approximately 150 students. Each student received a free book and a free comic book. The students rotated through four different stations that included activities connected to drawing, writing and comic-related trivia. A highlight of the event was a presentation by Hope Larson, New York Times bestselling author and illustrator of numerous graphic novels including an adaptation and illustrated version of "A Wrinkle in Time: The Graphic Novel" by Madeleine L'Engle.
Larson's presentation focused on sharing her inspiration for drawing and writing. She shared aspects of her work as an author, illustrator and cartoonist, and she demonstrated techniques for drawing. After her time at the comic-con in Bethel, Larson visited Appalachian's campus for a second presentation and a book signing at the University Bookstore.
Bethel is a thriving K-8 school with roughly 200 students and one teacher per grade level. The School has an enthusiastic staff that work closely with the surrounding community.Stumb has worked at Bethel elementary school for four years and has been teaching for 16 years. She received her undergraduate degree from Appalachian State University and her M.Ed. in Secondary English Education from UNC Greensboro. In 2012 she received her National Board Certification.
Before working at Bethel, Stumb worked at Ragsdale High School in Guilford County and formed a strong relationship with the English and writing programs at UNC Greensboro through her graduate program. She believes that university partnerships are mutually beneficial, so when she moved to Watauga County she sought out a relationship with Appalachian State.
"University partnerships are key to creating lasting, memorable and challenging academic experiences for students. While public schools have highly trained faculty, it is my experience that professors and college personnel are able to provide resource connections that are often more challenging for a teacher to manage on her own," said Stumb. "It has been a pleasure to work with Appalachian State University and a faculty so willing to provide for the education of a community as a whole."
###
About the Department of English
The Department of English at Appalachian State University is committed to outstanding work in the classroom, the support and mentorship of students, and a dynamic engagement with culture, history, language, theory and literature. The department offers master's degrees in English and rhetoric and composition, as well as undergraduate degrees in literary studies, film studies, creative writing, professional writing and English education. Learn more at https://english.appstate.edu.
About the Department of Reading Education and Special Education
The Department of Reading Education and Special Education offers innovative programs focusing on all facets of reading, writing, language arts and specific areas of special education. The Anderson Reading Clinic provides direct services to children with reading disabilities. Learn more athttps://rese.appstate.edu.
About the College of Arts and Sciences
The College of Arts and Sciences is home to 16 academic departments, two stand-alone academic programs, two centers and one residential college. These units span the humanities and the social, mathematical and natural sciences. The College of Arts and Sciences aims to develop a distinctive identity built upon our university's strengths, traditions and unique location. Our values lie not only in service to the university and local community, but through inspiring, training, educating and sustaining the development of our students as global citizens. There are approximately 5,850 student majors in the college. As the college is also largely responsible for implementing Appalachian's general education curriculum, it is heavily involved in the education of all students at the university, including those pursuing majors in other colleges. Learn more athttps://cas.appstate.edu.
About Reich College of Education
Appalachian offers one of the largest undergraduate teacher preparation programs in North Carolina, graduating about 500 teachers a year. The Reich College of Education enrolls approximately 2,400 students in its bachelor's, master's, education specialist and doctoral degree programs. With so many teacher education graduates working in the state, there is at least one RCOE graduate teaching in every county in North Carolina. Learn more at https://rcoe.appstate.edu/.
By Johnna Reisner
June 5th, 2018
BOONE, N.C.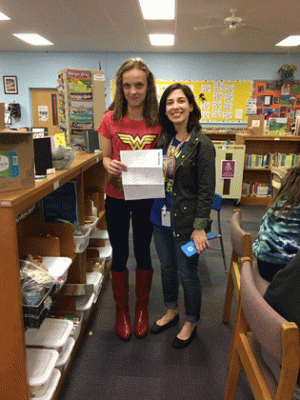 Tags: