Since the start of the COVID-19 pandemic, student dormitory life has been dominated by face masks, physical distancing and regular nasal swab testing. At Appalachian State University, as with other colleges and universities in the UNC school system, another critical component to students' safety and well-being is one that takes place underground. Researchers from the Department of Biology in the College of Arts and Sciences led by Dr. Ece Karatan, vice provost for research and in collaboration with Dr. Alex Howard, assistant vice chancellor for student affairs and Jason Marshburn, director of environmental health and safety and emergency management, have been working tirelessly to sample, process and quantify the severe acute respiratory syndrome coronavirus 2 (SARS-CoV-2) in wastewater samples.
Karatan is a proponent of the wastewater testing because it serves as an opportunity to contain possible cases or outbreaks within dormitories as an earlier method of detection. According to Karatan, the wastewater sampling effort "[is] not replacing any of the existing efforts, but rather an addition that complements existing efforts. It's powerful because it allows us to test a large number of individuals indirectly and routinely."
Each wastewater sample is collected by Eric Greer, supervisor of mechanical engineering in facilities operations and members of his team, and is then transported to Rankin Science where a group of researchers eagerly awaits the samples. Over the course of 2021, samples were collected twice a week from February 5 to December 2, making for 56 sampling days and 539 individual samples. Eleven of the nineteen dormitories on the App State campus are regularly sampled each week using a combination of grab-sampling (grabbing samples from the sewer line) and auto sampling (which capture samples every two hours for twenty hours directly from the sewer).
The team of researchers working on this data collection include the following from the Department of Biology (pictured, clockwise L to R):
Dr. Rachel Bleich, assistant professor of microbiology
Dr. Jenna Valley, lab supervisor for molecular and microbiology teaching labs
Dr. Chequita Brooks, a postdoctoral researcher
Dr. Michael Opata, assistant professor of immunology and infectious diseases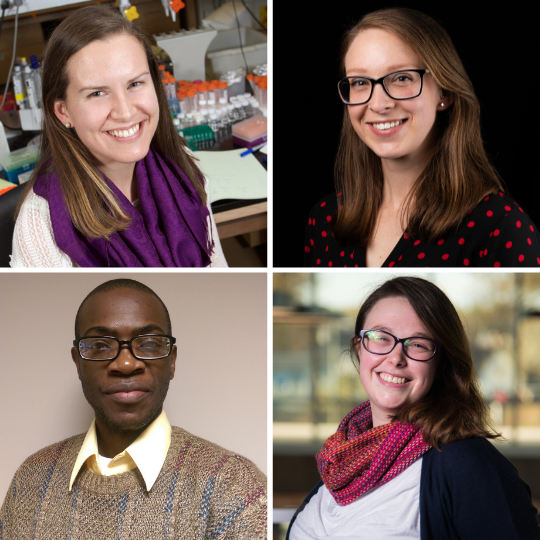 Valley received almost $130,000 from the North Carolina Policy Collaboratory in 2020 toward SARS-CoV-2 tracking and research. Thanks to this and other funding from the Divisions of Student Affairs and Academic Affairs, as well as the Department of Biology, the team has been able to purchase new equipment, hire a postdoctoral researcher and involve undergraduates all while expanding their research capacity.
Part of the equipment the research group was able to purchase for the department was a droplet digital polymerase chain reaction (ddPCR) system. PCR is the standard procedure used to identify SARS-CoV-2 positives in patients. What makes this system unique is that they can quantify how much SARS-CoV-2 is in each wastewater sample.
"This [ddPCR equipment] is beneficial to other research programs in the department and in teaching other classes, it can be incorporated into classes such as molecular biology or future courses," says Opata.
Using the ddPCR protocol, the researchers at App State have been able to quantify the presence of SARS-CoV-2 genetic material by targeting two different regions of a gene that codes for a protein unique to SARS-CoV-2. They have applied this technique toward quantifying the spike protein mutation exhibited by the "Delta" variant of concern of SARS-CoV-2 in samples from 2021.
Along with routine testing, the group is taking the samples and completing further analysis to gain a better understanding of the influence of SARS-CoV-2 on our microbiomes and overall wastewater infrastructure.
Dr. Chequita Brooks joined the team of researchers in August and has taken the opportunity to provide cutting-edge training to undergraduate students in the department. When asked about his experience as a researcher in the group, senior Seth Leonard said, "I know I'm helping the community and that makes me happy that I have a hand in gaining more information about the pandemic. I enjoy working with COVID specifically because it has affected me [personally]."
In 2022, the faculty researchers expect to increase the number of students that will get experience through this program. Students are learning different techniques like how to isolate RNA from wastewater and how to run ddPCR, which involves working with new technology.
"This benefits the community because it increases the number of students exposed to new techniques, some of which are rare to learn at primarily undergraduate institutions," said Opata.
The research group plans to publish their work, providing the undergraduate researchers in the lab with an invaluable opportunity to be included as authors on a scientific manuscript. Overall, this work has been exciting and rewarding for the students involved.
"Let's say I was thinking about going into working for the CDC, [this research] would give me an idea what that looks like," said student Seth Leonard.
###
Related articles:
Residence hall wastewater testing supports App State's COVID-19 management strategy
April 15, 2021
https://today.appstate.edu/2021/04/15/wastewater


About the Department of Biology
The Department of Biology is a community of teacher-scholars, with faculty representing the full breadth of biological specializations — from molecular genetics to landscape/ecosystem ecology. The department seeks to produce graduates with sound scientific knowledge, the skills to create new knowledge, and the excitement and appreciation of scientific discovery. Learn more at https://biology.appstate.edu.
About the Office of Research
Appalachian State University's Office of Research provides support for the research, creative, and scholarly endeavors of Appalachian faculty, staff and students. The office consists of five units: Grants Resources and Services, Sponsored Programs, Research Design and Analysis, and Research Protections. The Office of Research also collaborates with the university's Special Funds Accounting on the fiscal management of awarded projects. Learn more at https://research.appstate.edu.
by Ellen Gwin Burnette
February 22, 2022
BOONE, NC