For the past 18 years, Appalachian Senior Programs has sponsored Project Star for disadvantaged senior citizens in Ashe County. While the project faced additional challenges related to COVID-19, this past holiday season saw the most need in donations and the community rose to the occasion making it one of the most successful years in its history.
Project Star was created as an annual event of Appalachian Senior Programs to bring Ashe county together to provide basic necessities for seniors around the holiday season. Agencies in the county submit names of senior citizens in need to the program which assigns a number to each name and keeps each individual anonymous. Star ornaments are created for each senior with a list of items they may need such as warm blankets, socks, coats, toiletries and food items. The stars are then hung on Christmas trees in different businesses around the county.
After a caring Ashe County citizen chooses a star, items are purchased and returned to the Appalachian Senior Programs office which distributes them to senior citizens before the holidays. These gifts are often the only gift the seniors may receive for the holidays. Monetary donations are also accepted and put toward fuel or electric bills.
"This year, we saw an increase in need, in part due to COVID-19. Despite the challenges, we also had a very successful and generous response from the community. Gifts were delivered to 225 senior citizens this past holiday. Many requested only food and warm clothing, things many of us take for granted each day. In addition to the gifts, $6,600 was collected and paid electric bills for 29 senior citizens," explained Tammy Taylor, director of the Appalachian Foster Grandparent Program.
In addition to individual donations, several local businesses contributed to the program. Blue Ridge Energy employees donated 100 food boxes, Skyline Telephone employees adopted 25 individuals and purchased gifts and Farm Bureau made a $2,000 donation to help with fuel/electric expenses.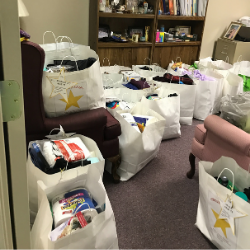 Appalachian Senior Programs, led by Dr. Amy Dellinger Page, professor, Department of Sociology, is predominantly funded by the AmeriCorps Seniors federal grant program, which ensures that vulnerable groups of people, including young children and the elderly, are not left alone in their life challenges. The program consists of volunteers ages 55 years and older that serve their community by assisting vulnerable individuals.
Under the Appalachian Senior Programs umbrella are the Foster Grandparent Program, managed by Tammy Taylor, which allows seniors to provide support services to infants and youths up to the teenage years who have particular emotional, social or educational needs and the Senior Companion Program, directed by Debbie Wellborn, which helps low-income senior citizens age 55 and older help their peer senior citizens remain independent. Both programs participated in the Project Star event.
"Project Star is truly a community effort and we are grateful for the continued support of this program to aid our most vulnerable community members in their time of need," said Taylor.
###
About AmeriCorps Seniors – Appalachian Senior Programs
Appalachian Senior Programs houses the Senior Companion Program and the Foster Grandparent Program, each funded by the AmeriCorps Seniors federal grant program. These programs ensure that vulnerable groups of people, whether the elderly or young children are not left alone to face personal challenges. The program consists of volunteers, 55 years and older, that have enough life experience to recognize the importance of giving to those in need. Young children and elderly individuals with no control over their circumstances can gain support through these valuable programs. Learn more at https://aseniorprograms.wixsite.com/website soon to be https://seniorprograms.appstate.edu.
By Sophia Woodall
Feb. 12, 2021
BOONE, N.C.