Dr. Allison A. Campbell, President of the American Chemical Society and Director of Earth and Biological Sciences at the Pacific Northwest National Laboratory spent a day visiting with the Department of Chemistry, in the College of Arts and Sciences at Appalachian State University.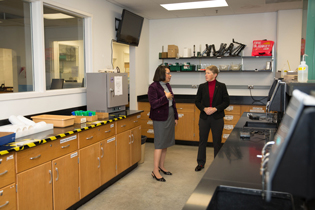 Campbell is nationally recognized for individual contributions in materials development through her research in biomaterials. She is credited with co-inventing a bio-inspired process to "grow" a bioactive calcium phosphate layer, from the molecular level, onto the surfaces of artificial joint implants for hips and knees; these implants now have extended lives and are less likely to be rejected by the body. She is also recognized for her work in understanding the role of proteins in biomineralization.
Campbell earned her PhD in physical chemistry from State University of New York at Buffalo and a B.S. in chemistry from Gettysburg College in Pennsylvania. Prior to her current roles, she served for more than 10 years as Director of the Environmental Molecular Sciences Laboratory (EMSL), a Department of Energy facility. Under her leadership, innovative solutions and enhanced understanding of problems related to atmospheric aerosols, feedstocks, global carbon cycling, biogeochemistry, subsurface science and energy materials emerged from EMSL.
In 2016, she was elected for a three-year term as president of the American Chemical Society (ACS). The ACS, founded in 1876 and chartered by the U.S. Congress, is the world's largest scientific society established to improve people's lives through transforming the power of chemistry in a safe, secure, ethical and sustainable way.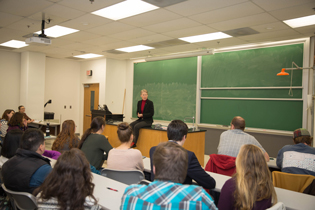 "I have been a member of the American Chemical Society for 33 years. I got a call one day from the nomination committee for this role and I figured it was my time to give back. I am really an introvert and I thought this role would really stretch me, give me a new challenge and I accepted," said Campbell.
Campbell spends much of her time traveling nationally and internationally to meet with universities and professionals in the chemistry community. She has three initiatives that are driving her work at the ACS: to share information about science and safety globally; to continually educate the public about the importance of science; and to advocate for science funding and research.
Campbell spent the day at Appalachian touring the Chemistry Department, meeting one on one with faculty members, visiting upper level Chemistry classes to speak with students and field questions, as well as delivering a seminar on "Scientific Careers at a National Laboratory."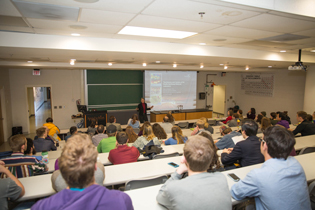 "I was really struck on my tour at how much students get hands on experience at Appalachian," said Campbell. "At bigger schools, students would have to be on a graduate level to get this kind of experience but here, I was surprised. It is impressive that these undergraduate students are getting this personal interaction."
Appalachian has a chapter of the American Chemical Society; an academic and professional club open to all majors in Chemistry. For more information visit, csil.orgsync.com/org/appalachianchemicalsociety.
###

About the Department of Chemistry
The Department of Chemistry offers the BA degree; a BS degree with eight different concentrations and a very strong undergraduate research program. Its programs prepare students for the chemistry and pharmaceutical industries, professional schools, graduate school, teaching and more.
By Ellen Gwin Burnette
Jan. 9, 2017
BOONE, N.C.