The Physics and Astronomy Club (PandA), a Society of Physics Students Chapter at Appalachian State University, has received two national awards this academic year. In January, 2021, PandA was awarded both the 2020 Outstanding Student Chapter of the Society of Physics Students award and the 2020 Blake Lilly Prize.
The Outstanding Student Chapter of the Society of Physics Students award is given to chapters that demonstrate active involvement on the local, regional and national level in keeping with the mission of the Society of Physics Students. The Blake Lilly Prize recognizes Society of Physics Students chapters and individuals who make a genuine effort to positively influence the attitudes of school children and the general public about physics.
The Society of Physics Students is an association for college students and their advisors who have a keen interest in physics. The primary focus of the PandA club at Appalachian is to build a community of students and professionals intrigued by physics and astronomy while educating and inspiring the local community by participating in outreach events.
PandA was awarded the Blake Lilly Prize on the basis of the various community outreach events members hosted to engage children in physics-related activities in 2020. These events included Buildfest, sponsored by the Children's Playhouse; Hardin Park Science Day; the annual Science Expo on campus; the Gravity Games in Lenoir, N.C. and several other interactive events. The club has also worked with Gear Up and Summer Ventures, performing physics demonstrations for middle and high school students from N.C. over the past several years.
Interactive booths prepared by PandA members for these events feature laser graffiti, as well as a circuits and magnets activity. Live demonstrations included trash can smoke rings, laser balloon popping and other engaging physics-related activities.
The Blake Lilly Prize will help promote the club so they can recruit more members and reach further into the surrounding community. Additionally, for each of the past several years, PandA has received at least one national chapter recognition award, including the 2019 Outstanding Student Chapter of the Society of Physics Students, a 2018 Distinguished Student Chapter of the Society of Physics Students, and a 2017 Notable Student Chapter of the Society of Physics Students. In 2017, the PandA club was also awarded the Marsh White Award for their Edible Laser project.
"The students deserve recognition for their hard work," said Dr. Brooke Hester, associate professor, Department of Physics and Astronomy, and PandA club advisor. "I am so proud of our students' enthusiasm and passion for outreach. They enjoy teaching and demonstrating physics to kids as well as introducing the fun of STEM to the youth of our community, which will contribute to someday creating more STEM scholars and teachers."
During the pandemic, the club officers have been diligent about creating remote meetings and events to engage club members. They have hosted bad-physics movie nights, provided a virtual physics scavenger hunt to help introductory students study for final exams and offered a virtual student study room, among other events.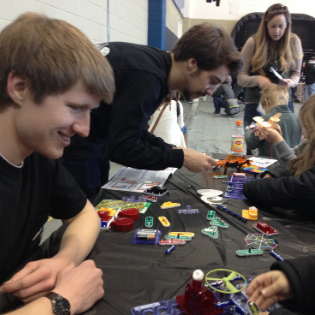 Claire Brown, a senior from Waxhaw, N.C., serves as the vice president of PandA. She majors in physics with a concentration in applied physics and minors in mathematics and astronomy. Brown first became involved with PandA her freshman year and has even served two terms as club president.
"PandA has given me a lot. It allowed me to establish a community within the Physics and Astronomy Department at Appalachian, as well as gave me multiple leadership, scholarship and outreach opportunities," explained Brown.
Her favorite PandA activity thus far was participating with the club at the Children's Playhouse Buildfest in April 2019. Members hosted an activity called "squishy circuits'' where they used a play dough type substance to teach children about conducting material and current flow. PandA also presented a demonstration involving exploding 2000 ping pong balls out of a trash can using liquid nitrogen.
Commenting on PandA's achievements, Brown stated, "winning the Blake Lilly Prize and the 2020 Outstanding Student Chapter Award for the Society of Physics Students were great honors and really affirmed that the work we're doing in both our community and department are making a difference."
Hester added, "it is great to know that the legacy of teaching excellence at Appalachian is continuing in our club officers. Most students want to continue to participate in outreach after they graduate."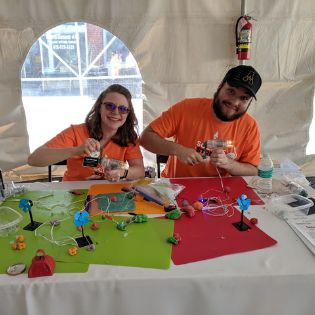 ###
About the Department of Physics and Astronomy
The Department of Physics and Astronomy's curriculum has an applied nature that includes a core of fundamental physics courses and laboratory experiences. The department prepares graduates for a variety of scientific, teaching or engineering professions, as well as future educational endeavors. Learn more at https://physics.appstate.edu.
By Sophia Woodall
March 22, 2021
BOONE, N.C.