Interpretation Services Internship: May 7 – August 25, 2018
This position focuses on developing and presenting programs such as guided walk and hikes, interpretive talks, Junior Ranger programs and evening programs, as well as visitor information services at visitor centers and other facilities within the Shenandoah National Park.
The positon will be full time (40 hrs per week) - The selected applicant must be available for the entire period. Housing is provided and the positon will pay $11.54 per hour. Applicants must possess at least a bachelor's degree at the start of the internship. Applicants must be either current Appalachian undergraduate or graduate students, or have graduated from Appalachian since (or during) December 2016. Applicants must be 35 years of age or younger at the start of the position in order to comply with the position's authorization under National Park Service Youth Programs Division. No paper applications will be accepted.
Apply online by visiting: https://appstate.peopleadmin.com/postings/search, select the position announcement (under "Temporary" positions) and complete the online application instructions. Only complete applications will be reviewed.
Application deadline: February 16, 2018
Questions: Dr. Mark Spond, University Liaison to the National Park Service, spondmd@appstate.edu - (please include "Shenandoah internship" in the subject line).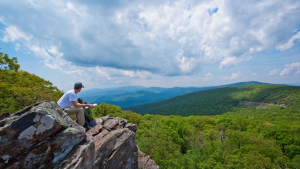 Tags: