Online screening of Man Made and Q&A on trans athletes
Register at: bit.ly/ManMadeReg
Tuesday March 30, 2021
6 p.m.
The Department of Interdisciplinary Studies gender, women's and sexuality studies program and Belk Library will host an online screening of the film Man Made. The screening will be followed by a panel discussion on trans athletes and sports participation featuring Dr. Abe Weil, co-editor of TSQ: Transgender Studies Quarterly and CJ Jones a scholar on transfeminist sports studies.
Weil is an assistant professor of Women's, Gender, and Sexuality Studies at California State University Long Beach, and is one of the editors for TSQ, a quarterly peer-reviewed academic journal that focuses on transgender studies through the perspective of both cultural studies and the humanities.
Jones is a doctoral candidate in Feminist Studies from the University of California, Santa Barbara. Jones focuses on the connection between the intellectual traditions of trans studies and feminist sports studies in what she labels as transfeminist sports studies.
Man Made was directed by T. Cooper, and is a documentary that follows four transgender men and their preparation to compete at the only all-trans bodybuilding competition in the world. This documentary focuses on the realities of gender, masculinity and humanity.
For more information about the screening contact Dr. Sushmita Chatterjee, director of gender, women's and sexuality studies at gws@appstate.edu.
###
About the Department of Interdisciplinary Studies
The Department of Interdisciplinary Studies offers degrees in three program areas: global studies; gender, women's and sexuality studies; and interdisciplinary studies. The department is also home to Watauga Residential College, an interdisciplinary, alternative general education program. The department promotes creative and imaginative engagement through a cross-disciplinary investigation of complex systems and problems. Learn more at https://interdisciplinary.appstate.edu.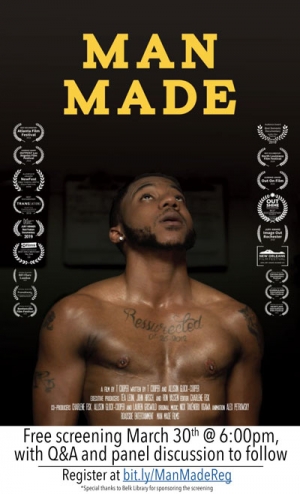 Tags: