Department of Sociology and Department of Theatre and Dance present Mia McClure
Friday, October 15, 2021
Doors open 6:00 p.m., show begins at 6:30 p.m.
Valborg Theatre, 480 Howard St., Boone, N.C., 28608
Mia McClure '12 will present "This is My Brain on Anxiety: The Detailed Experience of an Anxious, BLACK Woman," a 5-part creatively curated production that unravels and reveals the personal and cultural journey of a Black woman dealing with anxiety.
Charlotte NC-born, Mia McClure, known more formally to her followers as Mia Love Live, is a jack of all trades, blazing the trail as a multi-talented creative and visionary. A product of the Charlotte Mecklenburg Public School system, Mia is one of the system's shining examples of pupils who go on to create success for themselves by defining it on their own terms. In 2012, Mia graduated from Appalachian State University, earning a degree in Sociology with a concentration in Family Development. Following college, she went into radio as a part-time personality for Charlotte's own WPEG-Power 98; eventually taking her talents to an internet radio station.

Never afraid to explore new creative ventures, Mia debuted her podcast, "Background Music" in 2016, as well as a new music review show entitled "Love from the City with Mia Love" in (2019). In a year when the rest of the world was trudging through the wake of a global pandemic, Mia dug deeper and began shooting her new web series, "So Anxious: An Anxious, Black Narrative," with the premier episode airing in October 2020. Having wrapped up with the second season of the web series, Ms. Mia Love is currently touring with her on-stage production, "This Is My Brain on Anxiety: The Detailed Experience of an Anxious Black Woman."
###
About the Department of Sociology
The Department of Sociology offers a Bachelor of Arts and seven Bachelor of Science concentrations (applied research methods; criminology; families and intimate relationships; health and aging; power and social change; social inequalities; and individually designed, which requires departmental approval). The department also offers minors in sociology and health and aging, plus two online graduate certificates: aging, health and society, and sociology. Learn more at https://soc.appstate.edu.
About the Department of Theatre and Dance
The Department of Theatre and Dance is one of seven departments housed in Appalachian's College of Fine and Applied Arts. Its mission is to facilitate transformative experiences for students and the public, which cultivate compassionate, creative and collaborative communities through theatre and dance. The department also offers coursework for integrated learning through the arts to the general university student population. Its dynamic co-curricular production program provides exemplary theatre and dance experiences to departmental students, the university community and the region. Learn more at https://theatreanddance.appstate.edu.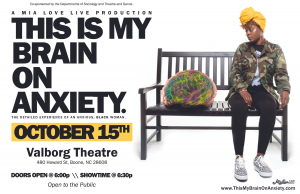 Tags: