This past weekend, the Industrial-Organizational Psychology and Human Resource Management Program (IOHRM) attended the River Cities Industrial/Organizational Psychology Conference in Chattanooga, Tennessee. Appalachian State University IOHRM was well represented at the conference with 23 students and 4 faculty members in attendance. There were also several undergraduate psychology students and one MBA student in attendance.
IOHRM students and faculty heard about various ways to increase or improve organizational retention. Several topics included lowering attrition of high performers, retaining a diverse workforce and using past survey data to predict retention intentions.

Turnover specialist, Dr. Tom Lee delivered the keynote address on the past, present and future of turnover research. Second year students Sydney Kopelic, Troi Robinson-Moss and Megan Waite presented on the use of evidence-based training and development practices in organizations to solve challenges in retention. The poster session showcased the research of several IOHRM students on the HR Science Team, who have been hard at work on their safety and GEAR UP projects.
Next years RCIO theme is focused on data analytics and safety in the workplace.
The IOHRM program is an Interdisciplinary master of arts degree, offered by the Department of Psychology in the College of Arts and Sciences and the Department of Management in the Walker College of Business, to prepare professionals for work in business, industry and government. As part of the only cross-disciplinary master's degree program in the nation, students have the unique opportunity to leverage the application of I-O Psychology to business.

Designed to equip students with specialized training in human resource management, program emphasis is placed on developing knowledge of theories, methods and research findings derived from the behavioral sciences. The program also emphasizes the acquisition of skills in the application of this knowledge to such organizational activities as selection, placement and motivation of employees; training and development; performance appraisal; and development and change of organizations.



###
About the Dr. Wiley F. Smith Department of Psychology
Appalachian's Dr. Wiley F. Smith Department of Psychology serves 900 undergraduate majors seeking the Bachelor of Arts or Bachelor of Science degree in psychology, as well as 80 graduate students in the master's degree programs in clinical psychology, experimental psychology, school psychology, and industrial-organizational psychology and human resource management. Its newly established Doctor of Psychology (Psy.D.) program will begin admitting students in fall 2019. Learn more at https://psych.appstate.edu.
About the Department of Management
The Department of Management offers undergraduate and graduate degree programs to prepare students for managerial responsibilities in today's dynamic environment. Learn more at https://management.appstate.edu.
About the College of Arts and Sciences
The College of Arts and Sciences is home to 16 academic departments, one stand-alone academic program, two centers and one residential college. These units span the humanities and the social, mathematical and natural sciences. The College of Arts and Sciences aims to develop a distinctive identity built upon our university's strengths, traditions and unique location. The college's values lie not only in service to the university and local community, but through inspiring, training, educating and sustaining the development of its students as global citizens. There are approximately 6,100 student majors in the college. As the college is also largely responsible for implementing Appalachian's general education curriculum, it is heavily involved in the education of all students at the university, including those pursuing majors in other colleges. Learn more at https://cas.appstate.edu.
About the Walker College of Business
The Walker College of Business at Appalachian State University delivers transformational educational experiences that prepare and inspire students to be ethical, innovative and engaged business leaders who positively impact our community, both locally and globally. The college places emphasis on international experiences, sustainable business practices, entrepreneurial programs and real-world applications with industry. Enrolling approximately 3,000 undergraduates in 10 majors and 175 graduate students in three master's programs, the Walker College is accredited by AACSB International – the premier global accrediting body for schools of business. Learn more at https://business.appstate.edu.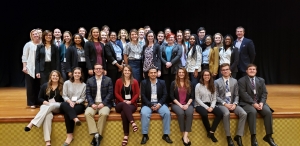 Tags: