Fifteen high school students, from Watauga High School, Allegheny High School, Draughn High School in Burke County and Salem Academy in High Point, participated in a three-week long, residential Chinese immersion program themed "The High Country Meets the Middle Kingdom" this past summer at Appalachian State University.
The culturally rich and academically rigorous program was designed for high school students to discover the value and fun of learning and to explore the Chinese language and culture in and beyond a structured classroom setting.
"If we are living in a world that is so diverse, why would we not want to expand our knowledge of places and people that are foreign to us? What better way is there to do this than to immerse ourselves into a different culture by learning a new language. The 2018 STARTALK Chinese Summer Language and Culture Camp at Appalachian truly provided me with this opportunity," said student Gillian Abee-Freeze. "We were always learning the language, whether it was in class with the amazing teachers or when simply conversing with our camp counselors and fellow peers."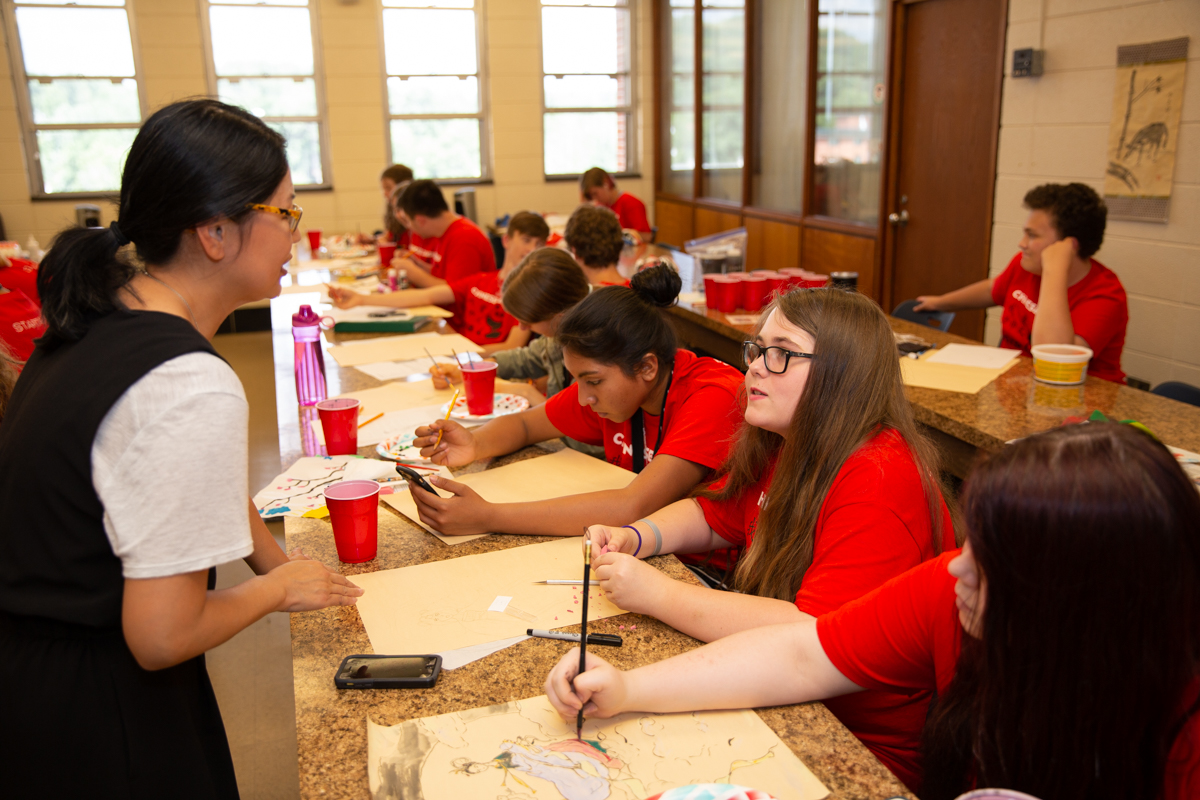 Learning traditional Chinese brush painting from Professor Kay Bishop, Department of Art, College of Fine and Applied Arts.


Dr. Xiaofei Tu, assistant professor and Dr. Wendy Xie, associate professor in the Department of Languages, Literatures and Cultures, in the College of Arts and Sciences at Appalachian State University were awarded a federal STARTALK grant for this program. The funding was made possible by the National Security Agency and administered by the National Foreign Language Center.

The immersion program consisted of three weeks with five hours a day of formal classroom instruction plus cultural activities (such as Chinese martial arts/Taiji, calligraphy, painting, Chinese games, Chinese singing and dancing, cooking, film viewing, paper cutting/crafts, etc). With the support of the STARTALK grant, all program activities – room and board, tuition, textbooks and other learning materials were free of charge for the selected students.
"The comprehensible input is well-prepared and carefully executed, leading to a seamless and fully effective instructional flow – maximizing the learning experience. There is simply no time for production in anything but the target language; even the lunch is done in full immersion mode," wrote Dr. Scott McGinnis, the team leader serving as a link between STARTALK Central and the program, in his site visit report. "Activities are sequenced in such a way for a smooth and perfect flow of I do – we do – you do, with more than ample opportunities for all students to perform."
The program concluded with a closing ceremony for family, faculty and friends of the participating students where they performed songs and skits in Chinese, cultural dances, a fashion show and a Tai Chi demonstration.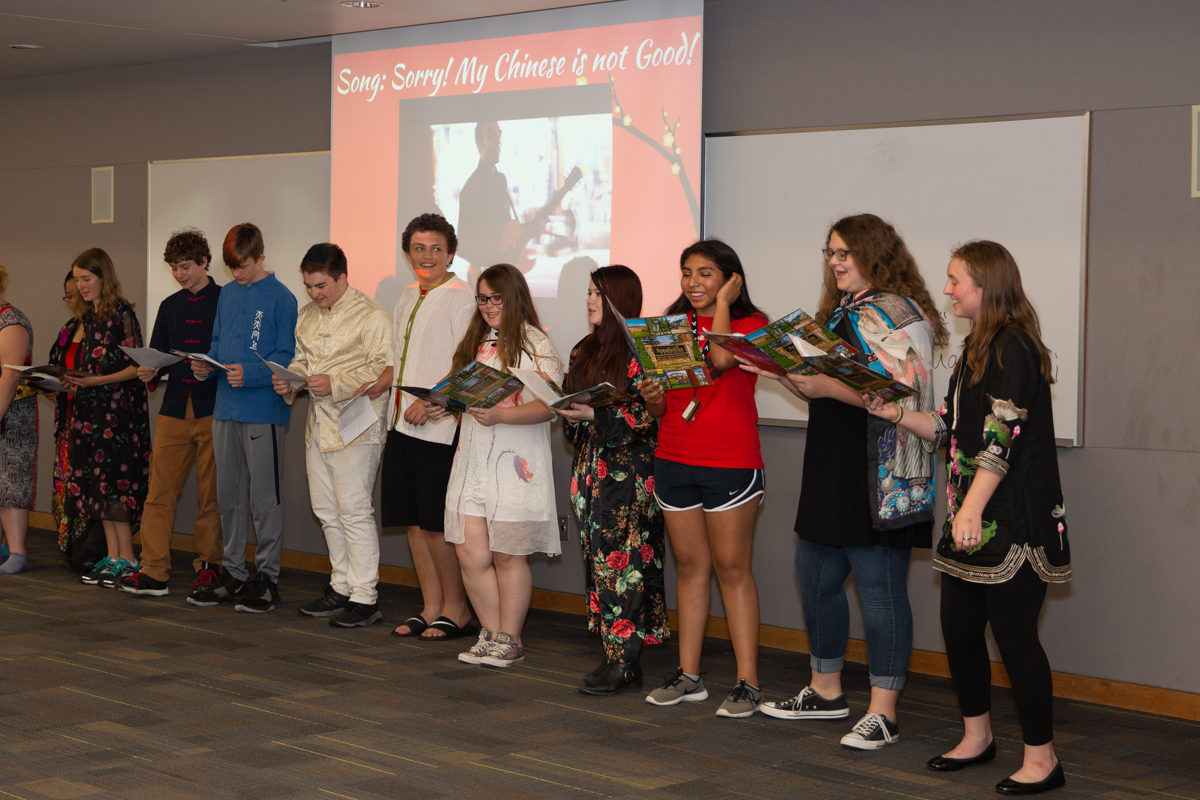 Performing the song "Sorry, my Chinese is not good" at the closing ceremony

"It's also our hope that the program will help generate enough interest in the High Country that the county schools will start thinking about implementing Chinese in the classrooms at elementary or secondary levels," said Dr. Xiaofei Tu, the program director.
Tu and Xie have received an additional $89,815 in funding to host the STARTALK program again this summer. There will be more information to come on the dates and application process for the summer of 2019. Tu and Xie are excited to pass on the excitement of exploring the Chinese language and culture to high school students in another summer session at Appalachian.
"Before this program, I thought Chinese was a language I would not be able to learn. I viewed it as so foreign and so distant from English, but even by the end of the first day, I was already asking my mom questions and telling her things in Chinese. I am honestly so lucky to have been able to be a part of this amazing program," said student Hope Gambill.
For further information on the program and where upcoming application information will be posted, visit: https://dllc.appstate.edu/undergraduate/chinese/startalk.
---------------------------------------------------------------------------------
About STARTALK
STARTALK's mission is to increase the number of U.S. citizens learning, speaking, and teaching critical-need foreign languages. STARTALK offers students (K–16) and teachers of these languages creative and engaging summer experiences that strive to exemplify best practices in language education and in language teacher development. The Office of the Director of National Intelligence (ODNI) launched STARTALK in 2006 and delegated executive oversight of the program to the National Security Agency (NSA). The NSA in turn awarded a contract to the National Foreign Language Center (NFLC) at the University of Maryland (UMD) to act as its subject matter expert in the implementation and administration of the program.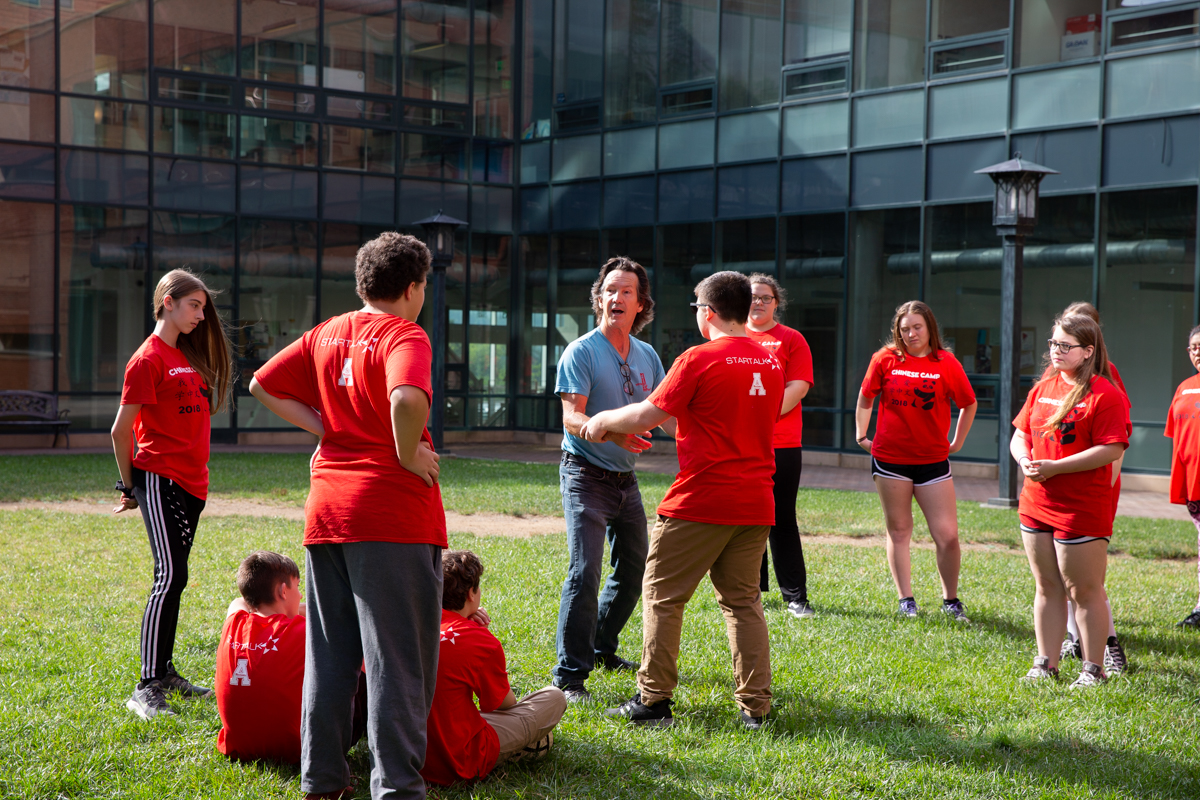 Practicing Tai Chi with Prof. Tim Winecoff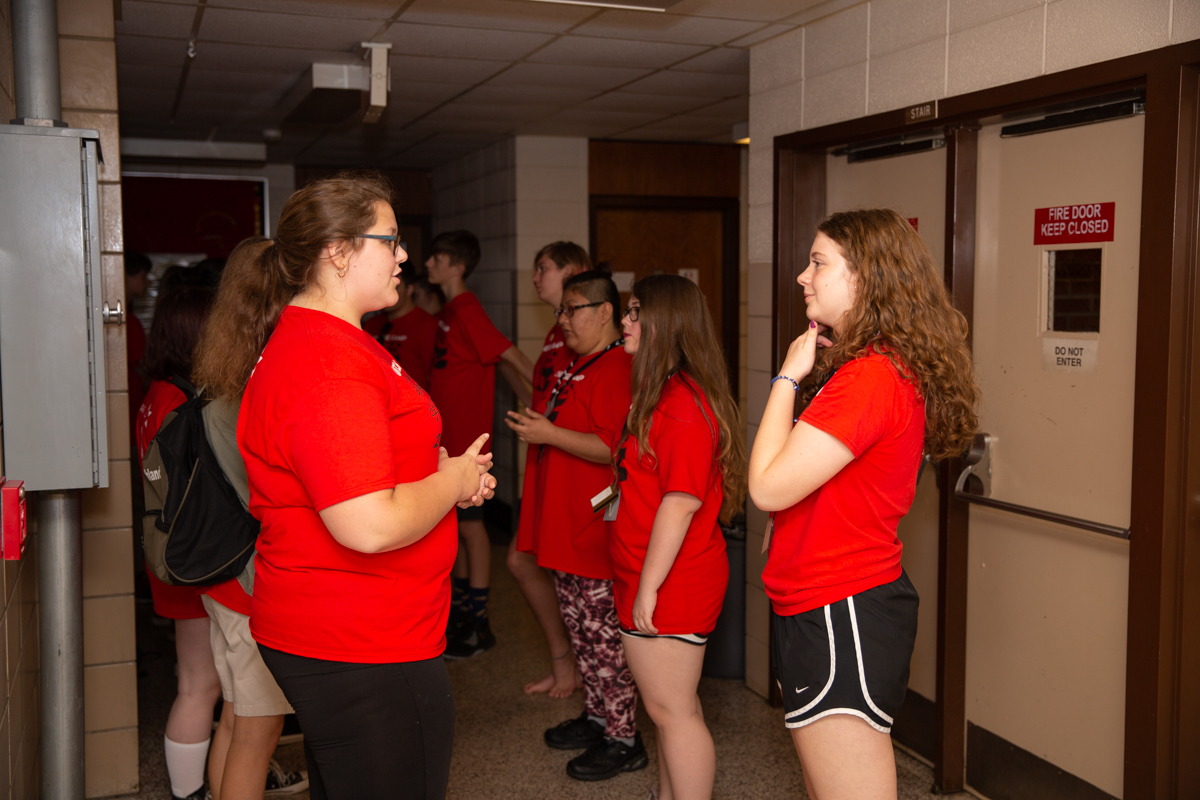 Chinese language mixer in the hallway of Sanford Hall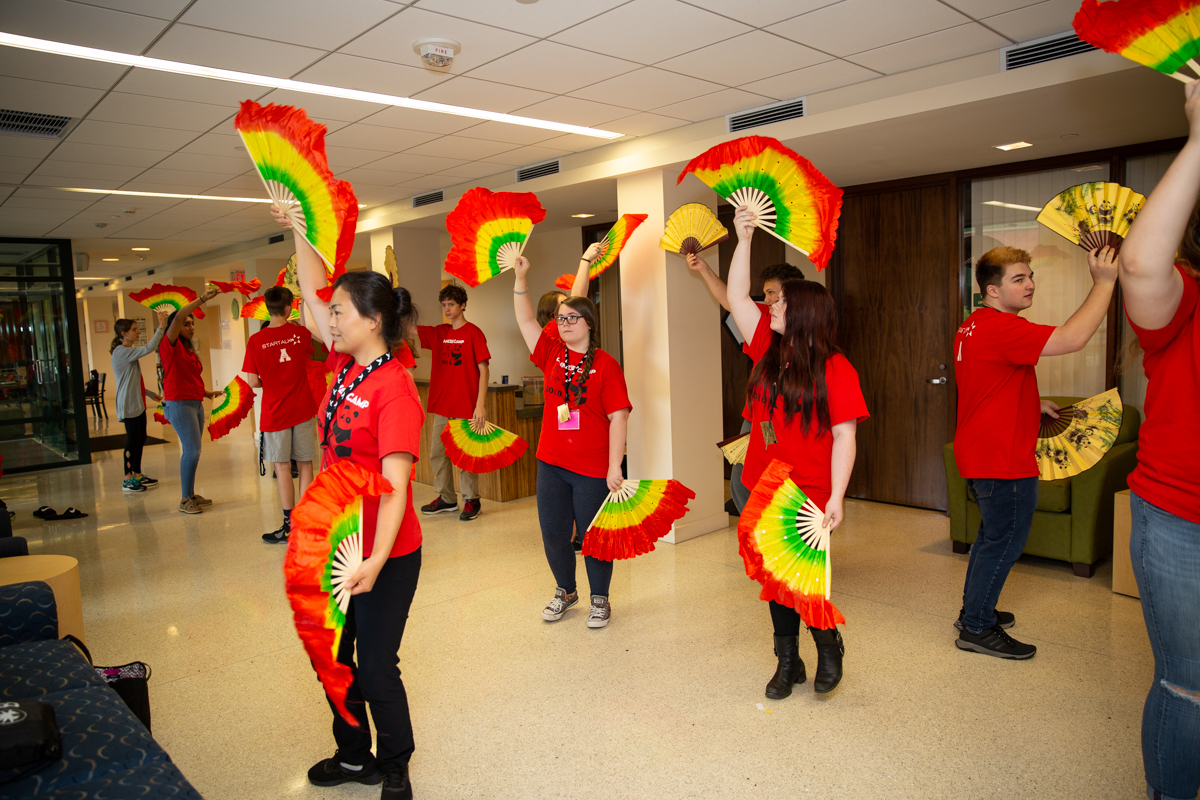 Learning Chinese fan dance with Professor Rachel Zhao.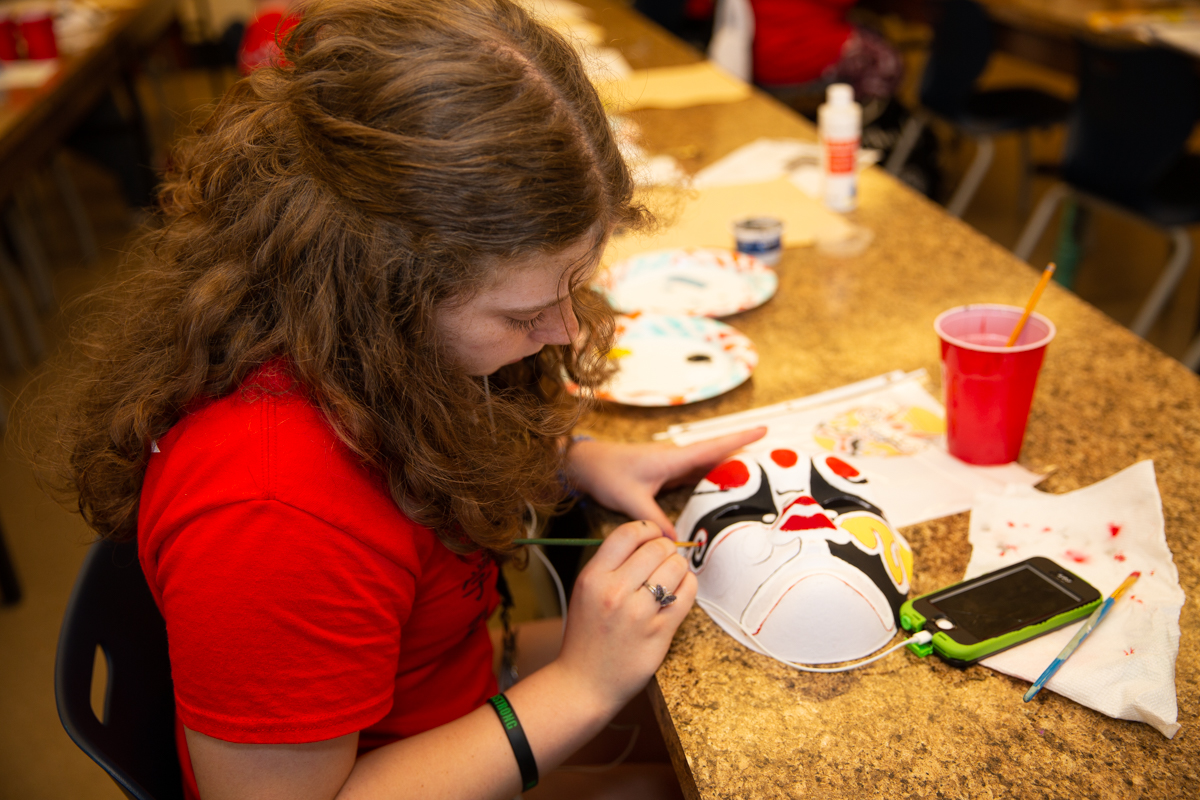 Making Peking Opera masks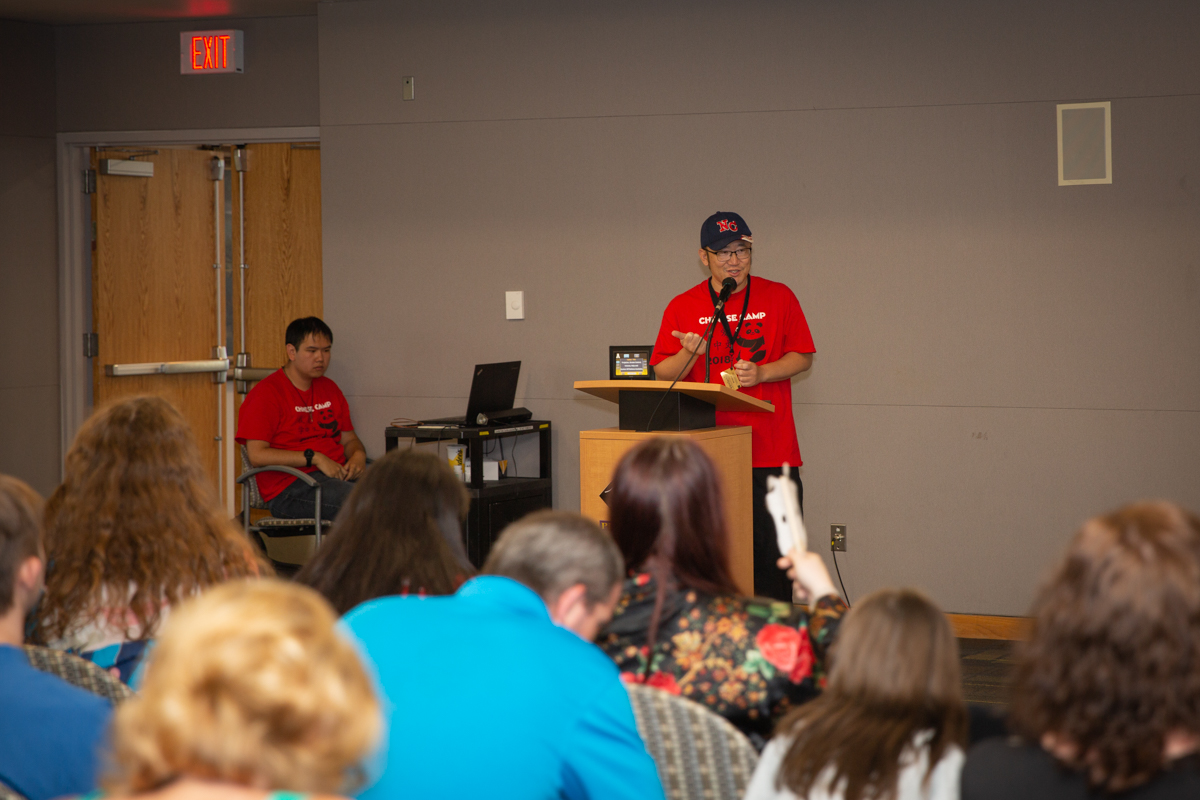 The program director, Dr. Xiaofei Tu, delivers welcome remarks at the closing ceremony
###
About the Department of Languages, Literatures and Cultures
The Department of Languages, Literatures and Cultures offers courses that enhance students' understanding of other cultures and languages as well as their own, making them prepared for lifelong learning in a multicultural world. Learn more at https://dllc.appstate.edu.
About the College of Arts and Sciences
The College of Arts and Sciences is home to 16 academic departments, one stand-alone academic program, two centers and one residential college. These units span the humanities and the social, mathematical and natural sciences. The College of Arts and Sciences aims to develop a distinctive identity built upon our university's strengths, traditions and unique location. The college's values lie not only in service to the university and local community, but through inspiring, training, educating and sustaining the development of its students as global citizens. There are approximately 6,100 student majors in the college. As the college is also largely responsible for implementing Appalachian's general education curriculum, it is heavily involved in the education of all students at the university, including those pursuing majors in other colleges. Learn more at https://cas.appstate.edu.
Feb. 20, 2019
By Ellen Gwin Burnette
BOONE, N.C.
Photos by Ellen Gwin Burnette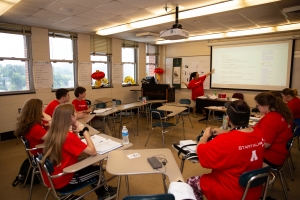 Tags: