The Department of Anthropology, housed in the College of Arts & Sciences will present, "The Heart and Other Organs of Darkness," a lecture from Dr. Allen Shelton, Professor, Department of Sociology at Buffalo State University.The event will be held on Thursday, Feb. 15, 2018 from 5 - 6:30 p.m. in Belk Library and Information Commons, Room 114, Plemmons Student Union, Appalachian State University.
This event is free and is open to the campus and community.
Dr. Allen Shelton's work is an interdisciplinary crossroads of art, social theory and ficto-critical writing. His talk will touch on Black Mountain College as an influence in his "ethnographic reportage" on writing as an "exile from the South" and more particularly on his hometown in Alabama. Shelton's talk traces his formation of a southern ficto-criticism in the southern landscape around Rabbittown, Alabama.
The title of the talk comes from Joseph Conrad's novella "The Heart of Darkness," and his lecture will focus on his ancestor, Eli Landers, enlistment in the confederate army soon after the capture of fort Sumter in Charleston. He served in the Army of Northern Virginia, fought in all the major campaigns including Gettysburg, was them transferred to the Western front before dying of typhus in a field hospital in Rome, Georgia in 1863. Eli Landers left behind just over 100 letters to his mother and sister. For Eli, the war was fought in what he called the "Sunny South," but there is encroaching darkness in the letters as his correspondence continues.. Just over 150 years after his death, a monument was erected on his grave commemorating his service to the Confederacy.
###
About the Department of Anthropology
The Department of Anthropology is committed to a comparative and holistic approach to the study of the human experience. The anthropological perspective provides a broad understanding of the origins as well as the meaning of physical and cultural diversity in the world - past, present and future. As such, the program in anthropology offers the opportunity for understanding world affairs and problems within the total context of the human experience and for constructing solutions to world problems which are firmly grounded in that context. Cultural anthropologists study people and their cultural practices and beliefs both within and outside of the United States as well as the topics of identity, power, inequality and social praxis. Archaeologists study the material culture of past peoples in order to reconstruct their cultures, traditions and practices in order to understand both what came before and how this may help us understand the present. Biological anthropologists study primate evolution and behavioral ecology, human biological variation, biocultural adaptations, bioarchaeology and human paleontology. Together, we strive to understand both past and present variation in human societies.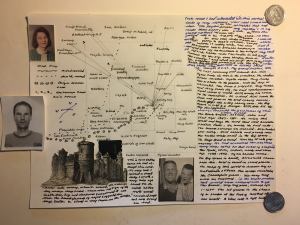 Tags: