Residents at Appalachian Brian Estates assisted living facility are enjoying one student's artistic skills right outside their windows. Mary Carver Deal from Charlotte, N.C., a senior at Appalachian State University, is painting a colorful mural on the cement wall outside of the residences as a part of her internship with Brian Estates.
Because of the global pandemic, many of Brian Estate's residents haven't left the grounds since March. The idea for the mural originated as a way to engage residents in a cognitively-stimulating project. Following the pandemic, residents will be able to share the mural with their families as well.
Deal, who is double majoring in psychology and studio art, hopes to be an art therapist following graduation. She aspires to work with the elderly to slow the progression of dementia and other ailments they may experience. Her internship with Brian Estates is preparing her for her future career by allowing her to interact with residents.
While Deal can't work directly with the residents because of COVID-19 restrictions, she is already receiving lots of positive feedback from residents, staff and families about the joy they are receiving from watching the painting process. Deal created a questionnaire asking residents what local flora and fauna they would like to see incorporated into the mural. While numerous residents have been actively involved in the planning for months, Deal wanted to be sure that less vocal residents also had a chance to contribute.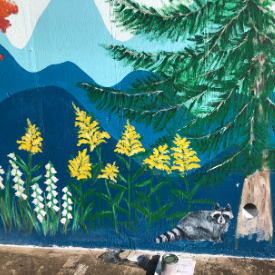 "I think the unusual challenges presented by doing this project during a pandemic have enabled Mary Carver to devise ways to overcome the hurdles of limited access. There are numerous ways in which access to art can be limited, so problem-solving in this situation has expanded Mary Carver's ability to consider ways to overcome barriers as she moves forward," said Jennifer Van Gilder, clinical educator, Department of Communication Sciences and Disorders, and Deal's site supervisor.
In addition to being the primary painter, Deal coordinated two teams of volunteers to prime and paint the wall. Some volunteers came from the Dementia Awareness Club that Deal is a member of on campus. Gilder also serves as Deal's sponsor from Appalachian's Dementia Awareness Club, who has conducted several projects at Appalachian Brian Estates pre-pandemic. The painters started at the back of the wall so residents could view the process from their windows.
"We had developed a good working relationship as a foundation for the mural project. However, with the pandemic came newfound fears about too many people being in or around the facility which houses one of the populations that is most vulnerable to COVID-19. The respect that Mary Carver, student volunteers and Dementia Awareness Club members showed regarding the need for safety protocols was priceless in promoting a positive view of Appalachian students in the community," said Gilder.
Funding the large amount of paint needed for the mural proved a challenge, so Deal held a fundraiser for her birthday. Funds raised should be enough to cover the first half of the project, and she is brainstorming about how to fund the second half.
Brian Estates is keeping one apartment facing the wall empty so residents can view the painting process if they can't see the project from their own rooms. The staff at the facility is also trying to figure out how to livestream the painting to residents in their apartments. Deal plans to add additional details and plants to the mural during the spring semester, ideally completing the project before summer.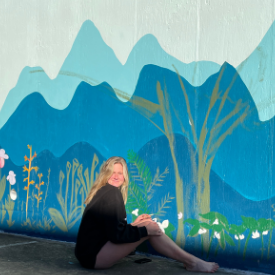 All photos were submitted by Deal. You can keep up with the mural's progress and see additional images as well as watch time lapse videos at brianestatesmural on Instagram.
*Update:
Donations to the ASU Dementia Awareness Club can be made via PayPal at Paypal: https://www.paypal.com/biz/fund?id=HQSXNEX2YXAM6 Or by making a check out to the ASU Dementia Awareness Club. Donations will help to support the club's ongoing projects, including the mural (our biggest at the moment). For questions or to support this project further, contact: Jennifer P. Van Gilder, Communication Disorders Clinic, Department of Communication Sciences and Disorders (vangildrjp@appstate.edu).
###

About the Department of Art
One of seven departments housed in the College of Fine and Applied Arts, the Department of Art at Appalachian State University prepares students to explore art, identity, expression and creative problem-solving while challenging them to go beyond their previous limits by discovering new connections to culture. The department offers degrees in art and visual culture, art education, graphic design, studio art, commercial photography and graphic communications management, with minors in art history, studio art, commercial photography and graphic arts and imaging technology. Learn more at http://www.art.appstate.edu.
About the Department of Communication Sciences and Disorders
The Department of Communication Sciences and Disorders in Appalachian State University's Beaver College of Health Sciences is devoted to the study of human communication and associated disorders. The department offers the Bachelor of Science in Communication Sciences and Disorders and the Master of Science in Speech-Language Pathology. The undergraduate program provides students with the academic preparation and clinical exposure needed to enter professional graduate programs in speech pathology or audiology, or to pursue entry-level work in related areas. The master's program prepares students to work as licensed speech-language pathologists in a variety of settings, including schools, hospitals, nursing homes and private clinics. Learn more at https://comdis.appstate.edu.
About the Dr. Wiley F. Smith Department of Psychology
Appalachian's Dr. Wiley F. Smith Department of Psychology serves more than 1,000 undergraduate majors seeking the Bachelor of Arts or Bachelor of Science degree in psychology, as well as 80 graduate students in three master's programs (experimental psychology, school psychology, and industrial-organizational psychology and human resource management) and the clinical psychology (Psy.D.) doctoral program. Learn more at https://psych.appstate.edu.
By Sophia Woodall
Feb. 5, 2021
BOONE, N.C.