On Friday, April 21, 2017 from 6:30 p.m. to 8:30 p.m. the Appalachian Studies program at Appalachian State University will host a concert to fundraise for the Edward J. Cabbell Endowed Scholarship in Appalachian Studies for graduate student research in the Solarium of the Plemmons Student Union.
The concert will feature local old-time band Strictly Strings, as well as The Blue Ridge Broadcasters (program alums Emily Schaad and Doug Sharkey are two of the members), Trevor McKenzie, and other local Appalachian old-time musicians and dancers, many of whom are alumni of the program. Tickets are available for purchase in advance from the Appalachian Studies program office in the Living Learning Academic building, room 112A or at the door on the night of the event. The ticket price includes light refreshments, and children 12 and under are admitted free.
The Edward J. Cabbell Endowed Scholarship in Appalachian Studies assists graduate student research or other professional activities such as: research travel, presentations at professional meetings or conferences, purchase of research materials or attending a professional development opportunity. Applicants must be graduate students in the Appalachian Studies masters program to apply, and preference is given to projects related to minority studies, especially focusing on African-Americans, Native Americans, and women.
For more information or questions about this event, please contact Teri Goodman at the Center for Appalachian Studies (828-262-4089 or goodmantk@appstate.edu). For more information about applying for this scholarship, view the requirements at https://appstudies.appstate.edu. For parking and the location of this event, visit Appalachian State University campus map at https://maps.appstate.edu/.
###
About Appalachian Studies
The Center for Appalachian Studies promotes public programs, community collaboration, civic engagement and scholarship on the Appalachian region. The Center is committed to building healthy communities and deepening knowledge of Appalachia's past, present and future through community-based research and engagement.
About the College of Arts and Sciences
The College of Arts and Sciences is home to 16 academic departments, three stand-alone programs, two centers and one residential college. These units span the humanities, social sciences, and the mathematical and natural sciences. The College of Arts and Sciences aims to develop a distinctive identity built upon our university's strengths, traditions and unique location. Our values lie not only in service to the university and local community, but through inspiring, training, educating and sustaining the development of our students as global citizens. There are approximately 5,850 student majors in the college. As the college is also largely responsible for implementing Appalachian's general education curriculum, it is heavily involved in the education of all students at the university, including those pursuing majors in other colleges.
About Appalachian
Appalachian State University, in North Carolina's Blue Ridge Mountains, prepares students to lead purposeful lives as global citizens who understand and engage their responsibilities in creating a sustainable future for all. The transformational Appalachian experience promotes a spirit of inclusion that brings people together in inspiring ways to acquire and create knowledge, to grow holistically, to act with passion and determination, and embrace diversity and difference. As one of 17 campuses in the University of North Carolina system, Appalachian enrolls about 18,000 students, has a low student-to-faculty ratio and offers more than 150 undergraduate and graduate majors.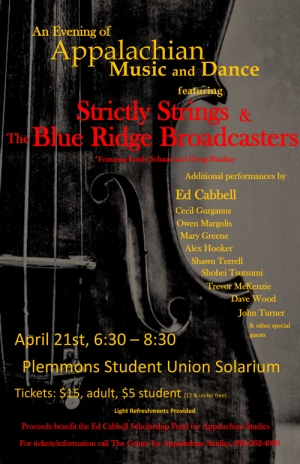 Tags: