Department of Mathematical Sciences Colloquium Series presents Michael McRoberts
Friday, September 10, 2021
3 p.m.
Zoom event, email Kristen Roland, rolandke@appstate.edu to participate.
This event is free and open to the public.

Micheal McRoberts is hosting a lecture on the use of analytics in order to optimize in-game strategies for football.
McRoberts is the president and founder of Championship Analytics (CAI), a company that has performed sports analytics for over 70 football teams including the Appalachian State University Mountaineers. Through the use of the CAI's patented game books, they are able to use analytics to provide answers for any situation during a game.
McRoberts obtained his master's degree in biomedical engineering at Northwestern University. He has over 20 years of experience working as a statistician for various financial institutions. Through his own developed methods, McRoberts applies his statistical experience to help both professional and college football teams improve their game management decisions.
The lecture will delve into the importance of the coaches decision making throughout a game, as well as the inspiration behind McRobert's service. A walkthrough of the service will also be provided, detailing the advantages that the service has to offer.
###
About the Department of Mathematical Sciences
The Department of Mathematical Sciences offers undergraduate degrees in actuarial science and mathematics, with concentrations in business, computation, life sciences, physical sciences, secondary teaching and statistics, plus a general, self-designed concentration. The department also offers the Master of Arts in mathematics, with concentrations in college teaching and secondary teaching. Learn more at https://mathsci.appstate.edu.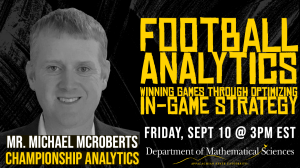 Tags: