Dr. Raghuveer Mohan, Assistant Professor in the Department of Computer Science, found his enthusiasm for teaching while in his masters studies at Clemson University, and he has been able to carry that interest with him to his career at Appalachian State University.
Mohan remembers his high school curriculum focusing mainly on biology and chemistry, but in the 9th grade he was introduced to computer science. By the time he was a senior, he was creating simple artificial intelligence (A.I.) programs. Originally from India, Mohan moved to South Carolina to pursue a masters degree in Computer Science.
"When I came to America for a masters degree, I was exposed to a new method of education, and I absolutely loved it."
While at Clemson, Mohan met Dr. Brian Dean. Mohan not only appreciated Dean's intelligence and rigor in the classroom, he found that Deans support and collaborative attitude with students was rewarding and effective. Dean's rigorous classes and his approach to teaching inspired Mohan to stay on for a PhD and to take up teaching as his career.
Since coming to Appalachian State University, Mohan has tried to implement some of the teaching practices he learned from Dean. Namely, Mohan aims to create courses that are exceedingly challenging, while also creating a grading system that will reward student effort and engagement. He also incorporates live coding, hoping to model the logic and thought processes he expects students to demonstrate in their own coding practices. Mohan values student collaboration in class and encourages students to pursue questions or problems together. He takes time to speak with students about their personal interests and exchanges scholarly articles with students to support their inquiry fueled learning.
"During my time at Appalachian there were few teachers I have encountered that have expressed such sincere care and dedication to a student's educational development. Dr. Mohan works tirelessly for his students and his influence can be felt in every aspect of the computer science department at Appalachian," said Broderick DeSantis '18, MA in computer science.
Along with his teaching responsibilities, Mohan is the advisor for several student clubs including: Appalachian Society for Computing Informatics and Innovation (ACS II), Linx @ App, Video Game development club and Compote Programing Training. Mohan is invested in encouraging students to think about and solve problems in new and dynamic ways. He sees his involvement in extracurricular activities as a way to further support student learning in innovative ways.
In addition to his research in algorithms, data structures, spatial structures in databases and concurrent data structures, Mohan spends time researching computer science education. His investment in deeper learning and creative teaching is clearly demonstrated through the amount of time he spends reading materials on best teaching practices and developing curriculum materials for his courses. Specifically, Mohan is interested in understanding how to implement video games as a learning tool and how to encourage student facilitated courses.
"Constant learning and consistent interaction with students is what I love about teaching. I spend a lot of time developing course material and I think of that in itself as an area of research. How can I look at what other people have done and make it better suit my own teaching style and philosophy."
###
About the Department of Computer Sciences
Appalachian's Department of Computer Science provides a rigorous, high-quality education that prepares students for the computing industry or graduate education. It offers a Bachelor of Science degree in computer science, which is accredited by the Computing Accreditation Commission of ABET, and a Master of Science degree in computer science. Learn more at https://compsci.appstate.edu/.
About the College of Arts and Sciences
The College of Arts and Sciences is home to 16 academic departments, two stand-alone academic programs, two centers and one residential college. These units span the humanities and the social, mathematical and natural sciences. The College of Arts and Sciences aims to develop a distinctive identity built upon our university's strengths, traditions and unique location. Our values lie not only in service to the university and local community, but through inspiring, training, educating and sustaining the development of our students as global citizens. There are approximately 5,850 student majors in the college. As the college is also largely responsible for implementing Appalachian's general education curriculum, it is heavily involved in the education of all students at the university, including those pursuing majors in other colleges. Learn more at https://cas.appstate.edu.
By Johnna Reisner
May 15th, 2018
BOONE, N.C.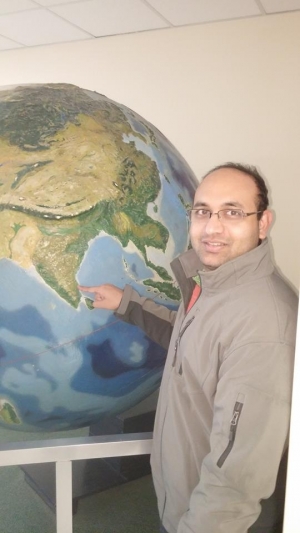 Tags: