"Looking for mass extinctions in all the 'wrong' places: the Late Devonian of Mongolia," a research expedition featuring Appalachian State University faculty members and two Geological and Environmental Sciences students was awarded Expedition of the Year by the Atlanta chapter of the Explorer Club.
This project was a 22-person expedition consisting of a team of American, German and Mongolian scientists and two professional photographers who went to western Mongolia to do geologic fieldwork to study mass extinctions in August 2018. The trip was led by associate professor Dr. Sarah Carmichael and emeritus professor Dr. Johnny Waters from the Department of Geological and Environmental Sciences, with undergraduate students Allison Dombrowski, a junior from Raleigh and Olivia Paschall, a senior and honors college student from Grand Rapids, Michigan, who were critical members to the greater team.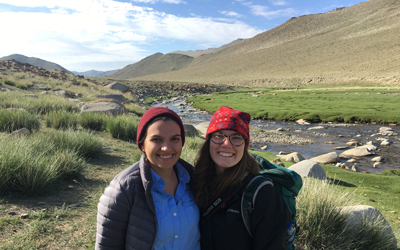 Allison Dombrowski, a junior geology major from Raleigh and Olivia Paschall, a senior geology major from Grand Rapids, Michigan. Photo by Allison Dombrowski
"We are really proud of Allison and Olivia, whose hard work and great attitude made the expedition such a success. The field site is one of the most remote locations I have ever been, and getting there requires a large team for both logistics and safety. The nearest small villages are over 6 hours away, and we have to be entirely self-contained in terms of food, shelter, drinking water and medical care for the duration of the two week trip. No one knows where you are when you're out there and you have no easy means of communication with the rest of the world. Sometimes people have a hard time with the isolation, but Allison and Olivia were delightful team members who took everything in stride," Dr. Sarah Carmichael, associate professor, Department of Geological and Environmental Sciences.
Paschall and Dombrowski, both geology majors, were responsible for mapping and sampling the rocks in an extremely remote Mongolian field site. Together, their research helps the Devonian Anoxia, Geochemistry, Geochronology and Extinction Research (DAGGER) team determine the extent, scope and cause of Late Devonian mass extinction roughly 360 million years ago (one of the "Big 5" mass extinctions in Earth's history) as well as the rebound of life in its aftermath. The DAGGER team is led by Carmichael and Waters and focuses on the systematics of mass extinctions in the Late Devonian period, the cause of which is still unknown.
"Although people don't always think of the geosciences as having an intrinsic cultural component, geologic fieldwork in a foreign country with a team of local scientists is one of the most culturally immersive things we can provide for our students here at Appalachian. We speak a common language of rock names and geologic field methods (which are consistent across cultures), and it's amazing how much important scientific work can get done through sketches, pantomime and pointing," said Carmichael.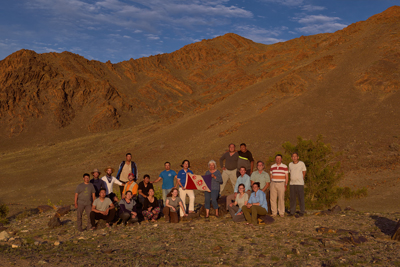 Expedition Team Flag Photo. Flag held by Mongolian team leaders Dr. Sersmaa Gonchigdorj (left) and Dr. Ariunchimeg Yarinpil (right). Photo by Felix Kunze.
The expedition was awarded as an Explorers Club Flag Expedition and was externally funded by National Geographic. Both students fully funded their own costs for the trip by receiving highly competitive external funding, including each winning Explorers Club Youth Activity Awards as well as Appalachian's Office of Student Research International Travel Grants.
The Explorers Club is deeply committed to supporting the fieldwork of serious researchers and, as part of its public service commitment, offers exploration grants. The goal of these grants is to foster a new generation of explorers dedicated to the advancement of the scientific knowledge of our world. The Explorers Club considers research proposals in a wide array of disciplines, including, but not limited to, climate change, geoscience, marine science, anthropology/archeology and conservation science.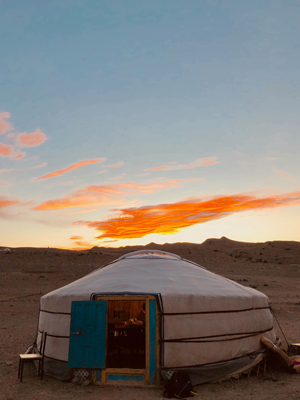 Base of operations: the ger. All meals and science meetings happened here. Photo by Felix Kunze.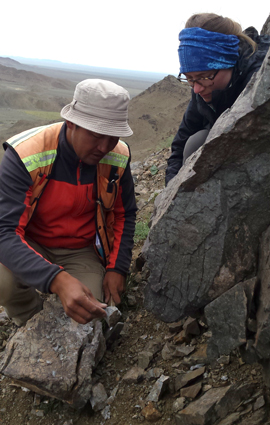 Otgonbaatar Dorjsuren and Olivia Paschall sample volcanic rocks interbedded with Frasnian sediments for radiometric (U/Pb) age dating using zircons. Photo by Sarah Carmichael.
###
About the Explorers Club
The Explorers Club is an international, multidisciplinary professional society dedicated to the advancement of field research and the ideal that it is vital to preserve the instinct to explore. Since its inception in 1904, the club has served as a meeting point and unifying force for explorers and scientists worldwide. Learn more at http://grants.explorers.org.
About the Department of Geological and Environmental Sciences
Located in Western North Carolina, Appalachian State University provides the perfect setting to study geological and environmental sciences. The Department of Geological and Environmental Sciences provides students with a solid foundation on which to prepare for graduate school or build successful careers as scientists, consultants and secondary education teachers. The department offers six degree options in geology and two degree options in environmental science. Learn more at https://earth.appstate.edu.
Dec. 11, 2018
By Andrew Scott and Ellen Gwin Burnette
BOONE, N.C.