The Department of Government and Justice Studies, housed in the College of Arts & Sciences will present Elect Her, a program offered through Running Start concentrated on training students and particularly women to run for student government office on college or university campuses on Friday, Feb. 16 from 1 - 4 p.m. in the Plemmons Student Union, Room tbd.
Research indicates women who run for student body elections in college are more inclined to run for office as adults. Elect Her addresses the insurmountable disparity between the low percentage of women in student governments despite their high presence on college campuses. During this daylong event, college and university students are educated on why more women are needed in the student government setting and are provided with the skills to operate successful campaigns.
Skills to garner from this event include:
Learning how to create and effectively communicate campaign messages
How to reach out to voters
How to mobilize voters on campus
ANYONE interested in becoming more engaged in their community and perhaps someday running for elected office is welcome. All students are invited to participate regardless of gender identity. For more information contact: Ellen Key at keyem@appstate.edu or Phillip Ardoin at ardoinpj@appstate.edu.
Running Start was featured in a story titled, "In D.C., A Politics Camp For Girls" in June of 2017. Visit NPR to listen: http://n.pr/2t5dXTn.
Three finalist alums gave speeches to earn live audience votes at Running Start's 10th Annual Young Women to Watch Awards, held on March 15, 2016 at the National Museum of Women in the Arts, visit YouTube to watch: https://youtu.be/Jmbs4L86ZA8 .
This event is sponsored by Appalachian State University's Student Government Association and the Department of Government & Justice Studies in the College of Arts and Sciences at Appalachian State University.
###
About the Department of Government and Justice Studies
Appalachian State University's Department of Government and Justice Studies offers undergraduate programs in political science and criminal justice and graduate programs in political science and public administration. Housed in the College of Arts and Sciences, the department has over 600 undergraduate majors and more than 70 graduate students. Learn more at https://gjs.appstate.edu.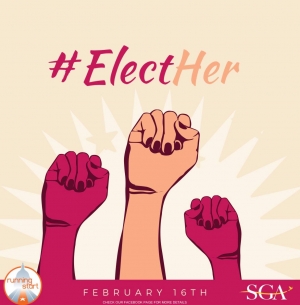 Tags: