Dr. Katherine Ledford, professor in the University's Appalachian studies program, received the 2020 Clark Medallion Book Award for her book titled "Writing Appalachia: An Anthology." Ledford received this award alongside Dr. Theresa Lloyd of East Tennessee State University who co-edited the book, and Rebecca Stephens who served as associate editor.
"Writing Appalachia: An Anthology" was published by The University Press of Kentucky and challenges the stereotypes and misconceptions that surround the Appalachian region by showcasing the diverse range of writers who have been inspired by the area throughout American history.
The Clark Foundation Award committee commented: "This is an important work of scholarship. It is forensic in a way, sampling the breadth of Appalachian writing. But 'forensic' is too cold of a word for the vibrant, engaging work collected in this volume."
The award is hosted by Thomas D. Clark Foundation, Inc., a private nonprofit foundation established in 1994 for the sole purpose of providing financial support for The University Press of Kentucky's publication of books. The Clark Foundation Committee awarded the authors The Clark Medallion Book Award because of the book's high standards of research and writing that highlights the history and culture of Kentucky.
In a year of very strong competitors for the Clark Medallion, the committee chose the anthology based on its incredible depth – including the variety of authors, kinds of writing, era of origins, beginning with voices from indigenous nations. "We found gems written by authors we knew already and love – and enjoyed revisiting their work. But reading the anthology is also a journey of discovery of new writers," commented the selection committee.
The medallion celebrates the legacy of Dr. Thomas D. Clark, the late historian who devoted his life to telling Kentucky's story along with the South's, and celebrating scholarship and literature about the state and region.
Ledford and Lloyd were also interviewed for Our State Magazine's review of their book where they touch on varying historical accounts that represent Appalachia storytelling. The book review can be found here at https://www.ourstate.com/book-review-writing-appalachia Ledford also discussed the book's origins and representations of religious life in the Appalachian Mountains on AppTV's "Religion in Life," hosted by Dr. Conrad E. Ostwalt. The interview can be found here at https://www.youtube.com/watch?v=PCTid0ocW1k&list=PLj9GzWdtEFfDPP3rVxEzQdHj2U6WKydFi&index=4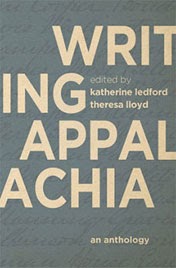 ###
About the Center for Appalachian Studies
The Center for Appalachian Studies promotes public programs, community collaboration, civic engagement and scholarship on the Appalachian region. The center is committed to building healthy communities and deepening knowledge of Appalachia's past, present and future through community-based research and engagement. Learn more at https://appcenter.appstate.edu.